"Implementing Nicereply was a huge step in the right direction"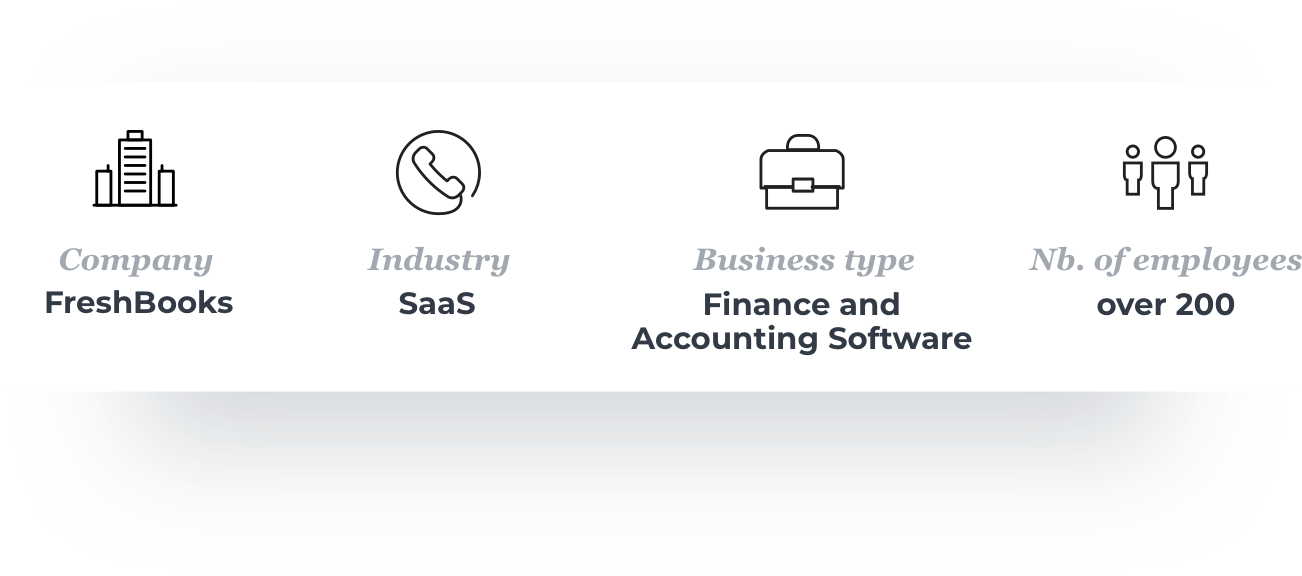 Mike McDerment (CEO of FreshBooks) saved over one too many Excel invoices while trying to bill his design agency clients. Insert cliché "there has to be a better way!" quote here – but ultimately that's how FreshBooks was born. From the depths of Mike's mom's basement and through three offices since, FreshBooks now consists of over 200 employees. More than 10 million people have used FreshBooks to send, receive, print and pay invoices.
With its only office located in the Junction Triangle area of Toronto Canada, FreshBooks is a cloud-based accounting platform. Their mission is to reshape the world to suit the needs of self-employed professionals and their teams.
Freshbooks received 2nd place in category Large Business in Customer Happiness Awards 2018.

FreshBooks focuses on a simplistic (read: ridiculously easy) user experience while offering business owners and freelancers everything they need when it comes to billing, expense tracking, time tracking and tax reporting.
Problem
From the beginning of operation FreshBooks had basic support data but zilch on customer satisfaction. It was a missing piece in their customer service, but at that time FreshBooks had low support volume and did not deem it a problem.
One of FreshBooks first-ever support agents, Rockstars as they call them, was inspired by Basecamps customer reviews and added WuFoo form link to his signature so customers could click and leave feedback.
He was able to push himself as an individual, but they did not have programs and performance metrics for the support team as a whole.
While the form link was optional, it caught in and eventually all (approx. 6 at the time) Support Rockstars were using it. "It was a great feeling to receive feedback on your support cases. We could correct any negative experience based on the feedback by following up."
It was a great insight to use these links, but FreshBooks still lacked several things: consistency, a way to solicit feedback on phone calls, and good data. "You could refrain from adding the form link to a signature if you felt you may not get the best feedback. Since each form was linked to an individual, there was no easy way to combine all the form results for a snapshot of the entire department."
FreshBooks needed a tool that would give them insights from the customer's point of view and help them monitor agent as well as team performance.
Solution
People at FreshBooks brainstormed ways to build or implement solutions that would address their problems. They were torn between building their own tool vs. looking for external tool. After much debate they landed on Nicereply.
Nicereply allowed FreshBooks to gain insights from the customer's point of view and improve team performance. "We started using NiceReply for e-mail interactions only, but it immediately gave us insights into how we were doing from the lens of the customer – and ultimately helped each of our support Rockstars improve their craft.
We adopted Nicereply as a metric for success and began to see improvement on the team as a whole."
FreshBooks were inspired by Basecamp's transparency around customer feedback, which they gained after implementing Nicereply. "Nicereply ratings also allowed for transparency, which is something that inspired us when we were looking up to other companies and how customer feedback is displayed."
However, FreshBooks were still facing several problems. They were using a Chrome extension to paste the Nicereply link into the e-mail response along with a signature.
Support agents could choose simply not to include it if they didn't feel like they would get a positive rating. They also lacked a seamless way to include Nicereply surveys for phone calls.
All of these problems went away when they adopted new ticketing system. "With a modern ticketing system, we were able to integrate Nicereply seamlessly."
Implementation of modern ticketing system combined with Nicereply allowed them automatic solicitation of customer feedback for both e-mails and phone calls. "It has opened the door to many opportunities around using customer feedback in everything from performance metrics to applications for service awards."
Today, Nicereply is an integral tool at FreshBooks. "Along with collecting customer feedback around Rockstar performance, we're also using it to solicit feedback around customer effort and our products themselves.
Great service ratings for our Rockstars are used as praise and fed into multiple communication channels and 'less-than-great' ones are used as coaching opportunities. This allows us to continually improve our customer service craft."
"Without the ability to measure customer feedback, we're doing support in a silo. We may think we're doing a great job, but there's no urgency to improve if we're not reaching out and asking how we're doing. Nicereply has allowed us to solicit that feedback with minimal effort as we've grown from the 6 support Rockstars three offices ago to a department of almost 90."
---