"Do more with less" – is one of the challenges of the upcoming year. How to use AI effectively while maintaining a human touch?
Welcome to the new episode of Content Pie. The best excerpts on important topics! In this episode, we chose a trend that is getting stronger every year. Yes, the power of artificial intelligence influences many fields of our lives, not only the customer service world.
In today's episode, we'll look at our most useful pieces focused on AI, chatbots, and automation written on Nicereply's blog to date. But let's start with basic definitions.
Start your day 
with great 
quality 
content
What can AI do?
Artificial intelligence (AI) is the ability of a computer or robot to perform tasks that typically require human intelligence, such as natural language understanding or decision-making.
What is AI good for?
Artificial intelligence and chatbots can help to automate repetitive tasks, so as to free up your customer support team to focus on more complex issues.
Reasons why AI and chatbots are so practical to implement:
✔️ messaging applications and their rise in popularity,
✔️ they need to be set up only once (but properly),
✔️ when they're set up well, they will save you operation costs,
✔️ they can work 24/7.
A few examples of using artificial intelligence in customer service:
✔️ chat responses,
✔️ personalized recommendations in autoresponders,
✔️ social media responses.
💡Discover more ways how to get the most out of AI and automation here: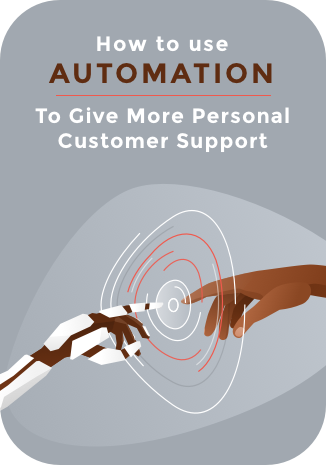 📖 Recommended articles:
🎙Podcast tip:
Customer Experience Leaders Chat is where we talk to support professionals from all over the world.
In this episode, we talk to Lance Conzett, Business Operations Manager at Postmates – an on-demand food delivery platform that gives customers access to restaurants and retailers.
Listen as Lance from Postmates outlines why companies should maximize leadership effectiveness through support operations.
---