The reason why Republic Wireless chose Nicereply was, it's easy integration with customer support softwares and emphasis on gaining actionable insights.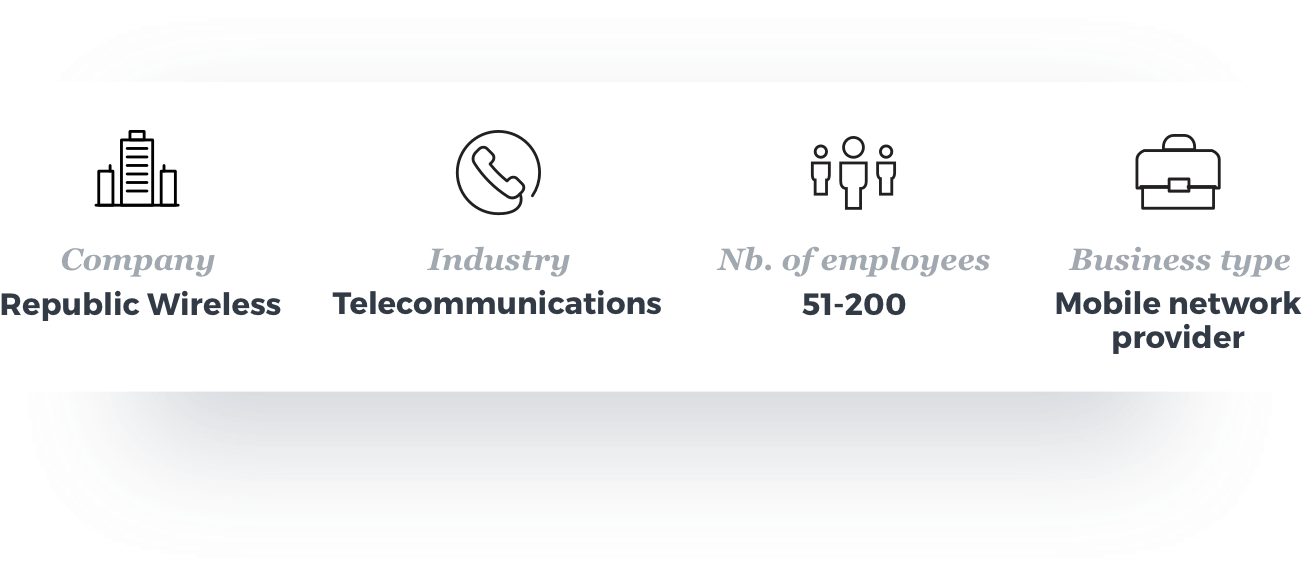 Based in Raleigh, North Carolina and recognized as an industry innovator and disruptor, Republic Wireless pioneered the concept of WiFi calling. They leverage the power of both WiFi and LTE cellular networks to offer both nationwide smartphone service as well as new screenless devices designed to help connect people simply and affordably.
They have been recognized as a top career choice by Consumer Reports; best basic plan by Money magazine and for excellence in customer service by PC Magazine.
Republic Wireless received The Biggest Growth Award in Customer Happiness Awards 2018.
Their support is a bit unique and complicated. Republic Wireless is a 24/7 online only support team. They have a group that reads communications from various sources and triage them. Some tickets will be answered by other customers (they call them Expert members) and some go to their technicians.
Problem
Republic Wireless was facing two basic challenges: attribution and affecting change. The first challenge was caused by the fact that long and more complicated issues tend to have more than one agent involved in the ticket.
"Only asking the customer for a CSAT at the end make it hard to know who affected the CSAT and how to improve. Our QA Team had a hard time with this. It made it very hard to grade and improve individual agent performance."
The second challenge was connected to the problem of only asking customer how something went instead of how something is. "When you only ask "how it went" you will never know "how is it going". This was true for us and made it so that we could not affect change before the end of the process."
Solution
Republic Wireless looked around and tested many options and solutions and decided to start using Nicereply to ask CSAT question after each agent response. They integrated Nicereply with Zendesk and immediately noticed improvements.
"I have been using this for a few years now to meet the initial challenges.Nicereply easily integrated with our ticket management platform (Zendesk) and we had it up and running within a week. Since putting it in place we have been able to improve our overall CSAT (post ticket) by 3 points (from 87% to 90%). We have been able to catch issues before it is too late and manage our individual agent responses and training."
At the moment Republic Wireless uses Nicereply for measuring Customer satisfaction score (CSAT) and also Customer effort score (CES). "Today we use Nicereply for all individual comment satisfaction scoring and we have also deployed it for Customer Effort Scoring (CES). With CES we have automations in Zendesk that reach out to provide follow-up support and to gain feedback on how to improve."
"Our future state is to move NPS, social and live chat to the mix, so we can get a full spectrum of experiential feedback."
Measuring customer feedback allows Republic Wireless to reduce misunderstandings and identify poorly set processes.
"Most times when a customer experience is negative, it is because of a faulty process or misunderstood communication. Getting feedback early allows us to correct a simple misunderstanding or pinpoint a poor process."
The main reason why people at Republic Wireless chose Nicereply was it's easy integration with customer support softwares and emphasis on gaining actionable insights.
"We chose Nicereply because they understood the value of gaining insights early and often during and after the support process. We also wanted a tool that was flexible and could easily integrate into our Zendesk environment."
---