Customer-centric marketing can take run-of-the-mill marketing plans and add in the insights that can only be gained from your support team.
It's no secret that marketing departments pour significant time, expense, and work into identifying their brand's customers and finding ways to speak to them—both to build loyalty and increase spending—through their marketing.
However, one way many marketers are leaving valuable data underutilized is by not working closely with customer support. By combining their powers, marketing and support can better serve their existing customers and find their ideal prospective customers too.
As frequently as brands, and their marketing departments in particular, talk about customer relationships, the relationship that often counts the most to the actual customer is the one they have with the customer support team.
By working to combine the efforts of marketing and support, marketers can grow the relationship customers develop with support naturally—since that's who they tend to talk to most—by promoting the brand in ways that best further that natural connection.
Plus, when the two teams are working together, you can start marketing support services as a reason to use your product, too.
Benefits of Customer-Centric Marketing
Marketing is a vital part of customer experience. Customer experience is the customer's journey across an organization, including every interaction the customer has with a business, like customer support requests and the marketing they see about your product or service.
When a business thinks of customers first and aims to deliver their ideal customer experience— across marketing and support—their efforts will result in higher customer retention rates and build loyalty and trust between the customer and the organization.
According to PwC's Experience is Everything report, "73% of all people point to customer experience as an important factor in their purchasing decisions," and 16% of consumers are even willing to pay more for better customer experience.
Customer-centric marketing can benefit an organization in several ways, including:
Increasing trust and brand loyalty
Unifying messaging across marketing and support
Knowing your customer and their behaviors very well
Identifying brand advocates and finding customer stories to share
Improving customer satisfaction
Determining content to create and topics to cover in marketing copy
By keeping marketing separate from support, your organization misses out on the opportunity to truly know the people currently using your product and consider them when creating marketing to retain them and find more people just like them, too.
Since your support team is interacting with your users every single day, and marketing is monitoring brand awareness and loyalty, why not combine the two to level-up your marketing?
How to Utilize Customer-Centric Marketing
Marketing teams can quickly become more customer-centric by making sure to connect with customer support—including the team providing support and through supporting customers themselves—and removing the divide between the two areas.
Read on for a few key ways to do this:
Avoid Information Silos
Make sure your marketing team is connected to your customer support team, especially in two fundamental ways: communication and feedback.
Marketing should have regular interactions with support team members, including perhaps joining some of their meetings to observe and collaborate, and certainly by staying on top of what the support team is currently working on and what their goals are for the foreseeable future.
(Support teams should do the same for marketing, too!)
Marketing must also have access to the important feedback your customer support team gathers every single day.
Use Customer Feedback in Marketing
When deciding on your marketing and the kind of content to create to draw in new customers, as well as keep the existing ones, take a look at the feedback your current customers are providing to your support team every single day.
One of the ways to collect customer feedback: NPS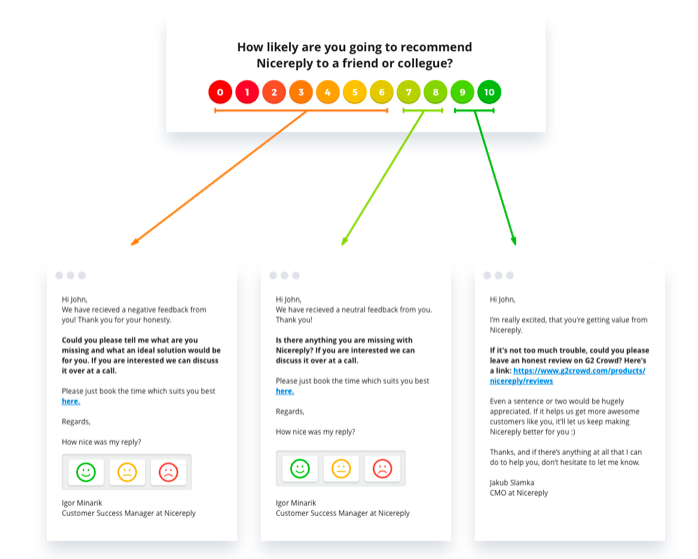 By implementing ways to tag and sort the data for ease of use, marketing can analyze the feedback coming in from your customers and use it to keep them and land new ones.
Gaining a better understanding of your customer through feedback from support and customer interactions makes it possible for marketing to study the data and create content and campaigns that target the best audience in just the right ways.
Rather than merely relying on what message you've decided to share through internal goals and your own product knowledge, consider what your customers are saying.
Do they really love a specific part of your product or service? Let other people know they'll love it too! Are your customers leaving frequent complaints about something specific?
Work to get the fix on your product team's radar and then use your marketing to let people know it's better once it truly is. Remember when Domino's ran commercials about having bad pizza back in 2009?
They promised to be better, and it worked! By 2016, Domino's had the highest customer loyalty of the big pizza companies and the "fastest growth rate among the top 10 quick-service chains."
Develop accurate customer personas
Instead of developing your customer personas around who you think your customers are, gather user data from a variety of sources, including support interactions, to create personas that best reflect your real-life customers.
Having accurate user personas are helpful for both marketing and support.
Your support team can better prepare themselves for the best ways to interact with a particular type of user, while marketing can develop content that speaks to and inspires each type too.
Use social media for both marketing and support
If you're marketing your product or service on social media, you should be providing support there too. Anytime you have an official account for your organization, it's inevitable that someone will ask that account for help.
This is an excellent opportunity for the marketing team to interact with users and see customer support up close.
Whether marketing funnels questions to support team members to handle or tackles them directly, social media should find a balance between customer interactions and marketing.
Conclusion
Once your marketing team centers customers in all that they do, the overall experience for every user will be improved. Try to go beyond simply marketing a product and move into inspiring, educating, and advising.
Rather than trying to sell for selling's sake, your marketing should feel as though you're providing the necessary context and details about your product and its target user so that human on the other side of the interaction can make the best decision, whether that means spending their money with you or not.
Retaining customers requires more than just being the first one to trick a person into buying their product, so finding ways to make your marketing valuable beyond the initial sell is key.
---