It's important to follow customer service trends because these days, customers can easily jump ship to another brand without a second guess.
In this second half of 2019, We'll show you the customer service trends you need to follow if you're yet to do so.
Here's why it's important: today, businesses are operating in a changing environment. In this digital era, businesses are faced with a technology-led, fast-paced and shape-shifting world.
Hence, in the attempt to keep up with the latest innovative trends and software; the single most important aspect of your business is neglected: The Customers.
In today's world, brands are being changed by customers so effortlessly. Customers can easily jump ship to another brand without second-guessing if they have a poor experience with their current brand.
As you may know, this spells doom for your business. Research has shown that a 5% rise in customer retention can boost a brand's income by 75% and such retention is the outcome of quality customer experience.
This is even further proved by another survey by Forrester which revealed that the revenue growth of customer experience leaders is 5.1 times that of laggards.
Customers aren't just numbers but people and no innovation or technological advancement can change that.
Now, let's see 7 customer service trends to keep an eye on in the remaining quarters of 2019.
1. Experience is King
A few years ago, having customer feedback concerning how good your product is and on its price could be sustainable. However, in today's world, that's an outright failure.
The value placed on experience is increasing while that of price and even product is dropping as a 2020 Walker prediction states, but it seems we've gotten there already.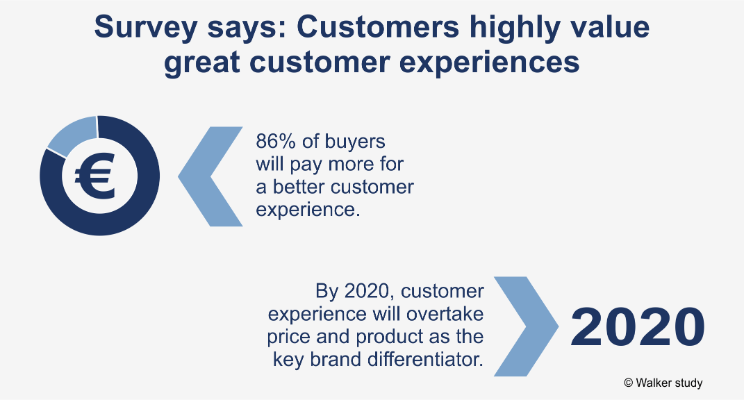 Michael Brenner, CEO, Author, and marketing guru strongly agrees, stating that "Experiences are the only thing people are willing to pay a premium for, not your brand, logo color or product."
Furthermore, Tiffani Bova, a Salesforce Customer Increase Evangelist cited Uber as a case study: "People prefer to wait for Uber cabs while staring at other taxis drive pass them."
The summary is that you can rule the market by providing quality customer experiences from entry to exit point even if your competitors offer better products or pricing.
2. Co-browsing
As much as customer experience is shifting towards human-less interactions, there's still a trend that integrates human and technological innovations in order to create a bond with the customer. And it's Co-browsing.
It's quite frustrating trying to explain complex transactions to customer service and have them misunderstand you.
In fact, a Forrester Research Paper revealed how businesses are increasing usage of video engagements such as annotations, screen-sharing, co-browsing.
Cobrowsing enables the customer service agent to access the screen of the customer and help them hand-hand through certain difficult transactions like paying for a product or filling a form.
It's vital to state that it isn't like screen-sharing, as in co-browsing the customer can place restrictions on what the customer service agent can access on his/her computer in order to protect sensitive information.
This is necessary because in today's world as a recent study shows, web users are more concerned about their privacy than any other thing.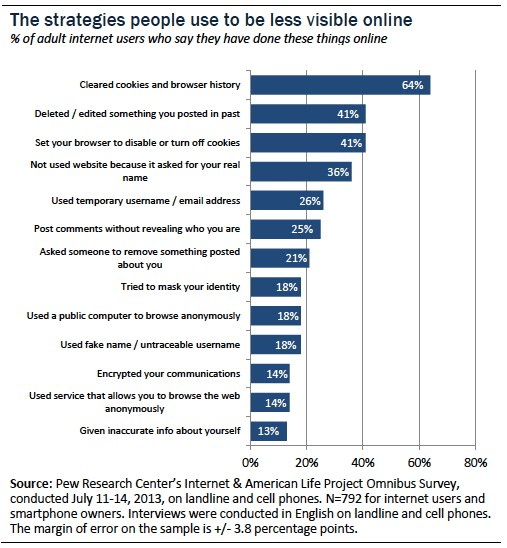 Co-browsing also aids companies to reduce cost while boosting customer satisfaction. One of the largest banks in Nigeria integrated Live Video Chat and co-browsing in order to enhance its inbound support requests KPIs.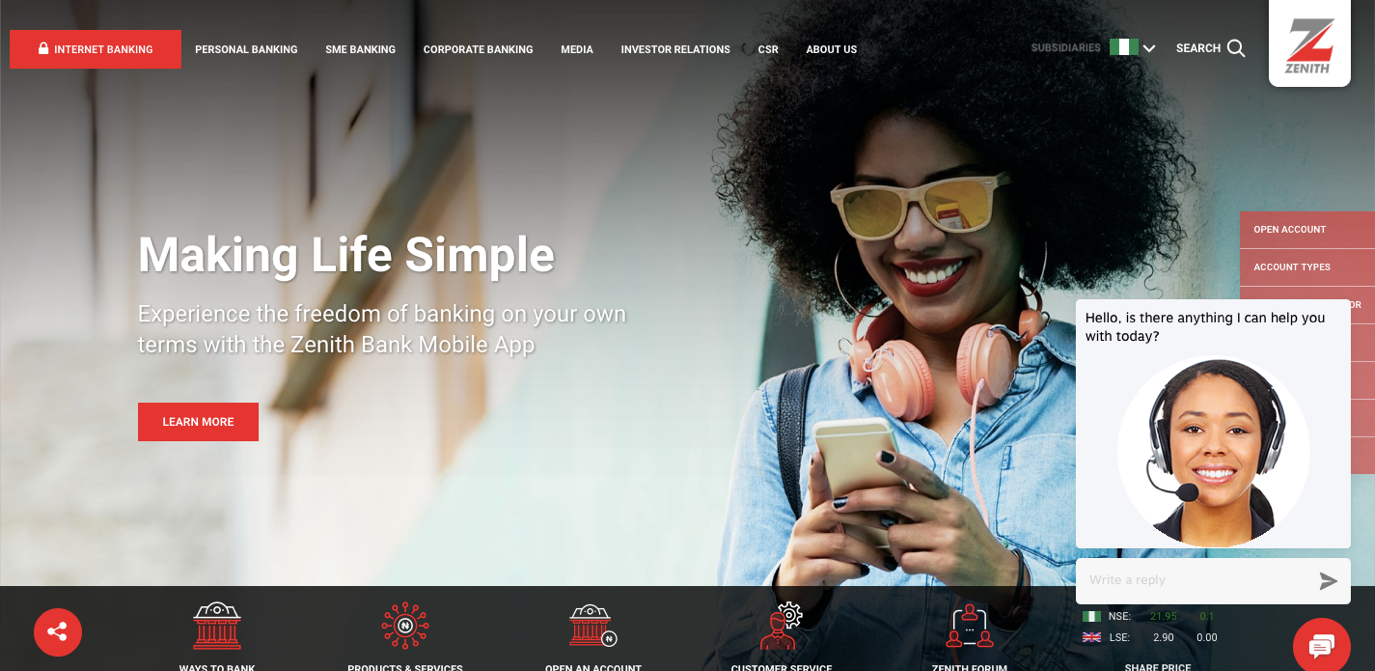 And saw a huge reduction in cost compared to when it used phones and chat alone.
That's the power of co-browsing not only does it improve customer experience but it also reduces the costs associated with customer service.
How amazing is that?
The benefits of implementing this tech are simply mind-blowing. You create an emotional bond with your customers as it allows you to actively assist them to solve problems and not just tell them how to do it.
Who wouldn't opt for that?
3. Preemptive or Proactive Strategies
Getting feedback from customers whether positive or negative used to be a celebrated method of improving customer experience, however, in the digital era that's outdated.
Accenture revealed that 89% of customers feel frustrated having to explain their issues to numerous representatives. And the only way to avoid this is literally reading the thoughts of your customers and handing them the solution before they ask.
What's more, Harvard Business Review states that the number one factor in ensuring customer loyalty is the reduction of customer effort.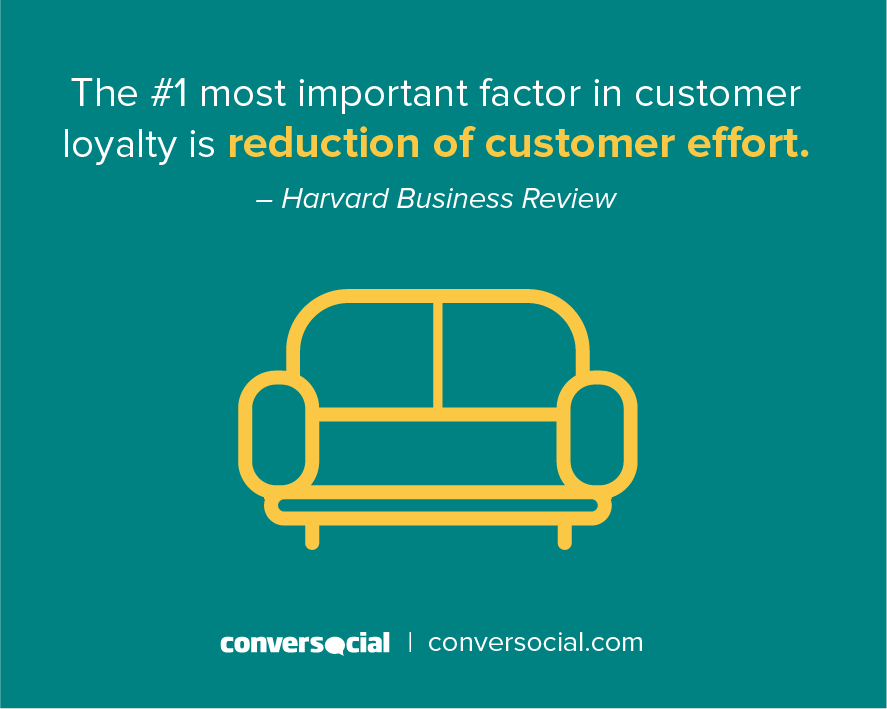 4. Personalization
Delivering a blanket approach to your customers is so old-school. Every customer wants a unique experience tailored to their specific personality.
Throughout 2018, personalization grew stronger and it's definitely going to be TOP #1 trend throughout 2019.
Customers want to feel like they're part of the core system.
As a matter of fact, 74% of customers get irritated when website content isn't personalized, with 76% of business buyers expecting customer service to know who they are without an introduction by 2020.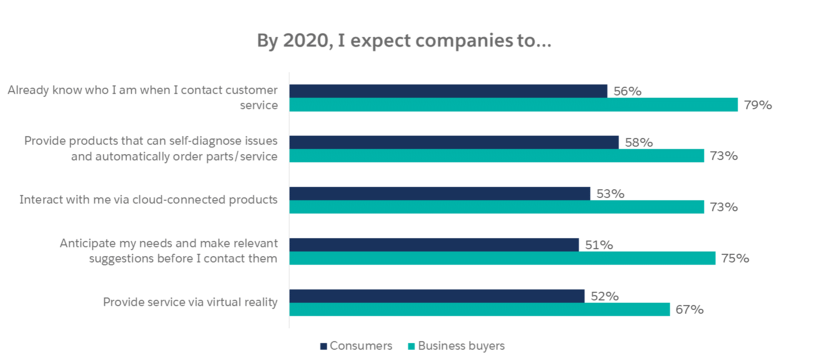 Using Artificial Intelligence and Machine Learning technology, you can learn all about your different customers on a 1:1 basis.
This isn't just some basic stuff, you need to dynamically alter your website to suit each unique customer, offer retargeting and personalized ads on social media, and display personalized pricing to each customer, as well as recognize customer persona as it develops, etc.
Why is this essential? Accenture reveals that 81% of customers desire that brands know more about them and understand the right time to reach out to them and when they shouldn't.
Also, Gartner predicts that in 2020 businesses will delegate 20% of staff to AI management; however, Fareportal a travel brand is there already.
By implementing WayBlazer's AI technologies to their hotel offering they've seen a 10% rise in online bookings conversions and huge leaps in website engagement.
5. Self-Servicing
Self-Servicing is now the standard; specifically, with generation z and millennials. Previously, it was permissible to deal with customers over the phone for every issue they have, however that's so 2008.
In fact, 72% of millennials in a recent survey stated that calls aren't the best ways for them to get solutions.
Voice-enabled tech, chatbots, and virtual shopping assistants are where it's at. You can provide customers with Intelligent, rapid support and direction beyond human capacity effortlessly as a result of the ocean of data that can be quickly pulled from.
It might even interest you that there are predictions that by 2020, 85% of all customer interactions with brands platforms will occur through personal and digital companions.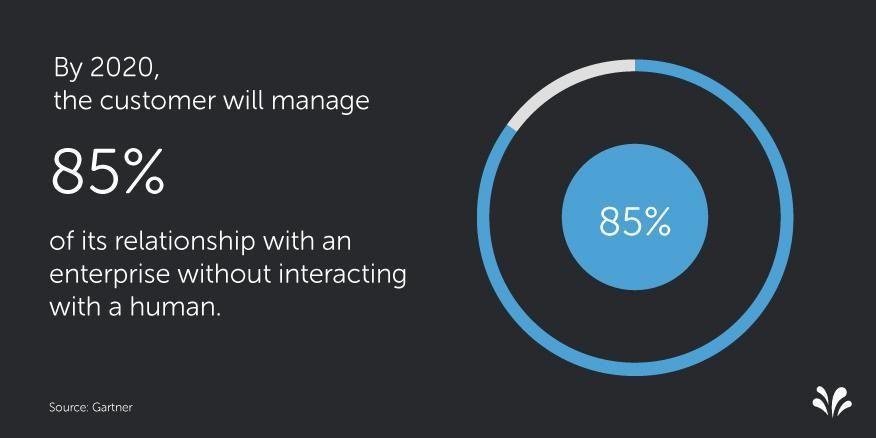 What's more, Say2eat is one of the leaders in the food market due to creating a customer experience that integrates voice-powered chatbots and text. Customers can easily order from their chosen outlets via personalized chatbots.
Hence, to stay on top in 2019 and beyond customer self-serving is a must.
6. Brand and User Integration
70% of the big guns in the global retail market are willing to introduce brand and user integration or IoT to enhance the experience of their customers.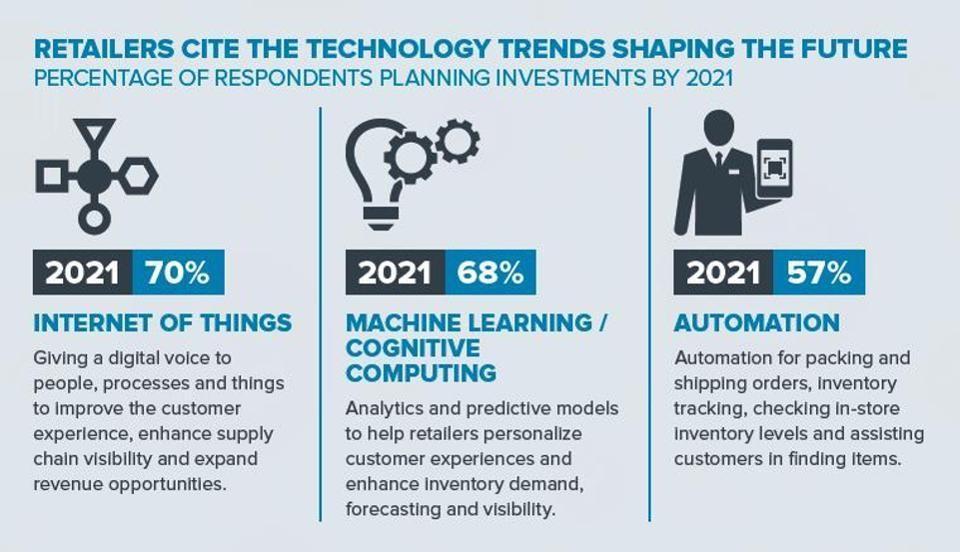 This is because IoT (Internet of Things) and integrated technology offers amazing customer experience by creating a consistent link between the user and the brand.
Basically, such brands have the capacity to know what a customer needs before it is demanded. For example, a customer can be alerted as soon as it's time for him/her to change tires, service a gadget or even stock up the fridge.
A practical instance of this is from the company Pirelli. Pirelli launched an AI system that informs customers when their tires need to be changed.
Furthermore, BMW linked up with IBM to create a system that monitors the car more than the owner is capable of doing and sends alerts based on the results.
This is not a trend to overlook as recent studies have shown that by 2025, IoT apps will have over $10 trillion worth of influence.
7. Virtual and Augmented Reality
Elaborate technological innovation like virtual and augmented reality experiences are transforming customer experience from it was previously known as.
Take IKEA for example, shoppers can now go through their new house layouts, exactly how they would if they were right in the store.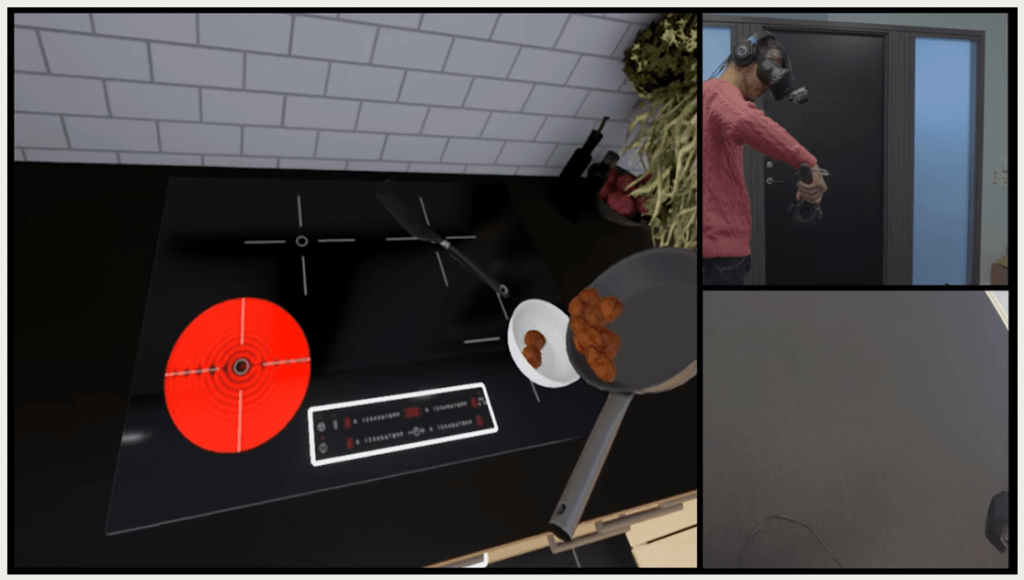 This is absolutely amazing for CX. Not only does it show customers how their new purchase will look like in their own space, but it also decreases the event of returns and refunds. Why?
Because buyers can now know how exactly the product will fit into their world without hesitation.
What's more, this amazing IKEA AR tech isn't just limited to that, the brand's Place App overlays the chosen products over whatever the customer's smartphone camera is viewing.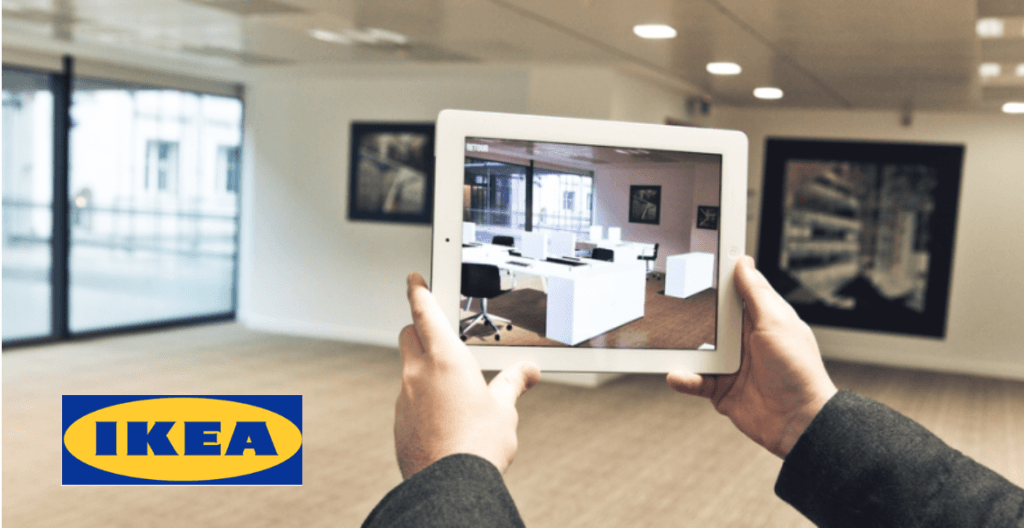 In such a way customers get an amazing view of their new products for what they intended it for.
Also, AR and VR innovations for customer service aren't just limited to B2C businesses, as even B2B brands are taking full advantage of it as the infographic below shows:
By cutting through the borders of reality, AR and VR enhance the perception of what a brand offers.
Conclusion
The world is in its fastest paced era, and in order for your business to remain relevant, you must be in the know of the various customer service trends that can shape the outcome of your business.
Gone are the days when simply offering a good product or service is enough, customers demand more now, and to stay afloat you must meet up with these demands.
Personalized and adaptive service is what customers require and diving into the customer service trends listed in this article will surely enable you to provide them with such.
---