Staying on top of your customer satisfaction is a never-ending process, but if you keep measuring your performance and review the data, you should see a consistent improvement.
As the well-known saying says – whatever gets measured gets managed. Unfortunately, we often forget to put those measurements to actual use. And without that, the entire exercise is futile.
Let me demonstrate that in a story. I have a friend who is rigorously writing down every expense in his life. Every. Single. One. However, he lacks any review process whatsoever. He never goes back to his data to see what story it actually says, and as a result, he's none the wiser than he'd be if he didn't write down anything at all. Is my friend wasting time? Yes, unless he starts to actually work with what he's writing down. Would it improve his finances? Yes, it probably would allow him to budget more accurately. Is this friend me? Yes…unfortunately yes.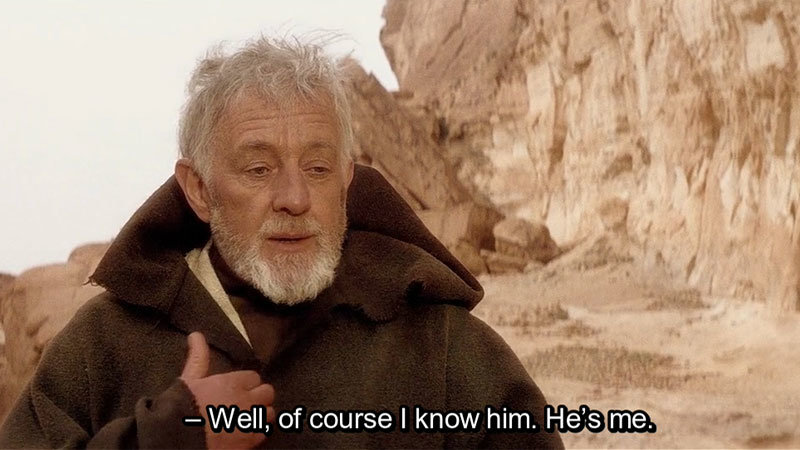 The same logic applies to your support department. Measuring the satisfaction of your customers is a fantastic first step toward providing them with a better service. But unless you flex your analytical muscles and use those data, not much will change, and all you're left with is just another feel-good (or not) metric.
With that being said, let's take a look at different ways you can look at your CSAT data in Front.
Viewing satisfaction with a given conversation
The easiest way to close your feedback loop is to check back with your closed conversations and see what your customers thought of the interaction. If you're using Nicereply to send a satisfaction survey after closing a conversation in Front, you'll find the result conveniently placed in that same conversation as a comment. The same applies to your SMS inbox as well.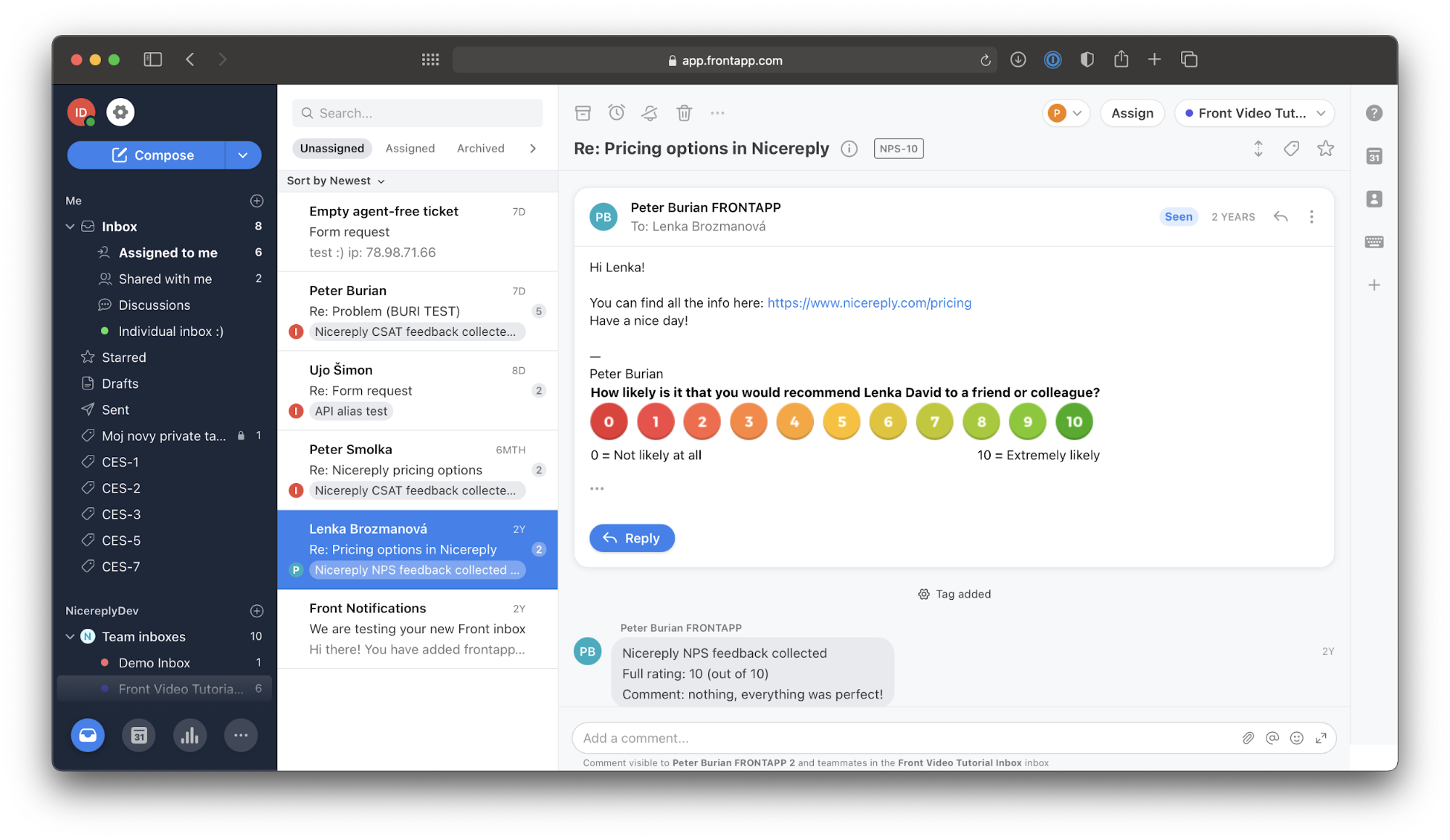 The great thing is how easy it is to come back to a conversation and see the customer's thoughts. However, it's a very narrow view, and for more informed decisions on how to improve your customer satisfaction, you'll need to see more than just 1 conversation at a time.
Viewing all rated conversations
Fortunately, when you receive feedback via Nicereply, it also adds a tag to the rated conversation. Why is that fortunate? You can use these tags to filter out conversations with customer feedback in them.
When viewing a conversation containing Nicereply feedback, you can click on a tag at the top of the conversation (it'll look something like this: CSAT-10) and choose to view all conversations sharing that particular tag. You can use this method to quickly see all conversations where your customers were satisfied, dissatisfied, or anything between.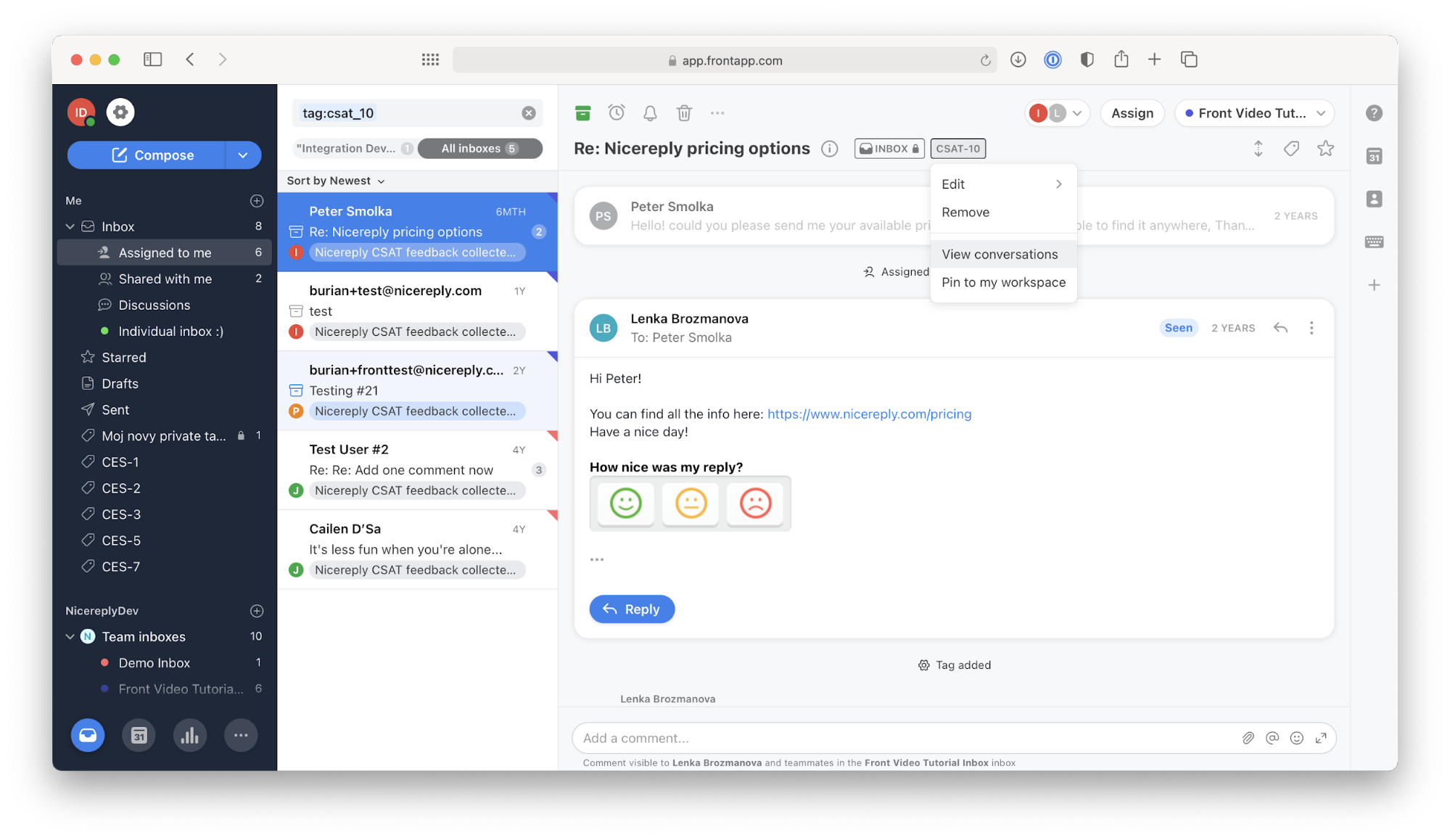 Again the simplicity of this method makes it great for day-to-day use by support agents. You can easily see which conversations lead to customer dissatisfaction and follow up on them and see what can be improved. There is, however, little else you can do with the data apart from viewing and sorting the conversations. You are still limited to viewing one conversation at a time and don't see any aggregated data. For a "dashboard-like" experience and a more granular analysis, you'll want to turn to a specialized satisfaction tool like Nicereply.
Viewing satisfaction data from Front using Nicereply
The default Dashboard
The easiest way to see all your satisfaction data at a glance is to use the built-in Dashboard functionality. You'll be able to see up to date stats on your CSAT, NPS, and CES surveys as well as trend charts, displaying the changes in your performance over time. It is also easy to see a comparison with a previous period.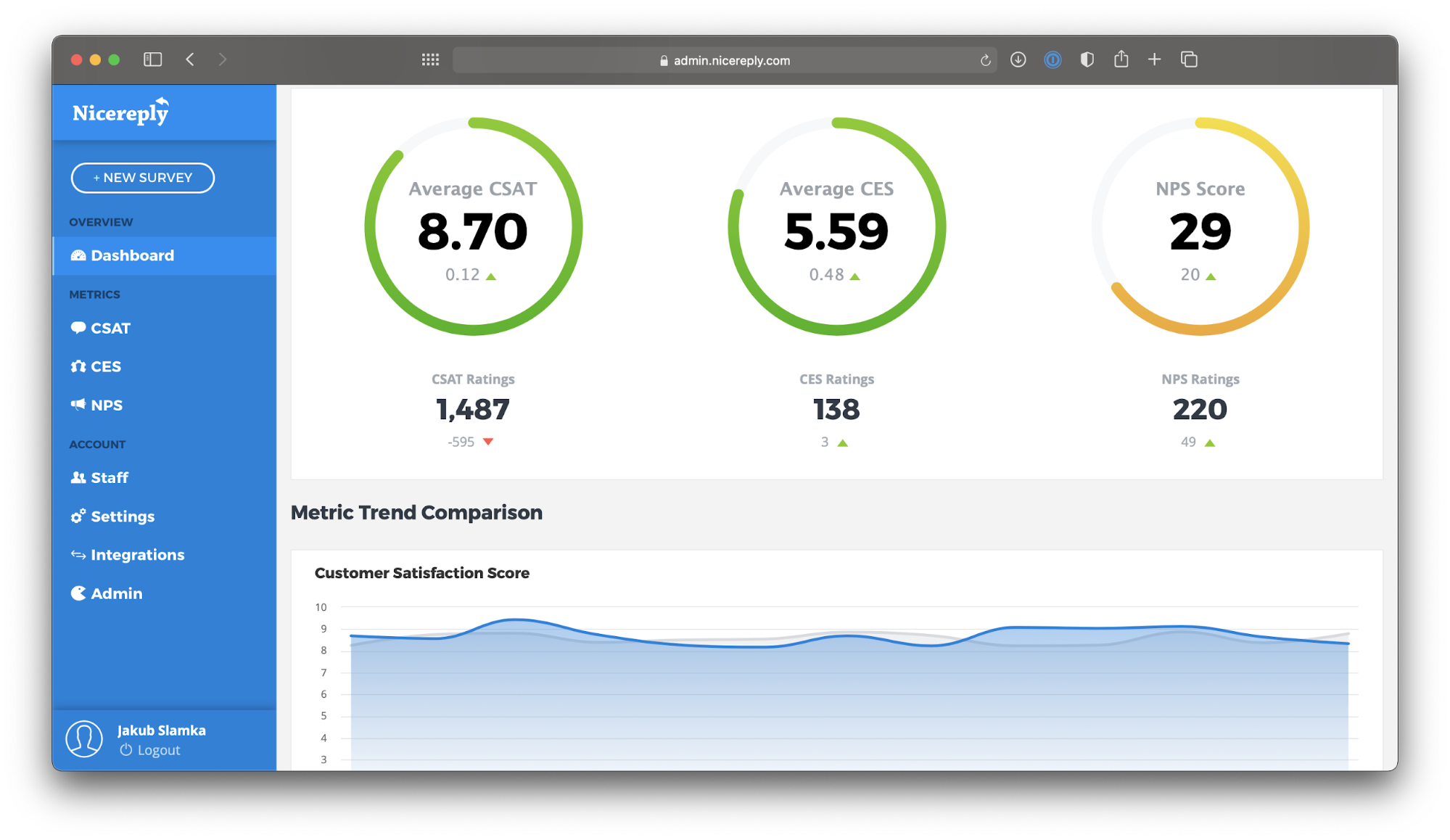 This is a default dashboard, and you can't customize what metrics you see or what surveys are taken into consideration. What you'll see is an average of all your CSAT, NPS, and CES results. You can adjust the date range you want to see in terms of days, weeks, months, or years.
The metric overview
Unlike the default dashboard that shows you CSAT, NPS, and CES data together, a metric overview allows you to get insight into one of the three metrics. Using the metric overview screen, you can see your overall score, average rating value, as well as the number of ratings collected.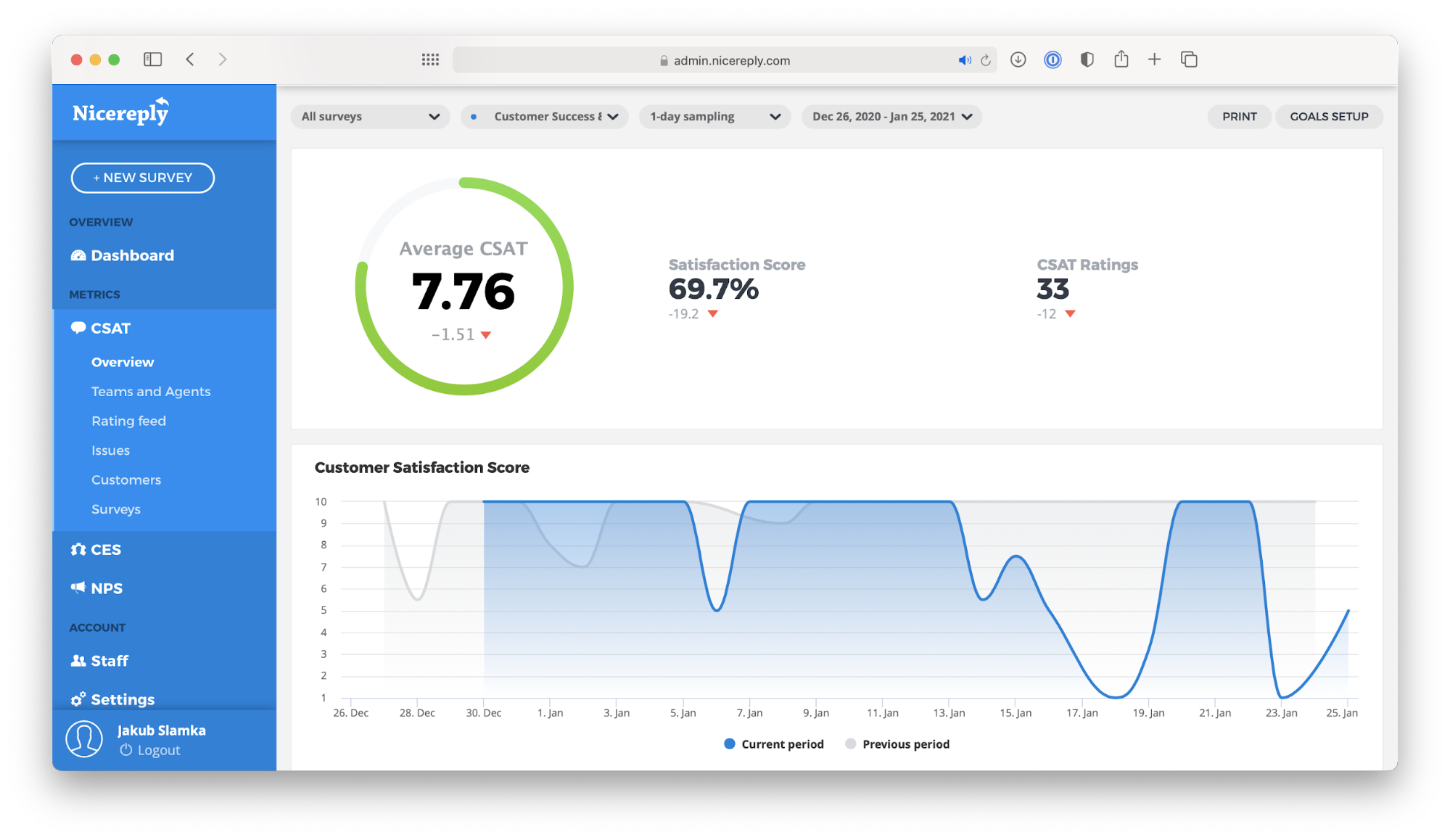 Below you can see how your CSAT and number of responses change in time. You can also see a histogram of your ratings, as well as the number of surveys sent, their open rate, and their response rate.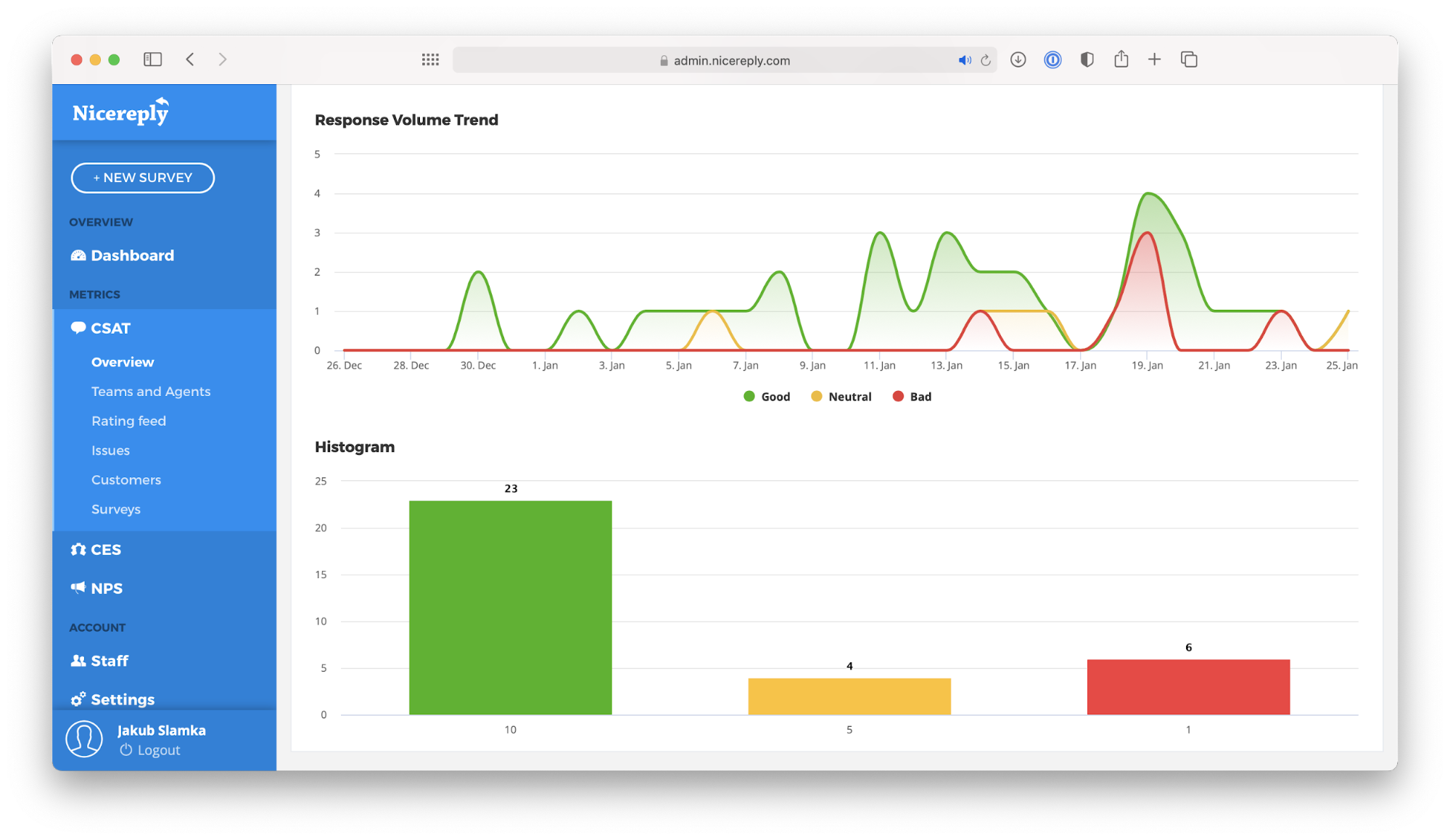 The rating feed
The dashboard and metric overview views are great for seeing the bigger picture of your customer satisfaction program. This can be particularly useful when evaluating how well your support team performs or what should be the next steps to improve. There is value, however, in seeing every feedback individually. You can do that with the Rating feed view. There you'll find a real-time updated dashboard of all your feedback, with links to their respective Front conversations. You can also filter which results you wish to see. You can see a specific survey, agent, or even a team.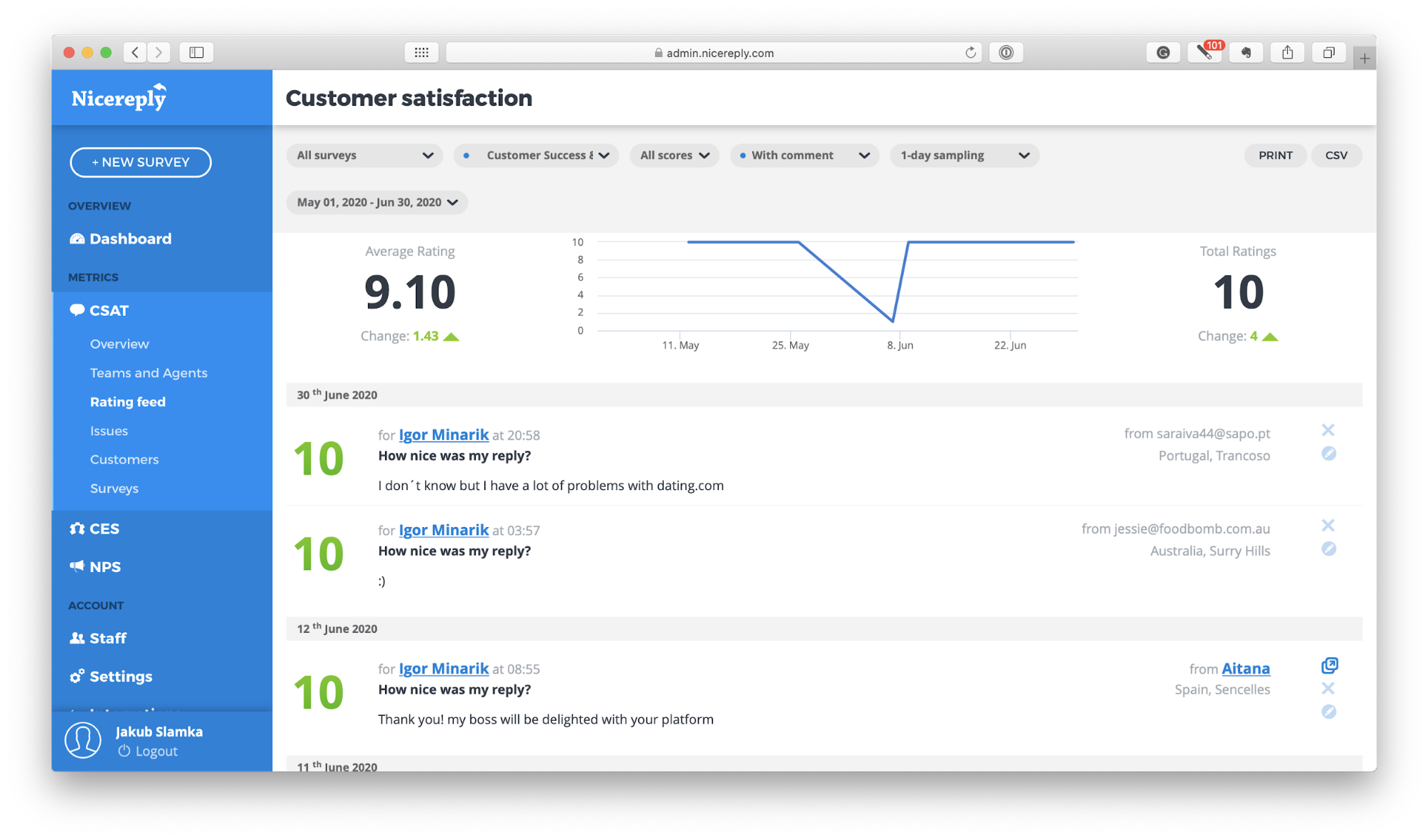 Using these 3 views in unison gives you a holistic view of your customer satisfaction. You can go from the big picture view of your overall customer satisfaction to an individual conversation in a matter of a few clicks. But what to do with all this data?
What to do with satisfaction data?
We've covered a few ways to see your satisfaction data in Front, as well as how you can see that data using Nicereply. But as I mentioned at the start, unless you actually use that data, it will do you little good.
Identify pressing issues
The first step is to look at all your collected data to find similarities or trends. The easiest way to do this is to create an export of your satisfaction data to work with it further.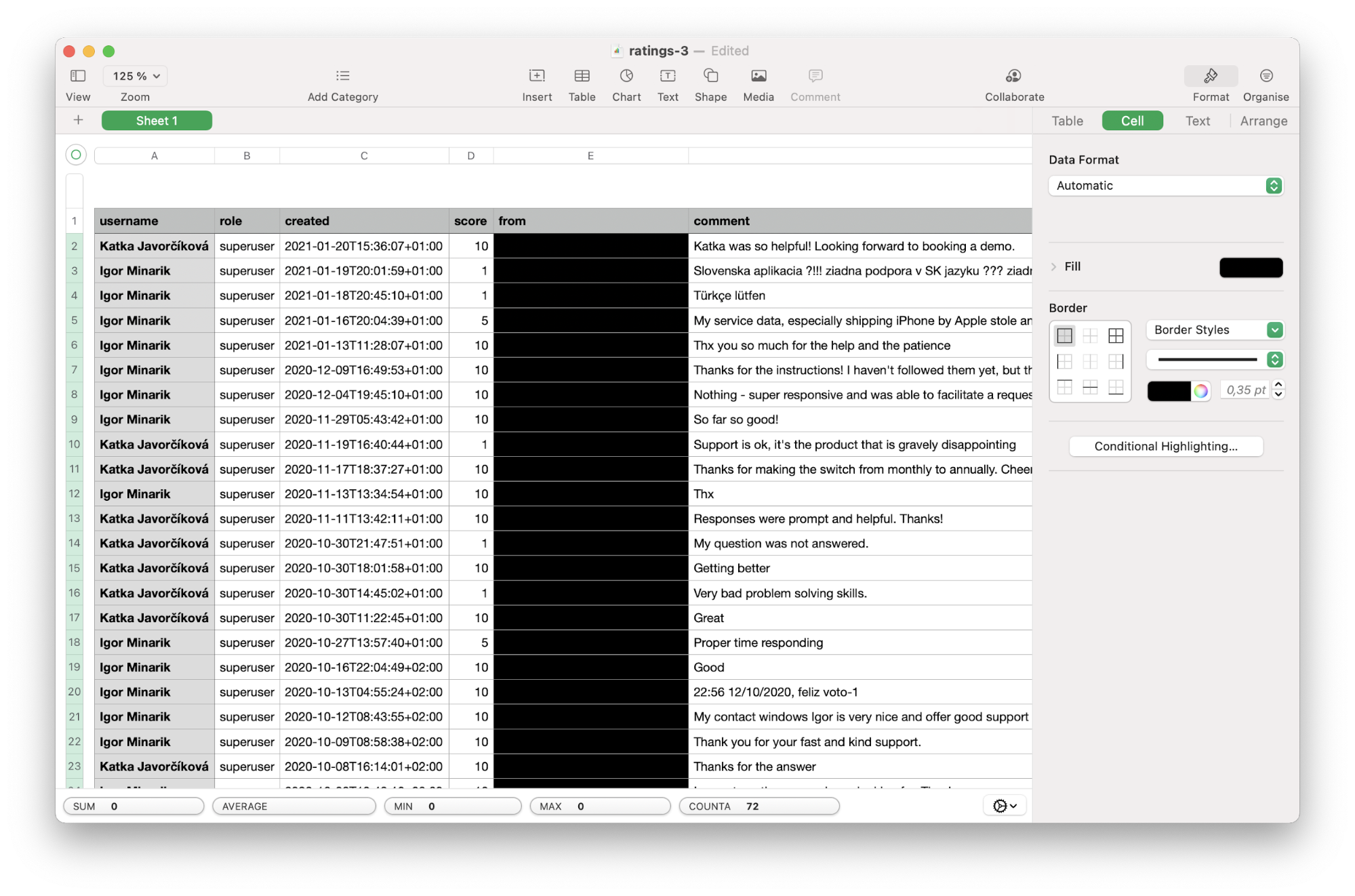 This is an export of one of our surveys I made. I went ahead and censored any data about customers. When you make one, you'll also see their names. The names don't matter right now. What really matters is their CSAT and the feedback they left in the comment.
The next step would be to try to identify what went wrong in a given situation. For example, from a brief look at my export, I can see a few language requests and a few issues with scheduling demo calls. At the end of this process, you should have a list of root issues.
Brainstorm solutions
This part is probably the most fun part of the process. Every business faces issues. Don't dwell on them too much and get to thinking about how to fix them! Try sticking to the golden rule of brainstorming and go for volume first. It's better to start with the premise that there are no bad ideas. After you've come up with a sufficient number of ideas, you can narrow it down and circle in on the great ones.
You can prioritize your ideas using a tool like the action priority matrix (also known as the impact/effort matrix). It's a great tool to help you decide where to focus your energy. You evaluate how impactful each task is going to be, and how much effort will it take to complete it. Then you should ideally focus on high impact / low effort tasks and add a few high impact / high effort projects to your long-term plan.
Monitor for improvements
You've done the hard work, and now it's time to see whether it paid off. Keep monitoring your customer satisfaction and analyzing the results. If you identified your root problems correctly and chose the right solution, you should see a lower volume of those issues popping up.
Rinse and repeat
Congratulations, if you've done all that, you've successfully closed your feedback loop. You'll never eliminate problems entirely, and as your business continues to operate and evolve, new issues are bound to pop up, but then again, that's why it's called a feedback loop and not a feedback chain, I guess.
Staying on top of your customer satisfaction is a never-ending process, but if you keep measuring your performance and review the data, you should see a consistent improvement.
If you'd like to try out the setup for yourself, you can make a free trial of Nicereply here. You'll find more information on how to connect it with your Front account here.
---