Discover 8 Front integrations that offer enhanced support to customers and elevate the level of customer service.
We love Front. Their app makes collaboration between different people and teams extremely easy.
Instead of old-fashioned tickets, it puts conversations at the center of the entire workflow, making it that much easier to retain that special human touch when talking to customers.
And we're not the only ones who love Front. Over 5,500 customers counting brands like Mailchimp, YCombinator, Stripe, and Shopify seem to think so too. Among their most recent accomplishments are a successfully raised $59M seed round from earlier this year as well as being listed in a prestigious list of in the world. For 3 years in a row! On the 21st place this year! The Front is definitely doing something right.
The Front continues to add new features, but sometimes you need a functionality that's just not part of what Front aims to be. To solve this, Front integrates with 67 different apps to help its 5,500 customers execute their 4 different use cases.
Start your day 
with great 
quality 
content
Why use Front integrations?
There are 2 main reasons why you may want to consider using a 3rd party app with Front.
You want features not available in Front
Front is a fantastic tool, but first of all, it's a fast-growing business. To continue their scaling, they need to be laser-focused on what they do best, and as such, not every niche use case is going to make it on their roadmap. Using a 3rd party app integration can be a great way to acquire new functionality, like sending Customer Satisfaction surveys, sending SMS text messages or measuring Net Promoter Score straight from Front's great UI.

You want to share data between different platforms
Chances are you are already using several different business platforms today. Your email campaigns live in MailChimp, your support conversations in Front, your sales communication in Pipedrive…
Having systems that don't talk to each other is referred to as having your data in "silos", and since no customer interaction happens in a vacuum, it is highly undesirable. One of the ways to remedy this is to integrate your tools via APIs so they can share information and communicate with each other.
Best Front integrations
To help you do that, we've compiled this list of the most helpful apps that integrate with Front, based on our personal experiences as well as customer reviews.
The best app to get customer feedback: Nicereply
4.5 stars on G2 crowd based on 302 reviews
Front is all about collaborating on customer conversations. But how do you know if your reply helped your customers or not? And how do you get better at resolving your customers' issues over time? The answer is customer feedback.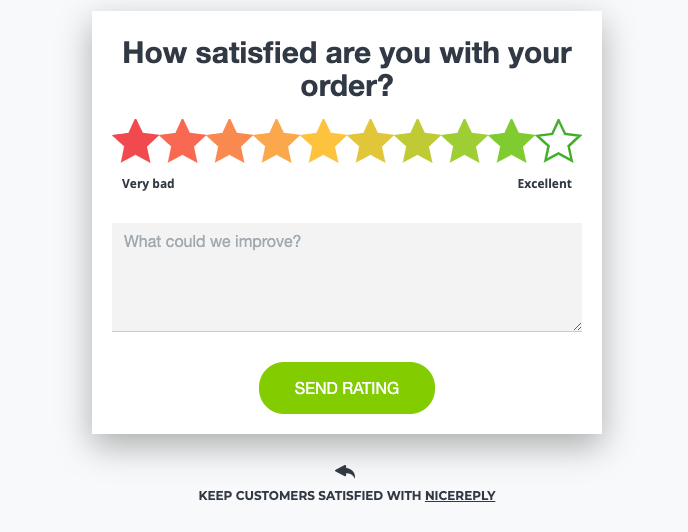 Nicereply helps you collect customer feedback via email satisfaction surveys.
You can trigger the surveys automatically, after resolving a ticket or place them in the signature of every email you send out. This way you can measure the most popular customer service quality metrics – Customer Satisfaction, Customer Effort Score, and Net Promoter Score. Front's very own support team is collecting customer feedback this way with Nicereply, measuring CSAT in every message, while surveying for Customer Effort Score after a conversation is closed. You can learn more about how Front uses Nicereply to provide a seamless experience in a case study we published last year.
What's more, you can also see all this data within Front as a comment.
What do Nicereply customers say?

The best app to talk with your customers: CloudTalk
4.4 stars on G2Crowd based on 230 reviews
You can accomplish a lot over an email or a chat nowadays, but sometimes the best way to go is a good, old-fashioned phone call.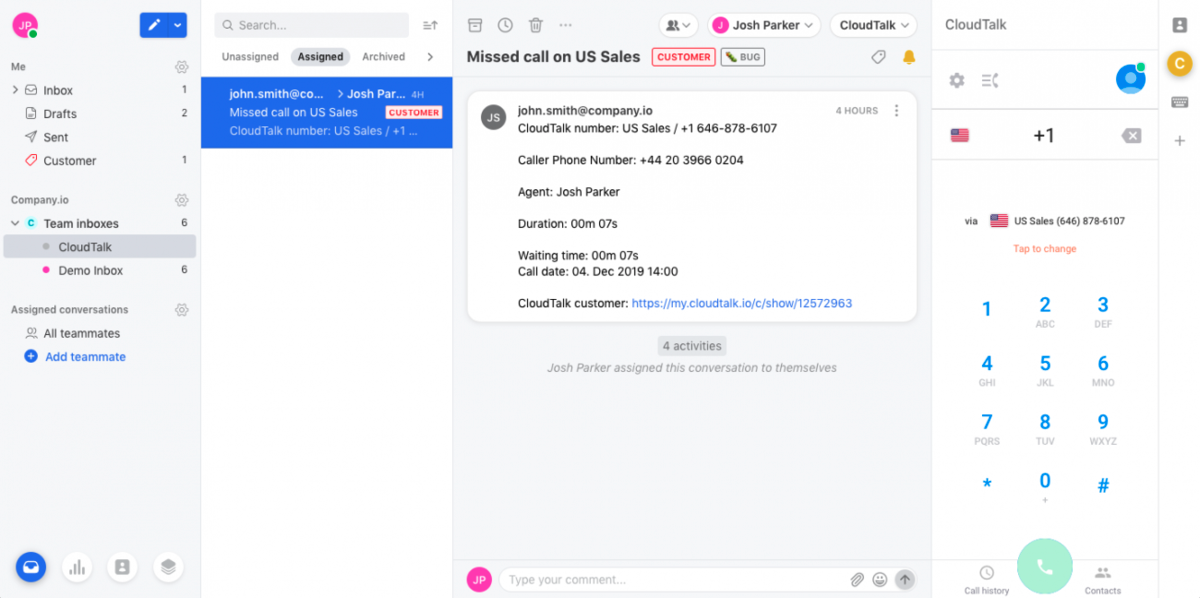 CloudTalk puts a modern spin on this and lets you both make and receive calls via their cloud call center solution. It comes packed with over 40 advanced call center features as well as 25+ integrations to help you set up a workflow that fits your business.
Every time you receive an incoming call, the caller's profile with his entire customer history comes up, so you know who's calling you and what to expect even before you pick up the phone.
What do CloudTalk's customers say?
The best app to talk with your team: Zoom
4.5 stars on G2Crowd based on more than 30,000 reviews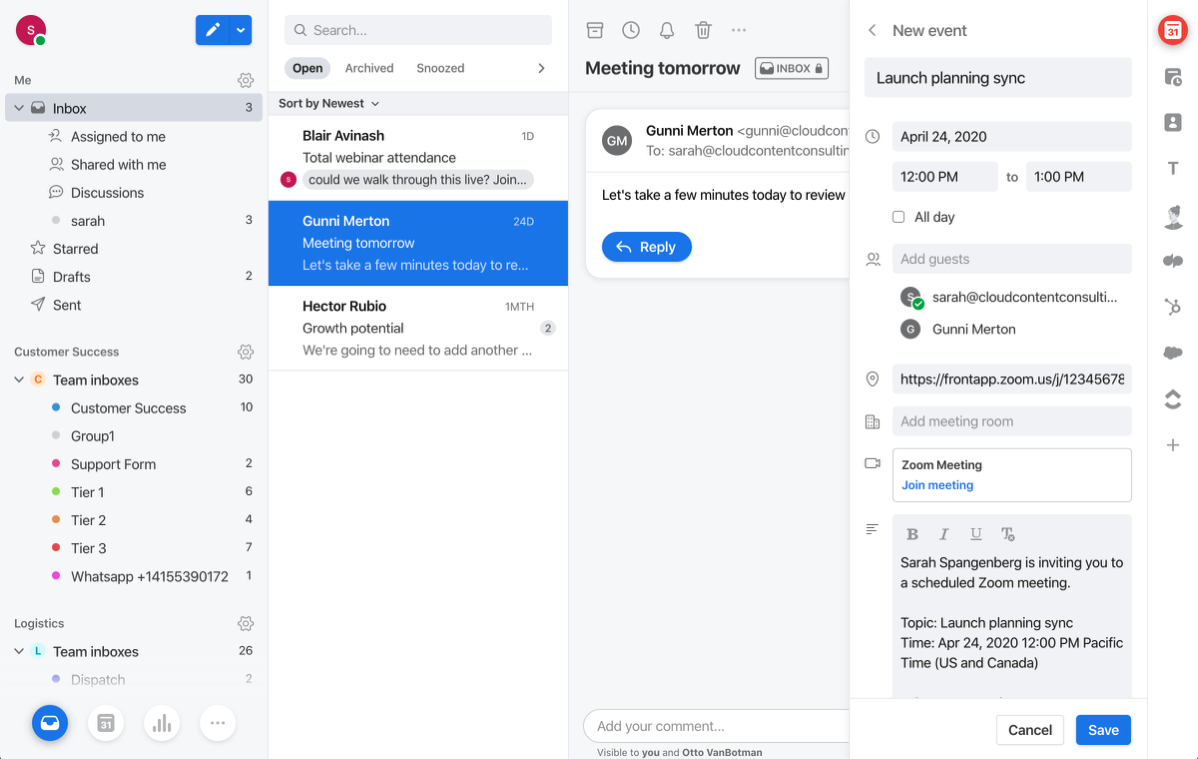 I don't think Zoom needs any introduction in 2020, but just in case you're a hermit who's been living under a rock for the past year, Zoom is currently the go-to app for scheduling and attending video meetings.
The Zoom integration for Front lets you quickly add a Zoom meeting when creating calendar events in Front Calendar, as well as start a call from the comments bar in a single click.
What do Zoom's customers say?
The best app to help your sales/success team: Pipedrive
4.3 stars on G2Crowd based on 1,200 reviews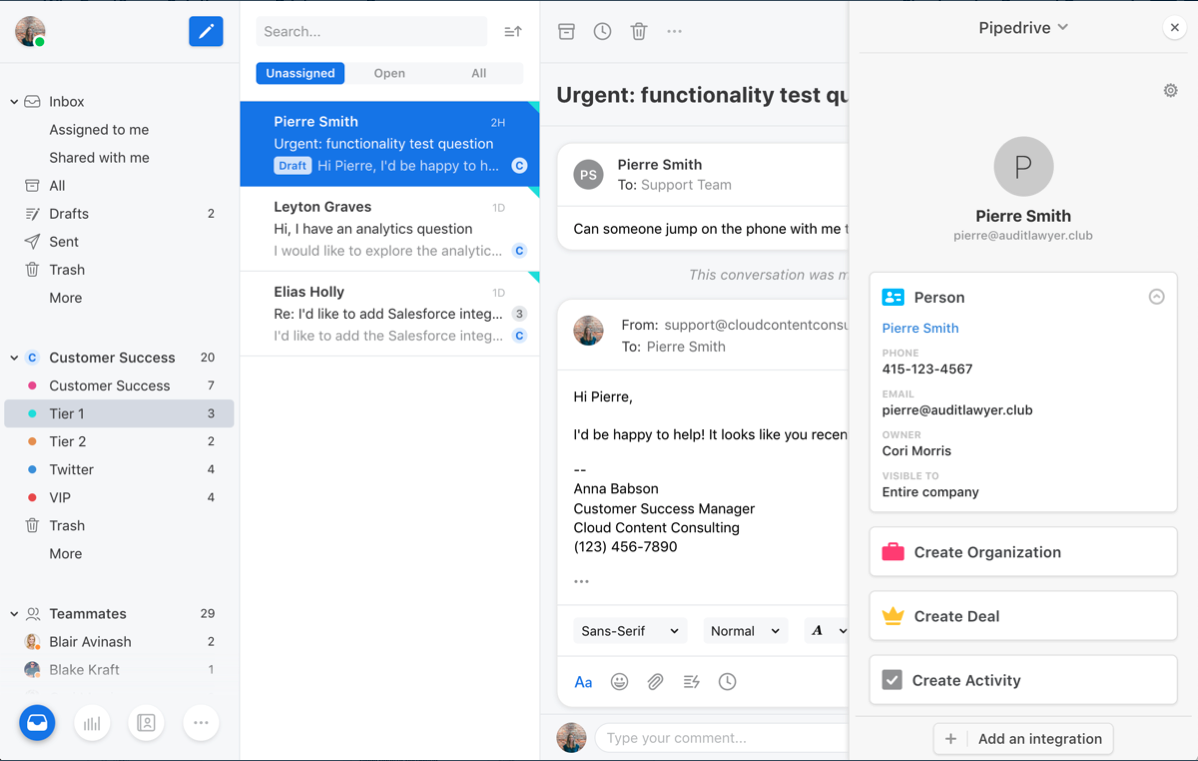 Sales and support teams come into contact more often, than most people realize. Oftentimes your new leads may be in touch with several teams at once. Your sales team may be trying to close the deal, your success team is working hard on onboarding the customer and your support team is there to make sure any problem encountered along the way is resolved as quickly and effortlessly as possible.
The problem is when these teams use different tools and thus have access to different information. Pipedrive's integration for Front synchronizes information about contacts, deals, and activities between Pipedrive and Front and helps your customer data get out of those nasty silos.
What do Pipedrive's users think?
The best app for eCommerce teams: Shopify
4.3 stars on G2Crowd based on 3,400 reviews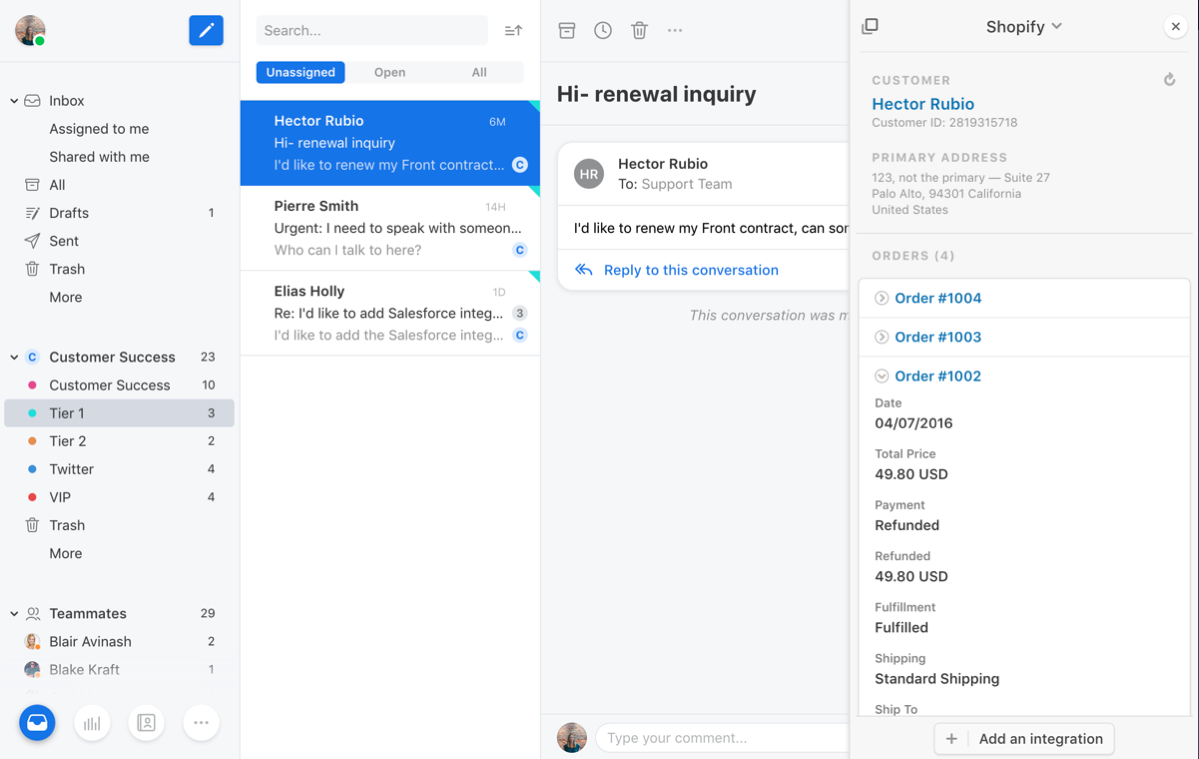 Shopify is the go-to platform to design, open, and run an online business. Their integration for Front lets you see data about your customers such as their address, orders or refunds directly in your Front inbox. This way you have all the information you need to get their order on track.
You can connect multiple stores with your Front account.
What do Shopify's customers say?
The best app to text your customers: Twilio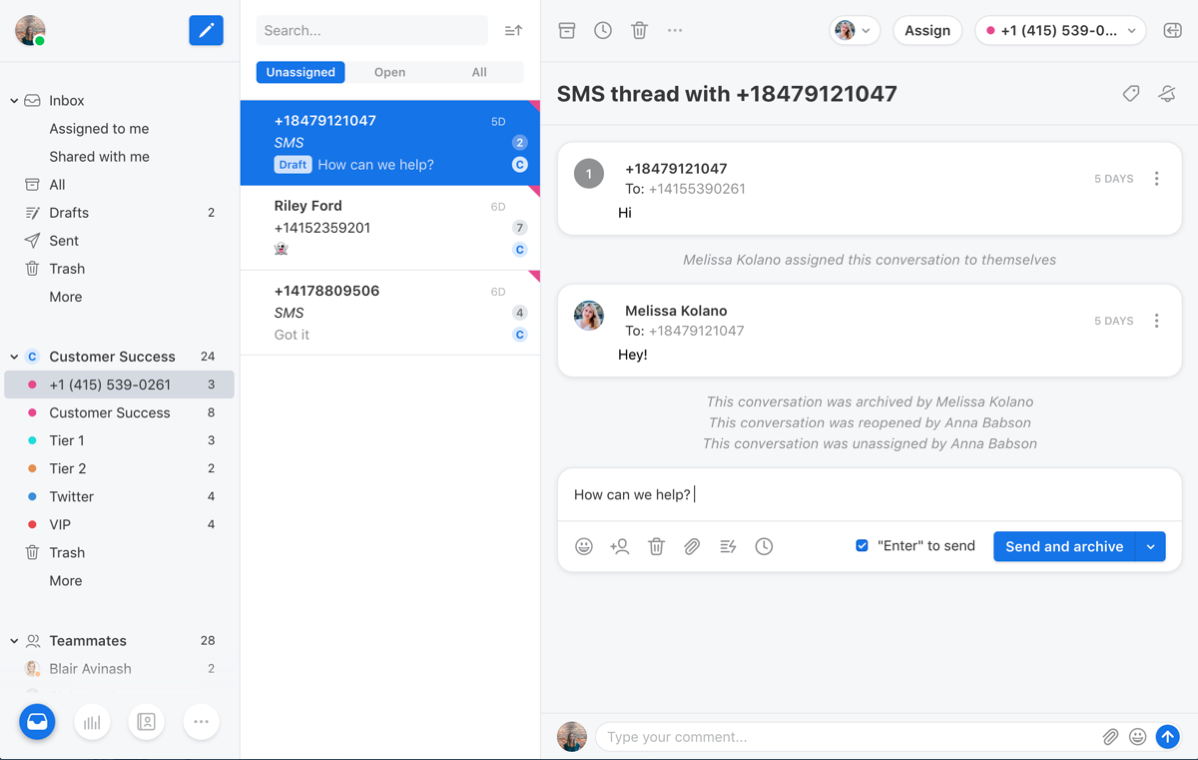 While SMS texting has been surpassed by different IM platforms, like Messenger and WhatsApp, a simple text message can often cut through the noise in a way email never could. That makes them ideal for important notices and messages your customers shouldn't miss.
Twilio integration lets you create an SMS channel in Front to manage your SMS messages alongside all your other channels.
Afterward you can send, receive, and reply to SMS messages directly from Front.
What do Twilio's customers say?
The best app to keep everything organized: Trello / JIRA
Trello: 4.3 stars on G2Crowd; JIRA: 4.2 stars on G2Crowd
Yes, it's a 2-in-1, but hear me out. Both tools come from the project management giant – Atlassian. Trello is a fantastic light-weight tool for organizing smaller teams and projects, while JIRA is a massive tool ready to carry an entire enterprise. It really depends on your team here, but both tools are fantastic for keeping your team organized and on track.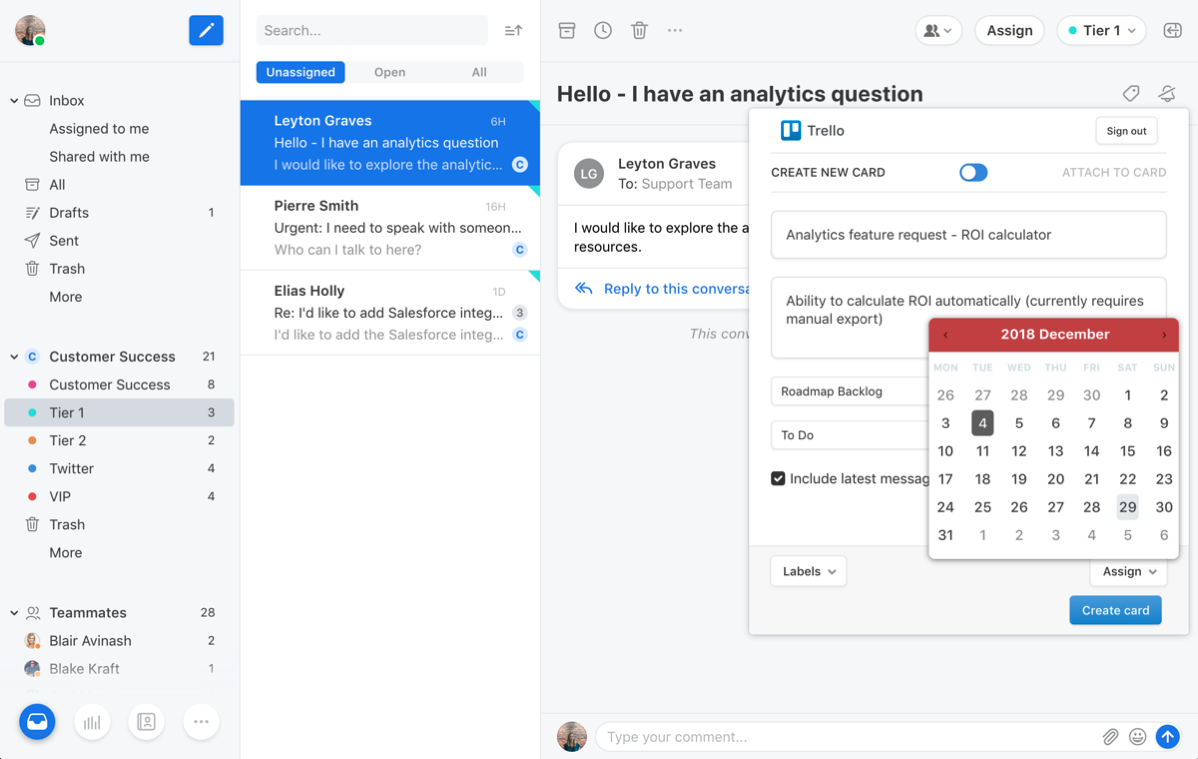 Trello's integrations lets you pull up existing Trello cards for additional context, or create new ones when needed.
In a similar matter, integration Front with JIRA allows you to link, access, and create JIRA issues, set due dates, assignees to keep product ideas, feedback and requests flowing between different teams.
What do Trello's users say?
What do JIRA's users say?
Build your own support stack
These are some of the best tools you can integrate with Front based on our experiences, but there are many others out there. It's now up to you to define what needs to be done to enhance your workflows. Integrating a new app is usually just a few clicks away from Front's list of integrations, so don't hesitate to start exploring!
Also if you think there's a great app out there that we've missed, feel free to reach out to us at editor@nicereply.com to let us know! Have fun building your support stack.
---