Stars, smileys, or thumbs? Can't decide? Read on to find the answer.
Welcome to the next episode of Content Pie! In today's piece, we will look at different types of Nicereply's CSAT survey scales. If you are considering using Nicereply, one of the first steps in setting up your survey will be the selection of the survey scale.
CSAT surveys are among the most widely used metrics. Not only because they tell you a lot about your customers' opinions, but because CSAT surveys can be very flexible. Let's have a look at their pros and cons.
Types of CSAT survey scales
2-Point Scale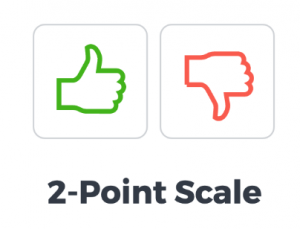 Pros:
• There is nothing that you could misunderstand about the 2-Point Scale.
• You have an accurate answer to how the customer evaluates the experience with your agent or company.
Cons: 
• You don't give the customer the opportunity to express a neutral opinion.
3-Point Scale

Pros:
• The customer can express a neutral opinion.
Cons:  
• Unless the customer leaves you more detailed feedback (or comment) you won't gain many insights from that kind of data.
5-Star Scale
We've introduced a lot of exciting updates lately, but the biggest news is definitely our 5-Star Scale for CSAT surveys!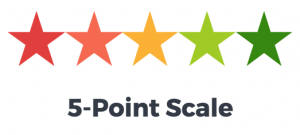 Pros: 
• A 5-star survey is one of the most popular ways to gather customer feedback.
• This type of scale is suitable for wide audiences since the idea of a 5-star rating is universal.
• It's an intuitive system that is easy to analyze and interpret. The 5 stars represent the positive upper limit, while the 1 star represents the negative customer experience.
• You can change the sentiment of the scale if you want to.
Cons: 
• If you are an existing customer and you want to use the 5-Star Scale, you need to create a new survey.
Haven't you tried our surveys yet? All you need to do is just sign up for a free trial and enjoy all advantages it delivers.
10-Stars Scale

Pros: 
• It's the widest scale you can use. You'll give your customers the opportunity to express a variety of emotions.
Cons: 
• There is no significant disadvantage. However, keep in mind that you can throw your customers into the so-called paradox of choice – the more options they have to choose from, the worse they decide.
💡Reading Tips
Now, when you have an overview of what each scale can offer, read more about the most popular metrics. Each has different benefits and with the right combination you'll get the most out of your surveys:
• Benchmarking CSAT, NPS, and CES: What's a Good Score to Have?
• Measure Your Customer Loyalty by Combining NPS and CSAT Score
• The Ultimate Guide to Net Promoter Score 
🎙Podcast Tip
After reading our blog tips jump into the art of collecting and analyzing data! Looking for some inspiration? Listen to Customer Experience Leaders Chat where we talk to support professionals from all over the world.
In this episode, we talk to Tom Ronen, Head of Customer Success at Monday.com. Find out how they work with data to help customers succeed.👇
---