Putting yourself in the customer's shoes can really help you to empathize and keep your customer responses genuine and honest.
Customer service is one of the most powerful factors that affects loyalty and sales. Providing great customer support might seem easy in theory, but it is actually pretty challenging in practice.
Each customer you interact with is different. Emails they get might be the only method of communication they have with your company. And while it is a daily routine for your support team, receiving a response from you is a unique experience for customers, which determines whether they will continue buying from you.
So if you don't want to lose your customers and your money (as companies lose approximately $62 billion due to poor customer support), your client's satisfaction should be your number one priority.
Keep reading, and you will learn how to write customer responses that will keep your clients satisfied, even when faced with troubles with your products and services.

1. Pick the Tone
In order to build trust and satisfy customer needs, one needs to learn how to adapt the language and writing mannerisms utilized by customers when writing responses.
Choosing the right tone is a crucial step for any customer service specialist. It not only affects the conversation to follow but also forms the impression that your company gives them.
Formal or Casual?
A report by Software Advice states: 65% of customers admit that responding too formally doesn't help in establishing reliable communication. Speaking informally helps to put customers at ease, and almost always makes a good impression.
Start your day 
with great 
quality 
content
Keep your tone friendly, but not overly so – keep away from slang and familiarity, and understand that while cordiality is expected, this is work, not a casual conversation with your friend. Remain friendly in every situation, and do your very best to stay polite and courteous, even if your client becomes aggressive or offensive.
You must also keep your messages free from grammatical errors – consumers will not trust a consultant who does not write well.
2. Be Human, Not a Robot
It's essential for customers to know that they are speaking to a real person and that their problems are understood and can be resolved.
Empathize with a customer's feelings. The best thing you can do while writing a customer response is to show that you understand why he or she feels the way they do and that they have every right to feel that way.
Mention a personal experience. This is not about telling your personal story. This is about you empathizing with the reason behind your customer's indignance.
For example: "I know how waiting for a package can be challenging. If I were you, I would feel the exact same way," and so on.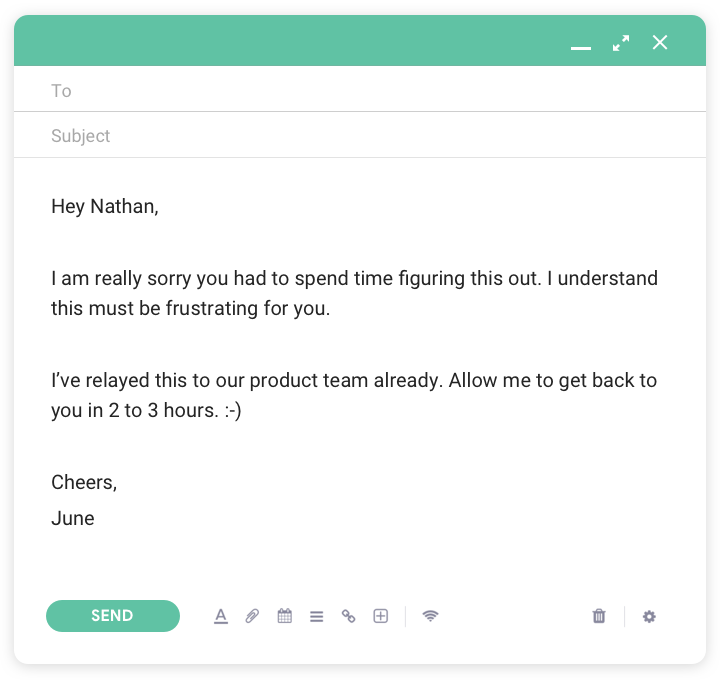 Take responsibility. When consultants use the word "I" instead of "we", it gives personalized customer responses and shortens the distance between a customer and a support specialist. The pronoun "we" sounds too formal, and implies communication with a group of people who represent a big corporation.
For example, "I will keep you up…" sounds much more personal than, "We will inform you…" The more customers feel that they are communicating with a real person, who is responsible for helping them, the more they trust that communication.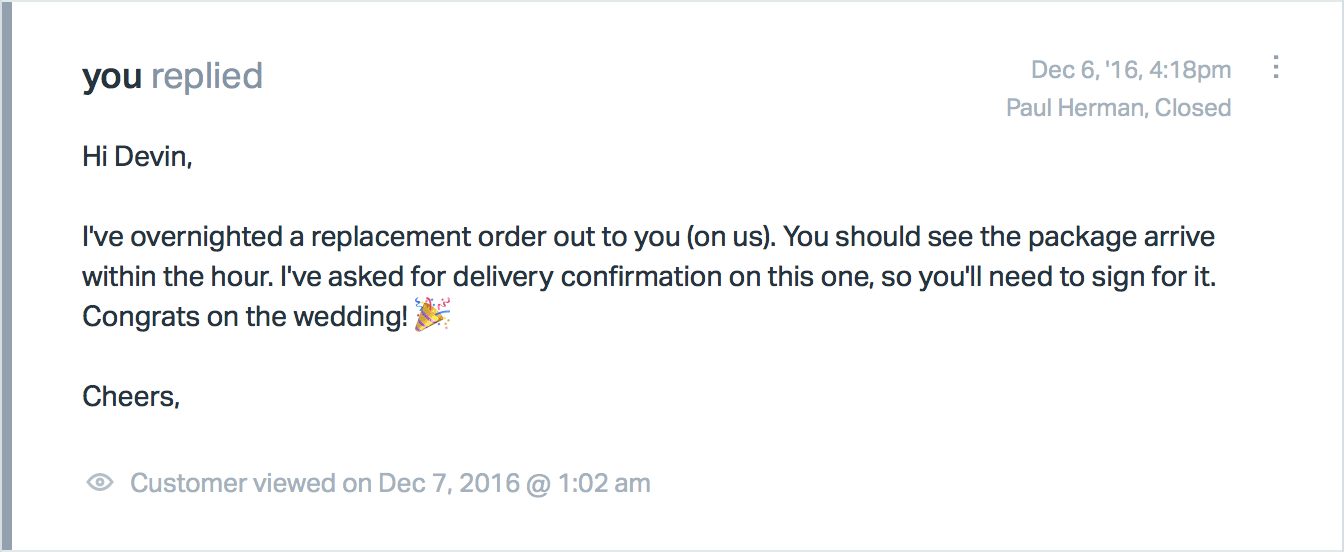 Personalize. Greet your customers by name; thank them for their queries, and assure of how you will try to solve their problems as soon as you can. Personalize your messages and try to avoid promises that you can't keep.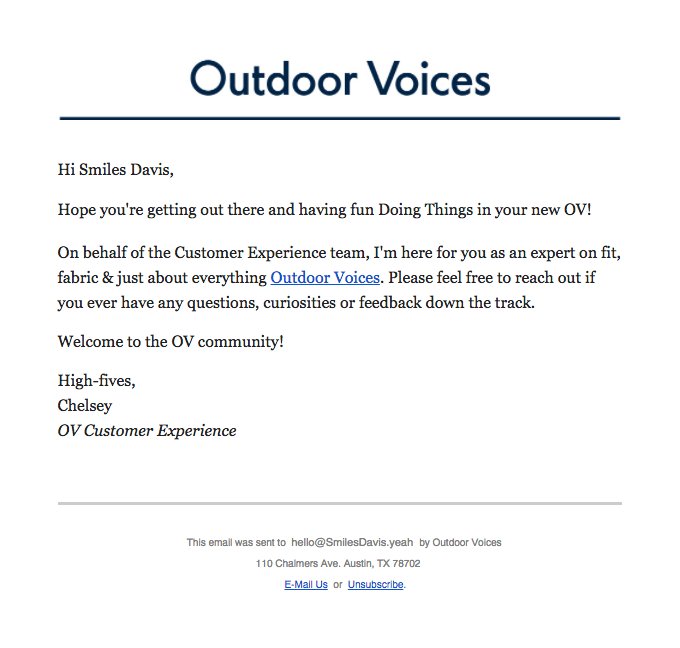 Avoid cliches. The way you end your letter is also very important. Adding your name and even a picture will help a lot – for example: "Warm regards, Calvin Dodson." It's better to avoid phrases, like: "We appreciate your patience;" "Thank you for being our loyal customer;" "We've received your request;" "Your letter is very important to us," as they make you sound robotic and can frustrate your customers.
Case study:
Nila Towstone, the head of the customer support team at EssayTigers, shares her experience:
"Once we had a case when a person closed a chat with the message: 'I would rather speak to a real person.' It was frustrating because they were speaking to a real person. That was the moment when we realized that the tone of our consultants might be confusing to clients who don't see them sitting in front of the screens in our office. Since then, we try to avoid cliche phrases and spend a lot of time training our consultants to hold the right manner of conversation."

3. Use Positive Wording
Phrases you use in your text play a significant role. It is known that certain words highlight your empathy and make the text more trustworthy.
For example:
Feel
Definitely
Completely
Fantastic
Absolutely
Interesting
Generous
Exciting
Impressive
Friendly
Words with -LY ending tends to make the words following them more persuasive and truthful. It's a little trick typically used in marketing.
Positive words, like "marvelous," "excellent," hold a more informal tone and make your customer responses sound more optimistic and upbeat. They are commonly used in positive scripting – establishing communication with customers in order to guide them toward a certain action or mood.
Powerful phrases to use in your emails may include:
I'd be happy to help you.
Is there anything else I can help you with?
Thank you for letting us know.
I will find out it for you.
Words and phrases exist that can make your emails sound accusatory. A person who might receive such an email may feel angry or guilty, instead of feeling comforted and happy. Avoid words and phrases such as:
Fault
Misunderstanding
Calm down
It seems
Protocol
Policy
Unreasonable
I can't help
You're wrong
Pay attention to the way your customer writes to you – try to use the same language and tone. This is a common practice in psychology, as it helps to establish a rapport with the person you are speaking to.

4. Respond Quickly
No one wants to wait for customer responses for too long. That's why the faster you can answer such an email, the better. Research by Super Office shows that an average time usually takes up to 12 hours to satisfy customer service requests, while most users expect a response in one hour or less.
These statistics give us a better understanding of customers' behavior and why 84% of consumers are not satisfied with their latest interaction with customer service support.
So, keep in mind how the time it takes you to respond to a customer is just as important as what you write to them. Many companies use automated emails which help them communicate with clients.
Typically, this type of email is used to let customers know that your company has received their emails, and will work on solving issues as soon as possible. Automated emails have obvious advantages:
They help to communicate with multiple customers.
They give you extra time to solve customer problems.
They show that you're not ignoring complaints.
However, automated emails can't be personalized as much as they should be, which is why they can't substitute direct contact with a customer support manager.

5. Don't Be Afraid to Apologize
Each entrepreneur knows that things can't work smoothly all the time, even if you hire the best managers in the world.
Thus, deliveries may get delayed, items may be out of stock, or clients can be disappointed with the product quality.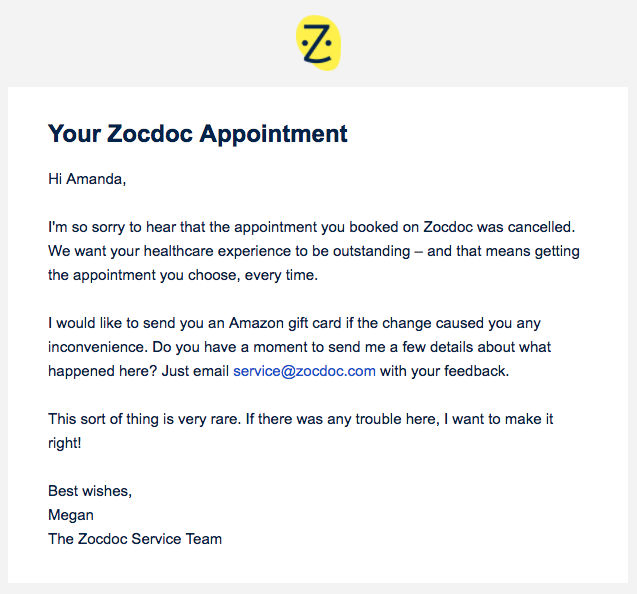 Your team has to be ready for all sorts of complaints and begin apologizing for your mistakes. The ability to admit to mistakes, while keeping the clients satisfied, ensure companies maintain consumer loyalty in cases that could ruin their reputation.
Do Everything You Can
Giving people more than they expect helps provide service that keeps customers' loyalty and decreases the influence of previous negative experiences on the overall impression of a brand. If, for example, a person needs an item that is out of stock, put a link to a similar product on your site, or inform them about when this product might be available again.
The easiest way to support your apology is to provide discounts, coupons, or free products. According to a study by the Carey School of Business, offering compensation (refund, certificate, or discount) will increase satisfaction levels from 37% to 74%.

6. Be Specific
When consumers contact you and discuss certain issues, they only really want to know when their problem will be solved. Commonly, they are not interested in the actions you will take, they simply want to get a service or product they were expecting.
The results are more important than the reasons. There is no need for you to explain why an issue occurred – do what you can to solve the problem instead of talking about it.
That's why you should be as specific as you can be about time frames. For example, when a person needs a refund for a product, all you should give them is the time frame around when they should expect their money.
"Your refund will be deposited in 3-7 days" is much better than "Your refund will be deposited soon." Provide verified information and make sure to keep up with the customer till the problem is resolved.
It's important to understand what you're apologizing for, as well as what has your client angry or upset. Putting yourself in the customer's shoes can really help you to empathize and keep your customer responses genuine and honest.
Wrapping Up
Customer support is all about keeping customer loyalty by all means.
While attracting new clients is important, retaining customers is crucial. To keep customer loyalty, customer care managers should follow certain standards, such as remaining polite and friendly no matter how a client acts and doing everything possible or impossible to satisfy client needs.
If you want your service-based business to prosper, you should put in much effort to teach support managers on how to communicate with clients effectively.
---
---