Let's face it. Cart abandonment is one of the most frustrating things about an ecommerce business. No online store is immune, with studies showing an average cart abandonment rate of 69.99%.
But to be fair, some cart abandonments are simply a natural result of how users interact with online stores. Consumers like to "window shop," compare prices and save items for later. These actions lead to unavoidable cart abandonments, a normal part of the online shopping experience.
That aside, there are a few specific reasons consumers abandon their carts. So what can you do about it? In this post, we'll explore why shoppers abandon their carts and introduce simple tools for reducing cart abandonment that solve these problems head-on.
Before we dive into the reasons customers abandon carts and the tools you can use to prevent losing out on that revenue, there's one tool we love and want to mention up front: the customer survey.
Customer Surveys: Your Secret Weapon
If you want to go above and beyond to reduce cart abandonment rates, try gaining a deeper understanding of why customers are leaving. In other words, at what point in the buyer's journey are they closing the window or heading back to the search engine results page?There are a variety of different ways to uncover this information. For starters, you can ask the source directly by conducting customer surveys via pop-up or email post-abandonment.
Or you can conduct user analysis via a heat map to determine why shoppers are leaving and pinpoint their departure point during checkout.
For instance, when you track a visitor's path on your website, you can identify obstacles such as confusing navigation, broken links, or slow-loading pages that may hinder your visitors' progress in the funnel. Think of it like a treasure map that leads you directly to the problem area.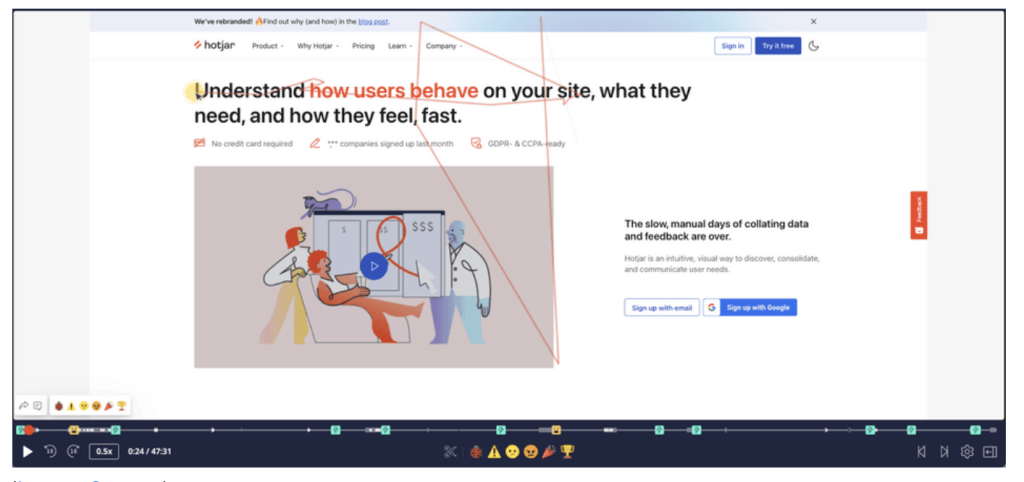 Now, let's look at the top reasons for cart abandonment and some of our favorite tools to bring customers back.
Reason #1: High shipping costs
High shipping costs are one of the leading reasons for cart abandonment, with studies showing that 48% of customers abandon their carts due to extra costs.
Thanks to Amazon Prime, customers have come to expect free shipping. And when they don't see that as an option, it can deter them from purchasing in search of better deals elsewhere.
Tool #1: Transparent pricing models
Recommended tools: Shopify, BigCommerce
Avoid this dreaded fate by offering transparent and competitive shipping fees that align with customer expectations.
Start by displaying shipping costs early in the shopping process so customers know what to expect. The last thing you want to do is surprise them with hidden fees at checkout, which is the recipe for high cart abandonment rates.
You can also provide different shipping options based on delivery speed and cost. That way, customers can choose the option that best suits their needs and budget. For example, if a potential customer needs the product for same-day delivery, they can pay for that convenience.
And with 61% of shoppers willing to pay more for same-day delivery, it's a no-brainer to offer this option at checkout. It's an easy way to compete with the big players (read: Amazon and Walmart) and improve conversion rates.
The result? Happy customers and a better bottom line.
Another simple tip for boosting your bottom line is to leverage a free shipping threshold. In other words, offer free shipping for orders above a certain dollar amount.For example, Abercrombie offers free shipping on all orders over $99. The checkout page prominently displays a tracker to help consumers understand how close they are to unlocking the free shipping benefit.
This simple strategy encourages customers to add more items to their cart to reach the free shipping minimum, increasing your average order value and reducing cart abandonment. A win-win.The best part is that it's easy to implement. All you need to do is calculate your minimum threshold and then update the settings in your e-commerce platform.
Reason #2: Complicated checkout process
We're all busy people looking for quick and easy solutions to save us time wherever we can.
Lengthy forms, multiple steps, and confusing navigation can lead to frustrated customers that bounce. A complicated checkout process can send even the most patient shoppers running for the hills.
By simplifying the checkout process, you'll minimize frustration and increase the likelihood of a completed purchase.Take YUPLAY as a shining example here. They place a simple "add to cart" call-to-action button on the product page, leaving no room for confusion about initiating a purchase.
Amazon (love or hate them) takes it one step further by incorporating a "buy now" button that takes the customer to the final step of the purchasing process.
The takeaway? The less friction in the buyer's journey, the more likely they'll convert.
Tool #2: One-page checkout
Recommended tools: Bolt, Shopify
Thankfully, you don't have to reinvent the wheel to drive conversions. So, what's the secret formula?
A one-page checkout that's easy, fast, and efficient.
Recent research validates this point, revealing that 24% of consumers leave their carts behind because they don't want to create an online account. That percentage might not seem very high, but it's the second leading cause of cart abandonment.
So offering a guest checkout option that allows customers to complete their transactions without signing up for an account is crucial for reducing cart abandonment. And that's where Bolt comes into play.
Bolt helps your ecommerce store achieve a shockingly simple checkout with guest and one-click checkout options.
Or, if you already use Shopify, you can leverage Shop Pay.
The "less is more" approach works wonders to prevent disruptions in the checkout process.
And finally, conduct a competitive analysis to observe how the powerhouses in your niche are setting up their checkout processes. Take a peek into how they optimize their user interfaces to create an enjoyable shopping experience.
Don't hesitate to adapt your approach based on the lessons learned from these leading players. Remember, the goal isn't to simply copy their strategies but to integrate their successful practices with your unique brand identity.
Collecting data and insights from various sources unlocks valuable information about your customers' needs and preferences and identifies pain points in the user journey. With this information in hand, you can make data-driven decisions about the future of your ecommerce strategy.
Measuring twice and cutting once before investing in and onboarding new tools is always wise.
Reason #3: Inadequate payment options
Online shoppers like optionality. And a limited number of payment options can be a turn-off.
Picture this: a customer is shopping online and adding items they'd like to buy to their cart. When they reach the checkout page, they find out that the only payment option is a credit card, which they don't have with them. Yikes.
Now they're faced with a dilemma. They genuinely want to buy those items but can't complete the payment. They have no choice but to leave and return later — if they remember.
On the other hand, if your website offered an alternative payment method like a digital wallet, the customer could pay using their online account instead of a credit card.
And since many users keep their digital wallets logged in on their devices (or can log in quickly), this payment option allows them to complete the purchase without hesitation, reducing cart abandonment.
Tool #3: Innovative payment processors
Recommended tools: Stripe, PayPal
Customers want the flexibility to choose the payment method that works best for them, whether credit/debit cards, PayPal, Apple Pay, or a buy now, pay later option.Stripe offers a comprehensive suite of tools for accepting dozens of payment methods from global customers.
Renowned companies such as Wayfair, Peloton, and Warby Parker rely on Stripe to expand and increase online revenue. Not to mention, the platform applies machine learning to optimize conversions and minimize fraud. What's not to love?
Reason #4: Lack of trust
Trust plays a crucial role in winning over online shoppers, directly impacting their willingness to purchase.
Imagine you're shopping for a new pair of shoes and come across a website that looks suspicious or lacks credibility teaming with ads. Chances are, you'll quickly bounce and move on to a more reputable site like Nike to make your purchase.
When customers feel at ease knowing that a website is secure and reliable, they're more likely to share their personal information and complete their transactions (read: higher conversion rates).
Building trust helps reduce cart abandonment and nurtures long-lasting customer relationships, leading to repeat purchases and glowing recommendations to friends and family.
Tool #4: AI-powered writing tools
Recommendations: Simplified, Copy.ai
Online retailers, beware. Sharing inaccurate product information can be risky, as 86% of consumers say they're unlikely or very unlikely to make a repeat purchase from a retailer that gets it wrong.
So, how can you prevent this catastrophe? The key is in crafting product descriptions that aren't only accurate but also engaging and descriptive.
When your product descriptions are spot-on and captivating, they build trust and encourage more buyers to complete their purchases.
And here's where an AI writer can help you. An AI writer can generate thousands of accurate and compelling product descriptions (in minutes rather than hours or days) that turn browsers into buyers.

Embracing this technology is a strategic move that'll help you craft persuasive content to boost customer trust, and, ultimately, convert more shoppers. So go ahead and give your online store the competitive edge it deserves.
Recommendations: DigiCert, TrustLock
Displaying trust badges and security seals on your website helps to instill confidence in your customers. When shoppers feel their personal information is safe, they're more likely to complete their purchases.

Incorporating trust signals and elements should be considered when you create a website. This also includes ensuring your site has an SSL certificate, a privacy policy, and other regulatory standards in place to protect customer data.
Reason #5: Too many distractions and interruptions
Many online shoppers multitask while browsing e-commerce sites. They might be watching TV, working, or chatting with others, making it difficult to concentrate on completing a purchase.
Or a sudden interruption, like an urgent phone call or a pressing work matter, can force a shopper to abandon their cart and attend to a more immediate concern.
By the time they return to their original task, odds are they may have lost their place or forgotten what they were doing. This can be a frustrating experience, and the customer may decide to move on.
Tool #5: Trust badges and seals
Did you know that the presence of the Norton Seal during the checkout process increases the likelihood of conversion by 91%?
The seal is a tangible representation of an online store's commitment to PCI compliance. That means all ecommerce sites that display the seal must verify their identities and use encryption to secure transactions.
Tool #6: Exit-intent pop-ups
Recommended tools: OptinMonster, Adoric
If your customers get cold feet at the last moment, exit-intent pop-ups can come to the rescue. These clever tools detect when a user is about to leave your site and display a targeted message or offer to encourage them to stay and complete their purchase.
Addressing common hesitations or distractions can give your shoppers the small nudge they might need to decide.
Tool #7: Cart abandonment emails
Recommended tools: Omnisend, Privy
We all get sidetracked sometimes. With abandoned cart email recovery tools, you can remind customers about the items they left behind and help them overcome indecision.
Craft personalized and well-timed emails to reignite their interest and guide them back to your online store. If you need inspiration, take a peek at this abandoned cart email from 1–800 flowers.com:
They address the customer by their first name and provide a 30% discount code for their flower purchase. This discount might be the perfect incentive to persuade the consumer to complete the uncertain purchase, especially with Mother's Day just around the corner.
Cart abandonment emails tend to boast a 45% open rate, a significant improvement compared to the 18.39% benchmark for retail emails.
Of those who receive a cart abandonment email, one in five will click on it, and 11% will ultimately make a purchase. So don't sleep on the power of cart abandonment recovery emails.
Start reducing cart abandonment today
TL;DR: Here are seven tools for reducing cart abandonment:
Transparent pricing models (reason: surprise fees and costs)
One-page checkout (reason: complicated checkout process)
Innovative payment processors (reason: inadequate payment options)
AI-powered writing tools (reason: lack of trust)
Trust badges and seals (reason: lack of trust)
Exit-intent pop-ups (reason: hesitation or distraction)
Abandoned cart email recovery (reason: hesitation or distraction)
Remember, every abandoned cart represents a missed opportunity for your business.
By addressing the reasons for cart abandonment and providing your customers with a seamless and enjoyable shopping experience, you can help drive more sales and build a loyal customer base.
So, give these tools a try and watch your conversion rates soar! You won't regret it. And neither will your bottom line.
---