"Due to these updates you can identify strengths, pinpoint weaknesses and stay on top of your performance."
We began improving our Analytics earlier this year by updating several analytics components of Nicereply. These updates concerned chart smoothing and sampling and upgraded time zones among other things. With improved Analytics we continue to enhance the core experience of Nicereply for you.
New improvements are related to:
Brand New Dashboard
Refreshed Metric Overview
Brand New Dashboard
One of the biggest changes that you'll notice is the new Dashboard.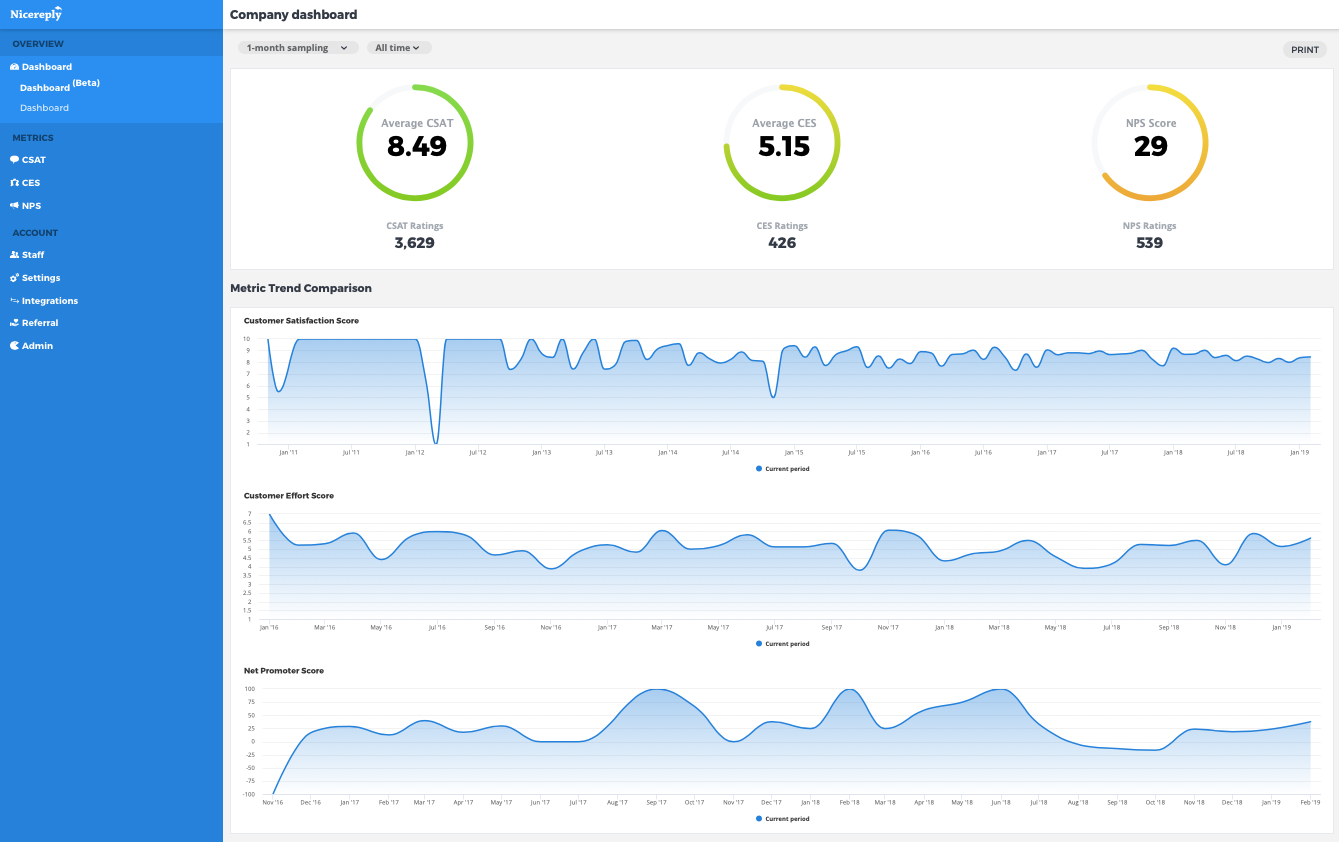 We've aligned everything we do around one key mission – providing Customer Support managers with more accurate views of teams, agents and help them to better understand their performance.
New Dashboard update includes:
current rating volume with customizable time filters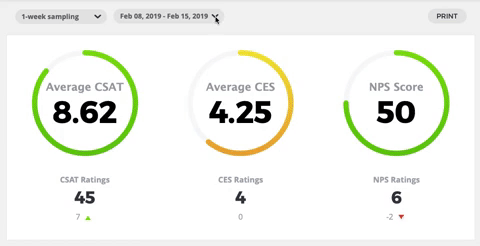 ---
score dials for all 3 metrics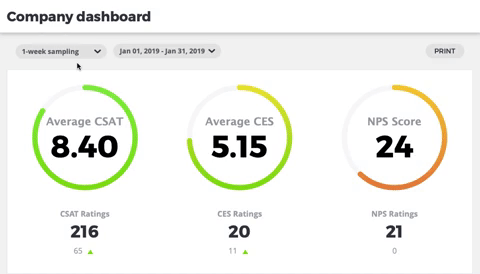 ---
metrics trend charts with the previous period for quick comparison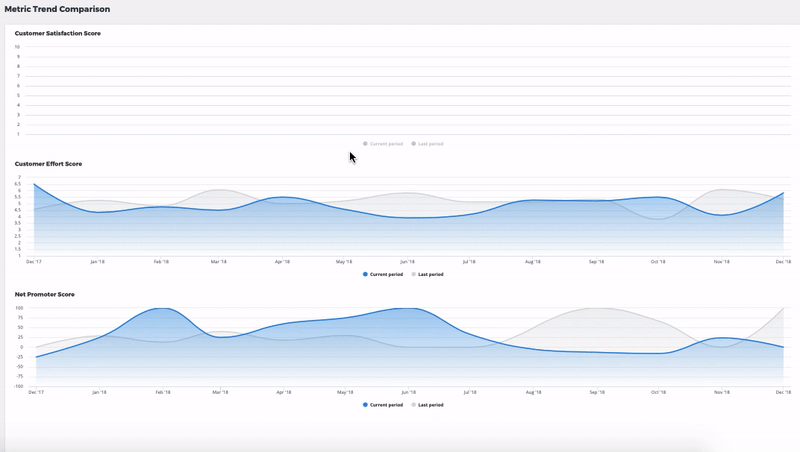 The updated layout of Dashboard is fully responsive with a better-organised structure for quicker navigation. With a new customizable time filters, you won't miss a thing.
The new Dashboard offers a breadth of new features supporting, reporting and customization. One of the best features included is the predefined structure of time filters. By adjusting time filters in your analytics, you will immediately get insights which you can compare to customizable period. This will give you a bigger overview of your favorite metrics and identify deeper issues you may have.
The new dashboard puts all the metrics into one place so you can access them quickly and easily, resulting in a clean workspace. This will be the most noticeable change to how you use Nicereply, and once you try it, you'll simply find it difficult to go back to the old way.
Refreshed Metric Overview
Another update we are excited to share with you is the improved Metric Overview.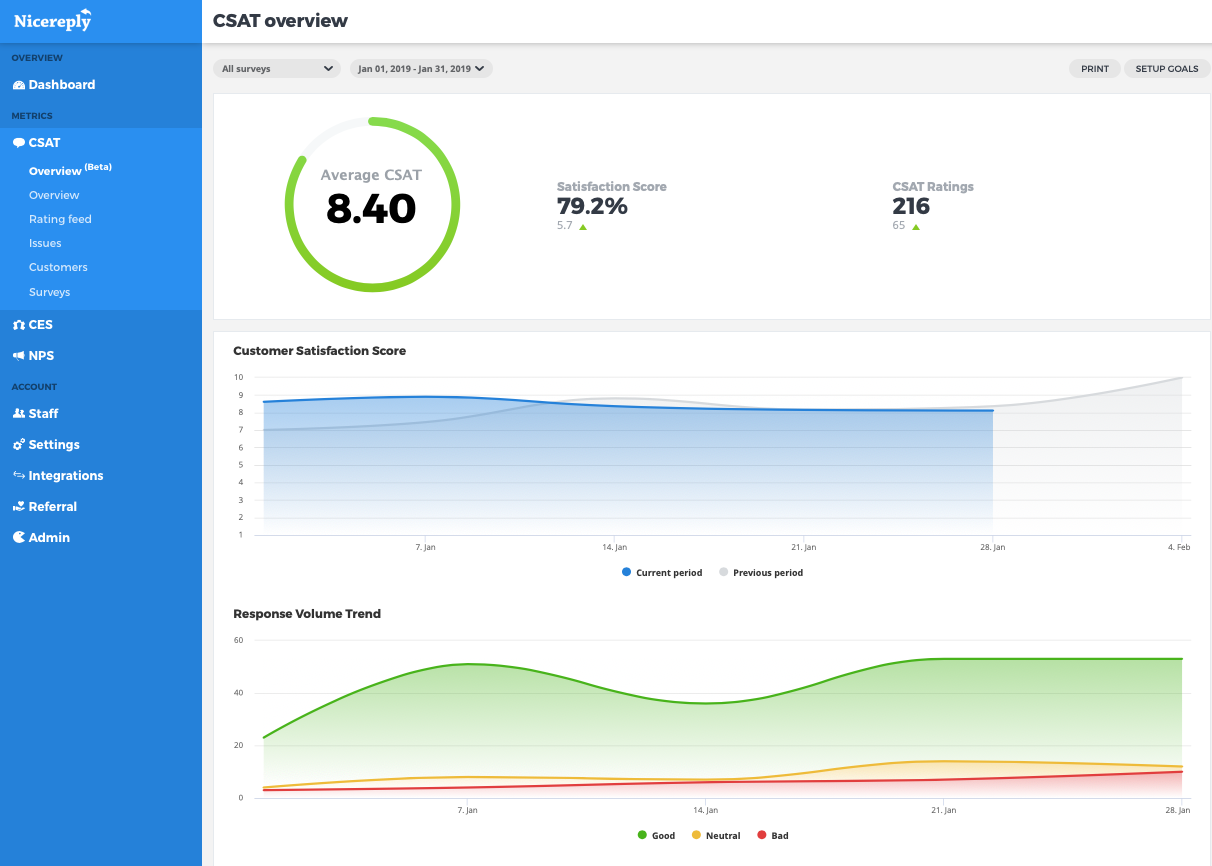 Features changed and updated in Metric Overview:
Metric Widget
New Trends and Charts
Rating Values
Goals and Extra Questions
Freshly updated Metric widget is now personalized for each metric and allows you to get a better overview of your ratings with the possibility of using time filters.


In the past, analysing your ratings you would only get data from a tiny selection of charts. The process could be too tedious and laborious. With improved Metric Overview for each metric, you can now select data from more trends and charts like Average Metric Score with the ability to set up the time filter, Response Volume Trend and a renewed Histogram.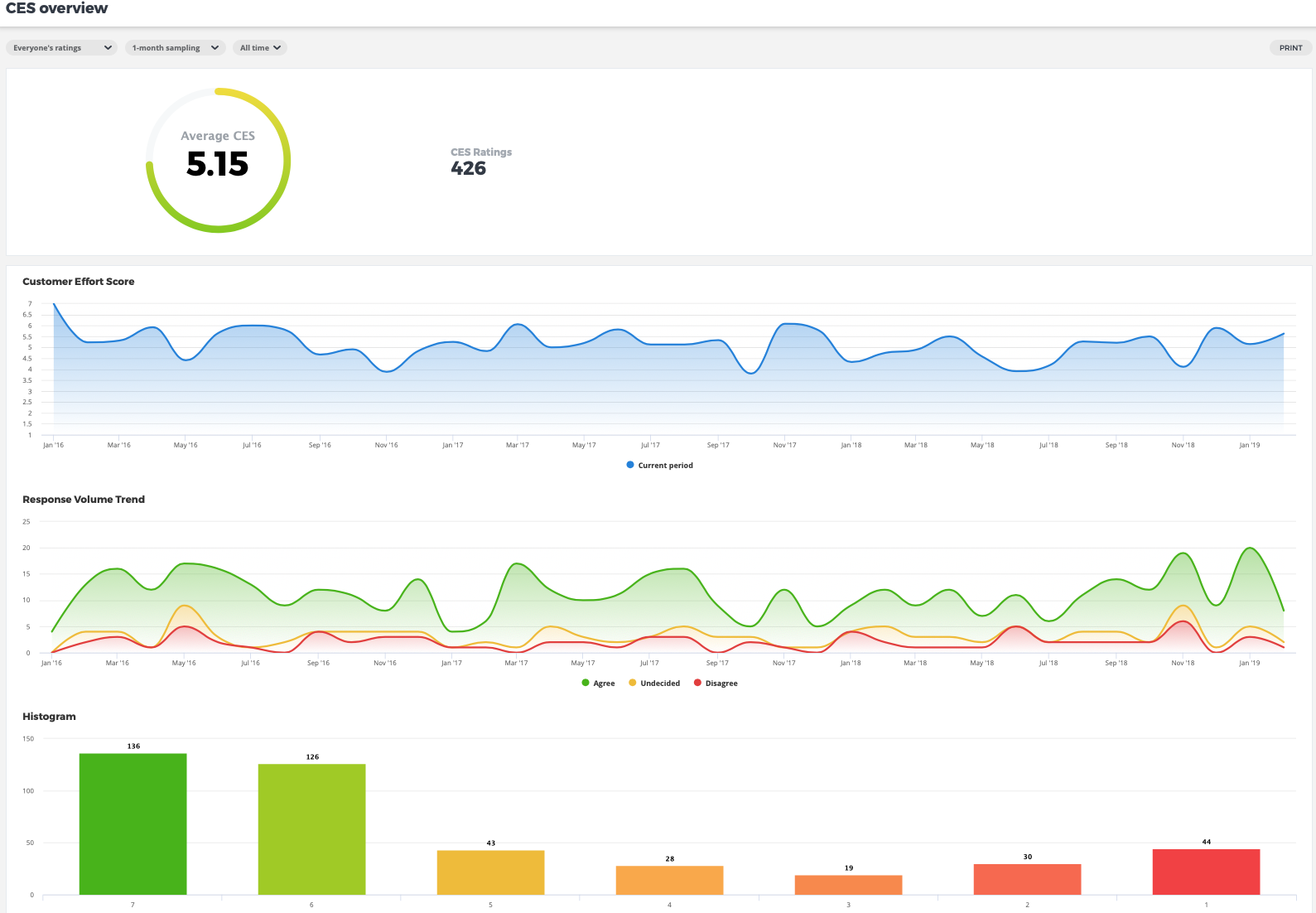 Response Volume Trend now divides ratings into 3 categories, where you can seamlessly add time filter:
Bad Ratings
Neutral Ratings
Good Ratings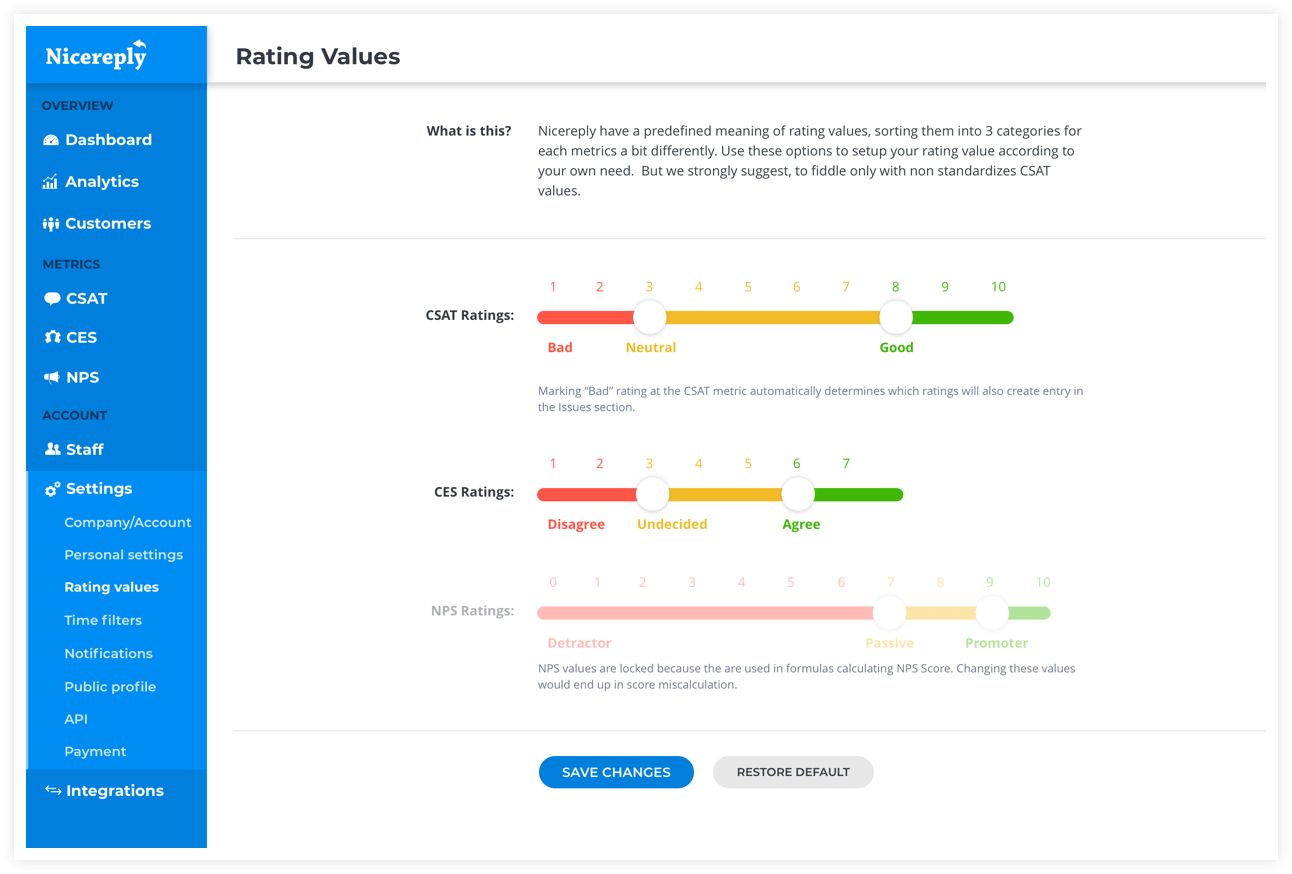 You can now identify which ratings are good, neutral and bad. You can set your own "standards" for these categories with CSAT and CES. The exception is of course the Net Promoter Score, where the methodology divides customers into 3 firmly defined categories of Detractors (0 – 6), Passives (6 – 8) and Promoters (8 – 10).
Looking at individual ratings is useful, but understanding the connections between them is where the real insight come. Due to these updates you can identify strengths, pinpoint weaknesses and stay on top of your performance.
Last update in Metrics Overview is setting up desired goals for CSAT and adding an extra questions to your feed. But this time, it's supplemented by full-fledged overview charts.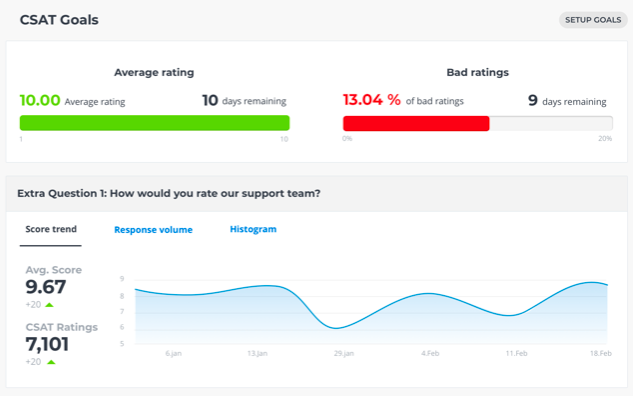 What's coming up next?
No, we are not done, yet!
At Nicereply, we know that analytics is an important part of the product, so we are working to improve even more things: deeper insights of team and agent performance, benchmarking with other leaders in Customer Happiness, new map view of your ratings and much more to come.
Want to see all the new updates and features in your account? Try a Beta Version of Dashboard and let us know what you think. Also, don't forget to subscribe to our blog for upcoming news from Nicereply.
---