Sending an NPS survey is a more engaging way to reconnect with people. It gives them an opportunity to provide specific feedback.
We drink our own champagne at Nicereply. That means using our own product and following our own best practices for getting feedback from customers.
One of the most impactful ways we use Nicereply is in our free trial flow. At the end of the 14 day trial, every customer receives an NPS survey asking them if they'd recommend Nicereply to a friend or family member.
The responses to this survey range from simple questions about setting up Nicereply, to glowing reviews of the product to full on rage rants. Using this feedback has helped us develop a better onboarding experience for new customers, and a better product overall. Our NPS currently sits at +54, due to the valuable insight our trial surveys have provided.
Here's how we use NPS to collect feedback and create conversations post trial: 

How we've set up our NPS
Once the free trial expires, we trigger a survey to send using the Nicereply API. We have this survey set up separately to our other NPS surveys, so we can track each response that comes in.
Customers respond to NPS survey and leave feedback about their trial experience. This feedback automatically gets collected in our Nicereply account.
We have notifications set up in Nicereply to alert our customer success team as soon as a survey is answered. From this point a couple of different things can happen, depending on the customer's responses.
Customers that are

promoters

(ie. respond 9 or 10) automatically receive an email where we thank them and ask them for a review.

Customers that are

passive

(ie. respond 7 or 8) receive an email where we ask them what would help make Nicereply better for them.




Customers that are

detractors

(ie. respond 6 or lower) receive an email where we apologize for the experience and ask them what went wrong in order to improve the experience in the future.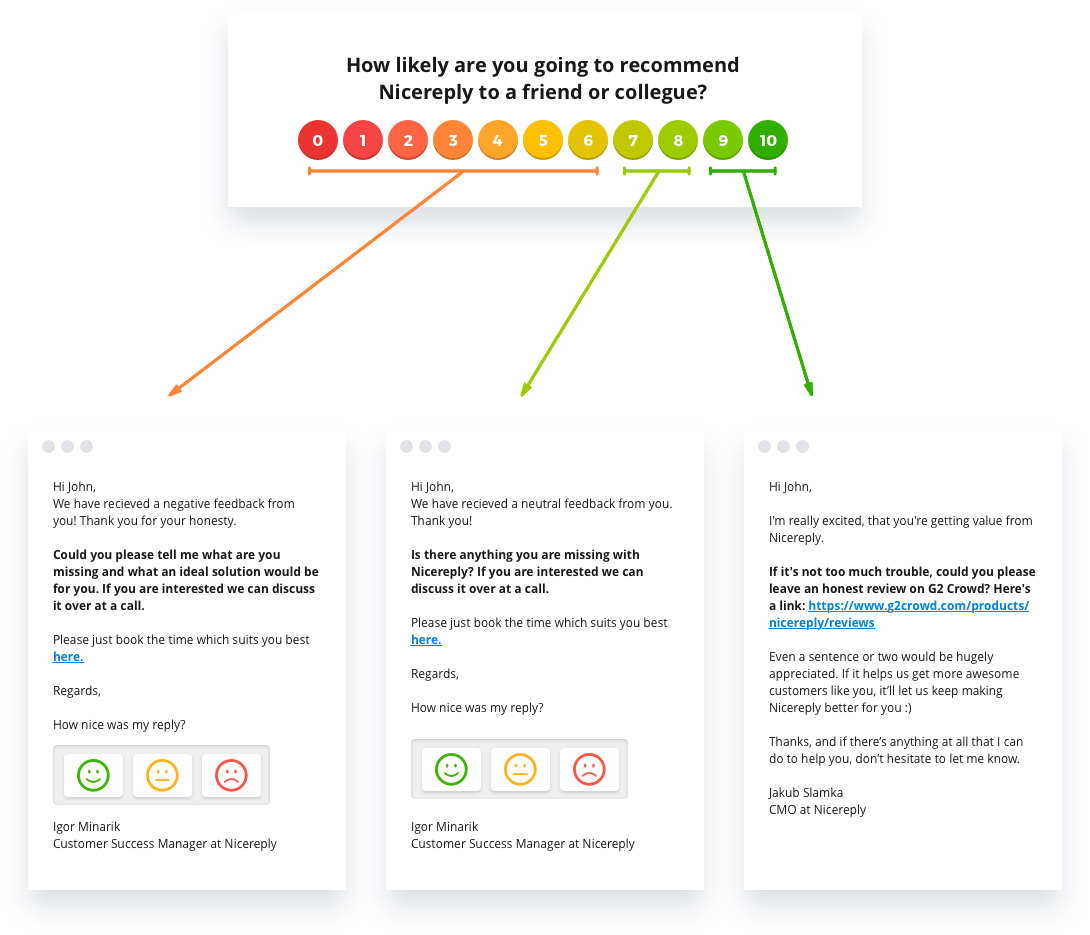 Based on the comment attached to rating we also reach out to them addressing the issue directly if possible. All comments are followed up on and dealt with by our customer success team. Our most common solutions include helping the customer with setup again, extending the trial and having a tough but necessary feedback call about what we could improve in the future.
Everything in this flow is automated, which saves our team a lot of time. Our customer success team can focus on the most urgent comments from engaged trial users.

Why do we use NPS for free trial surveys?
Have you heard the proverb of the shoemaker's son? Even as the shoemaker makes beautiful shoes for everyone else in the town, his own son goes barefoot. The takeaway: those closest to an expert are often the last to benefit from their expertise.
This is something we desperately want to avoid. Even as we help other companies grow through collecting feedback, we want to make sure we're also gathering feedback. By drinking our own champagne, we make sure Nicereply is continuing to build what our customers need to be successful. Actionable feedback is oxygen to our business. Knowing what our customers think after their first impression of the product helps us onboard users better. Measuring NPS at different points in the customer life cycle makes it possible to detect trends over time.
The second reason we use NPS during our free trial is a somewhat selfish marketing strategy. Many of our new customers sign up to test customer satisfaction or customer effort score surveys, but don't know that we also offer NPS.
Sending an NPS survey increases a potential customer's exposure to our full product range, and shows off our surveys in their native environment.

Benefits of our NPS program
Since implementing our free trial NPS flow, we've seen two big advantages. First of all, in the short term, we've developed a new touch point with customers. Secondly, the long term benefits of customer feedback have helped us develop a number of new features that prevented earlier trials from converting.
Let's look at both of those more closely:
1. Adding another touchpoint
At the end of a free trial, we want to check in with the prospective customer and see how everything went. But we don't want to send another lame sales email "just checking in". Not only do these rarely get opened, they also don't get us the information we want.
Sending an NPS survey is a more engaging way to reconnect with people. It gives them an opportunity to provide specific feedback, and then we can respond personally. We frequently end up extending the free trial period so the customer can continue their evaluation. Sometimes we are able to point out features the customer didn't notice.
Adding another touchpoint to our sales funnel has helped us keep the conversation going, turning free trial accounts into paid customers.
2. More customer insight
Understanding what potential customers want out of Nicereply is really valuable for our product development strategy.
UX issues: Sometimes customers want a feature that's already in the product, but they didn't find it through their trial. In this case, we know we need to improve product education or the usability of the feature. We frequently go through user testing to see which features are more difficult for new users to find. Once we identify a high friction experience, we pass this insight on to our design team for an update.
Requested features: If a customer is looking for something that we haven't built yet, the customer success team passes the request onto the Product team. All ideas get put into the product backlog, which lives in JIRA. As we are able to evaluate requests, ideas either get put into the roadmap or into backlog for further consideration.
Since we've started collecting NPS from free trials, we've implemented the following features based on trial feedback:
Easier Contact List Imports through Copy/Paste

Reminders for unanswered surveys

Personalized thank you pages based on ratings
We're also working on a survey scheduler and autopilot mode right now. (Stay tuned…shhhhh.) We've chosen to implement these specific features because they help onboard new customers effortlessly – and that helps us boost our conversion rate.
Setting up your own NPS program
If you're looking for another way to connect with free trial sign-ups, why not try setting up your own post-trial NPS flow?
Sign up for a free Nicereply trial if you don't already have an account.

Create a new survey under NPS > Add Survey. Choose email as the distribution method, because we don't want to send the survey after a help desk ticket
Either copy the email survey into your email distribution service (MailChimp, Campaign Monitor or manual emails) or

use our API guide

to automate emails to customers.

Build a process for reading and following up with customers who take the time to fill out NPS survey. The hard work starts once the responses start rolling in.
Have more questions about setting up an NPS program? Our customer success team is here to help! Get in touch and we'll get you collecting valuable feedback in no time.
---