We're working hard to improve NPS features and give you the best experience possible. Now you can enjoy two new Net Promoter Score features – NPS Autopilot and Campaign Scheduler.

NPS Autopilot
Problem (What did we solve?)
Imagine you have an online electronics store and want to measure NPS every 3 months. You choose and create a list of contacts that purchased new items via your e-shop. Then you create and send them a Net Promoter Score campaign to see how they feel about the buying process. 
You collect scores and feedback from customers and identify who is a Promoter and who is a Detractor. You quickly respond to unhappy customer and start working with Promoters.
Your customers feel different throughout different stages of the buyer's journey. Therefore it's important to measure NPS with a specific customer multiple times to get the full picture.
First Net Promoter Score campaign measures feelings about the buying process, while the next one may identify customer's feelings about using the product or dealing with support.
So you mark the date 3 months from the original campaign and repeat the whole process. This takes a lot of time and effort. Well, not anymore.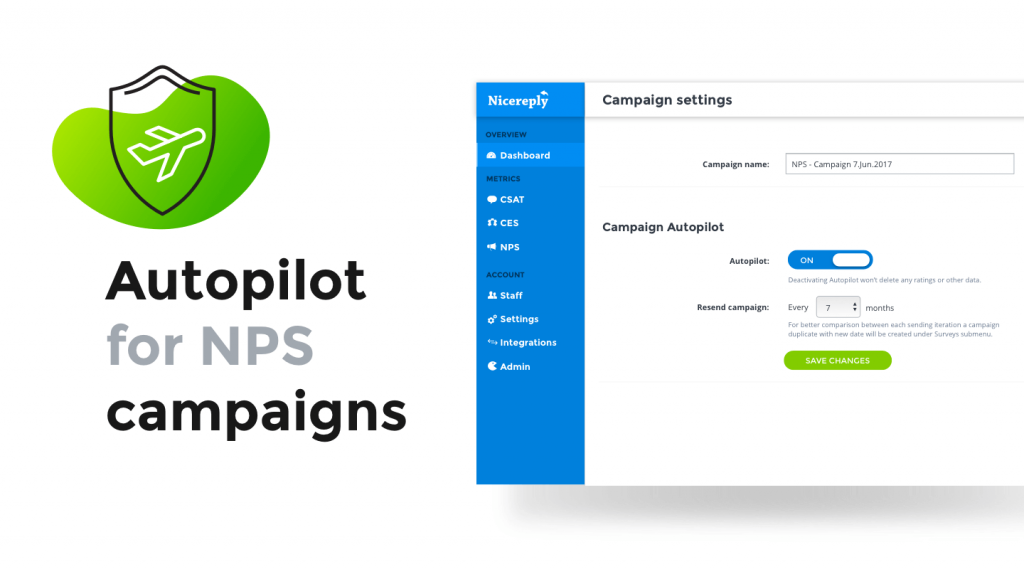 Solution (How did we solve it?)
Get more ratings in different stages of the buyer's journey with less effort thanks to NPS Autopilot. Automatically resend your NPS campaign after selected period of time and compare results each time you resend the campaign.
Let's get back to our example. You can now automatically survey your customers every 3 months. All you need to do is prepare the campaign, import the contact list and turn the Autopilot on. Your NPS campaign will be automatically resent, saving you tons of time.

With recurring Net Promoter Score surveys you can identify why somebody loves or hates your store. And the best part is that you don't need set up another campaign every 3 months. Autopilot does all the work for you.

NPS Campaign Scheduler
Problem (What did we solve?)
The Autopilot removes the burden of creating and sending the same campaign over and over again. However you still can't schedule a campaign for a specific time and day.
Let's say you'd like to send a campaign next Friday at 2:00 AM. You'd have to mark the date in your calendar and make sure you don't forget about the campaign. Then you sit at your computer and wait for the specific time you'd like to send NPS survey at. Until now.
Solution (How did we solve it?)
Schedule your NPS campaign for a specific time and date in the future with Nicereply NPS Campaign Scheduler.  This way you'll never forget to send your campaign again.

Campaign scheduled for a specific time and date will have a new status until sent – scheduled.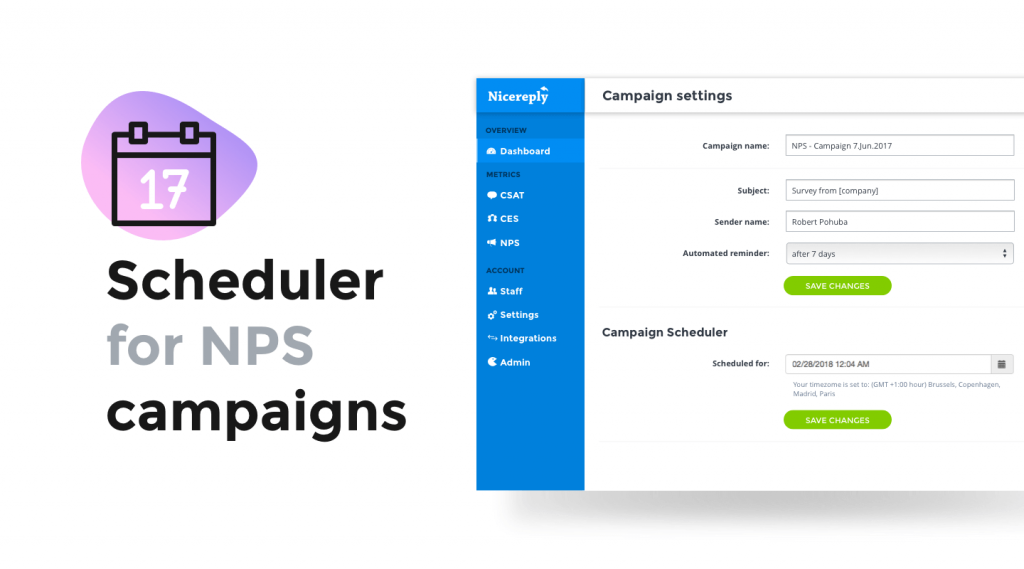 If you're interested in trying out these two exciting features head to our help centre. 
And find out how to make planning your campaigns easier with Net Promoter Score Campaign Scheduler here.
PRO TIP: Get more from your NPS campaigns using API for automatic contact list updates. Simply create a list of contacts you want to send your campaigns to using our new API and this list will be automatically updated. You can also setup the conditions in which the list will be updated. 
---