The following blog post was originally written for the internal purposes of Profesia.sk by Gabriel Holota, who works there as a Customer Support Manager. We stumbled upon it when talking with Gabriel and thought it might be of interest to the rest of our readers and customers. Gabriel was kind enough to let us republish it in its original form:
I am not a writer and when I hear the word "blog" I get goosebumps. But since I think it would be a shame not to share this story with you I have to step outside my comfort zone (very popular nowadays) and beg for your benevolence while reading…
How we measure Customer Satisfaction
…Once upon a time (in truth it was in 2011) we ran across Nicereply – an interesting tool for getting feedback from our customers developed by a very successful Slovak company Websupport. Basically, you create a short survey with several options to rate (stars, smileys, thumbs), put a link to that survey in your e-mails and wait for your customers to score you. Sure, you hope to get 10 out of 10.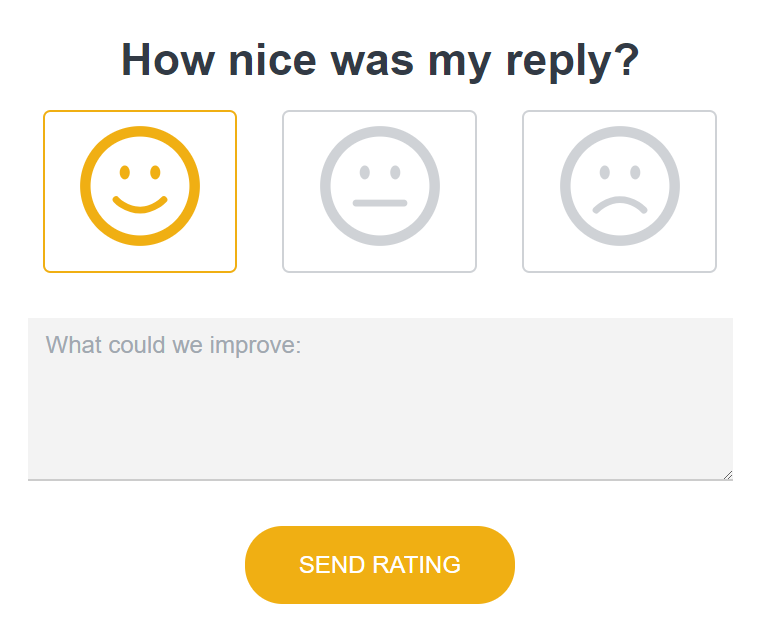 Not so fruitful years
Since 2012 we have started receiving ratings from our customers. It went really slowly – we tried some changes to the design of our surveys or invitations to rate but the effect was – how to write it in a polite way, oh yes – inappreciable. Another restrictor of more ratings was an inability to integrate feedbacks from a chat software we used back then.
So, during the first 4 years, we managed to accumulate less than 1500 ratings with avg. score slightly under 9, not ever reaching 9.5. Yes, the score was a very good result (with a worldwide avg. 8,7) and we ranked among the best 15% companies using Nicereply. But we have never boasted with our achievements since we haven't considered approx. 400 feedbacks per year a relevant number to say we've had customers satisfied with our support.
The wind of change
Things started to move in the right direction in 2015 when Nicereply team released instant ratings. Immediately the number of ratings nearly doubled. Then we moved all support communication to Liveagent helpdesk in 2016-2017, integrated chats and customized our e-mail templates.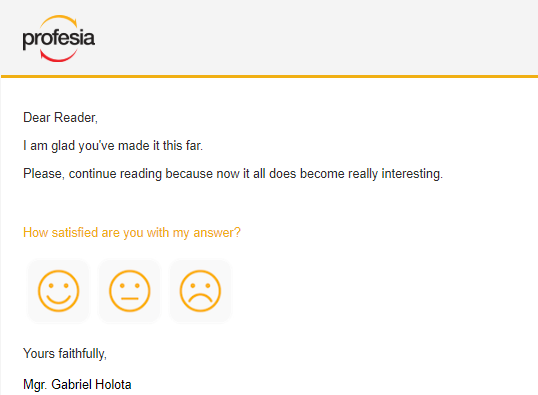 All of a sudden, our monthly stats have seemed more relevant. Over that year we received 2/3 of the ratings we got for the 4 previous years but still the avg. score oscillated around 9. Some team members contributed with a higher score, some with lower, so sometime in late spring last year we made our first attempt to reward the best and motivate the others. It was inspired by a well-known "employee of the month" model when the top scoring team member got a financial reward. After 2 months the team itself declared it unfunctional.

The birth of Nicereply bonus
When I was beating my brains out to improve it, I recalled passages from a book called Managing for Happiness by Jurgen Appelo brought by one of our CEO's from Budapest's Stretch Conference. They were about various examples of gamification that can be used to motivate and compensate your team.
A Game. Why not? It could work – I told myself. So I thought of rules to the game that can be challenging motivating and real at the same time. Finally, after some corrections, we've come to these:
The bonus is paid out on a monthly basis.
All or nothing – either the team meets all requirements and gets the whole pot or they get nothing (the pot is intransferable).
Avg. monthly score is set for a quarter and needs to be at least the same as the avg. score for the year preceding evaluating quarter.
Either the number of ratings or conversion rate (answers/no. of ratings) have to reach at least 90% of the value of previous month.
For every team member applies – at least 5% of all ratings have to be contributed by her/him to be qualified for "pot distribution".
The "pot size" remains the same, but the bonus per person varies depending on how many people qualify and which place they get. The place is determined by a ratio of number of one's ratings to her/his score. So I created a "Bonus distribution matrix" for everyone to easily orient and see how much she/he earned that month.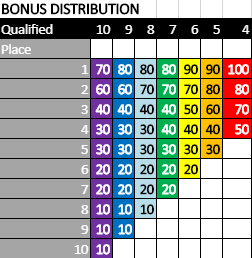 Then I presented the whole idea to my boss and asked if we could find some money for this experiment in our budget. We got the green light 🙂
On an upward curve
The first month of this redesigned bonus has already been a success – the required score was set to 9.2 and we reached 9.47. The following months were rather similar – we managed to reach the needed score and either we got enough ratings or the conversion rate was sufficient. What I feared most was that people would start speculating with the 90% rule. If they tried to get less ratings than the month before (a good part of them is generated by our proactive support) but still enough to abide by the rules, soon the requirements would be very easy to meet.
The solution was rather simple. I told my team "Do not try to abuse the rules. Since I am the gamemaster I can change them on a whim". By now it has been working and I hope it will in the future as well.
By the end of last year, our stats increased in all indicators. During this half a year our avg. score settled just above 9.5 and we received more ratings than the first 4 years we had been using Nicereply.

Christmas time is often the best time to reconsider. Since we have been very satisfied with the results so far, we have decided to increase the "pot size" by 50 % (Hint: if you look at the distribution matrix and use one of the basic mathematic operations, you get the actual sum). The rules remained the same.
Maybe you have already guessed it and maybe not but this change has had another positive influence on score and number of ratings. If you remember, in the previous paragraph I mentioned the first 6 months of the bonus we recorded an enormous increase in total ratings. The last 6 months were even better when the ratings nearly doubled and our score jumped to (at least for me) stunning 9.75.

In June we accomplished one of our greatest feats so far – for the 1st time we got in TOP10 ranking using Nicereply. At that time 300 companies were included. The ranking is based on the results for the last 30 days, counted real-time so it can change everyday (and it does). At the time of writing this blog, we are being ranked at wonderful 5th place 🙂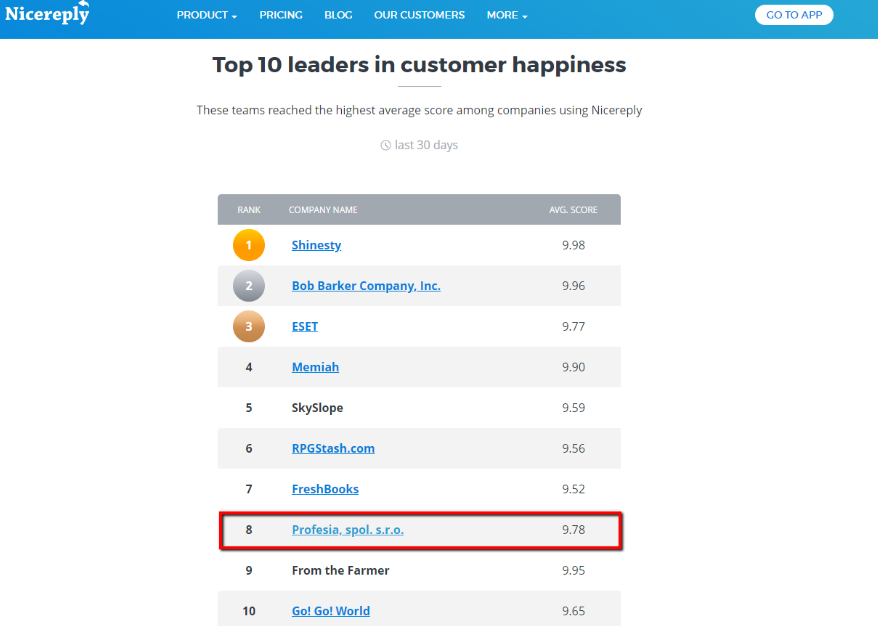 What next?
It's been 13 months now and each month the requirements for the bonus to be paid out have been met. We know it can't go like this forever because if you realize just the fact that the required score constantly increases it would be very hard to reach it in the future. But, we are still a way from that – therefore I dare use one of my favorite sayings: "We'll cross that bridge when we get to it".
For the present, we try our best to reach a new milestone…
….are you curious what it is? Ok, I will reveal it to you:
We strive to deserve a place among the best at Customer Happiness Awards 2019 where 3 best companies in 3 categories based on the number of employees of the company are rewarded by the Nicereply team. This would be a prestigious acknowledgment since many popular brands (e.g. Lenovo, Microsoft or Telekom are among the competitors.
Epilogue
To sum it all up – in terms of customer satisfaction applying gamification to our work has brought us:
5x more ratings
7% increase in score
new records in average score per month (9.79)
TOP 10 ranking
healthy internal competition
fun e.g. with many calculations and speculations or team math lessons

---