"If you make your customers happy, your business can succeed! How will you know how they feel if you don't get their feedback? "
Front is the inbox for teams that gives you access to the people, messages, and apps you need to get work done. It turns your email inbox into a flexible platform where you can easily organize communication, get context for decisions, and take action faster with your team.
Front's team of 150+ employees in the US and Europe supports more than 5,000 businesses across the globe. Valuing transparency and alignment as key drivers of employee engagement and happiness, Front is on a mission to help teams everywhere do their most meaningful work.

Problem
People at Front were looking for a tool that would provide them with valuable insights, grant easy integration to Front inbox, and allow them to offer personalized service. "We value feedback a lot here at Front — both internally for our team, and from our customers. We rely on Nicereply to get a better insight into customer sentiments and continually improve the way we help customers. We wouldn't be able to provide the kind of tailored service we do without the help of Nicereply. Our team is honored to be known for award-winning support!"
Solution
The decisive factors of choosing Nicereply were:
the capability of integrating with Front inbox
possibility of measuring customer satisfaction directly in signature in every interaction
feedback being pushed directly to the rated conversation
"We went with Nicereply because they're the leader in customer satisfaction and engagement space — and also because Nicereply integrates with Front! With the integration, we can send a Customer Satisfaction, Net Promoter Score or Customer Effort Score surveys in the email signatures of any email we send. "
Front uses Nicereply to collect CSAT on their support team's email signatures: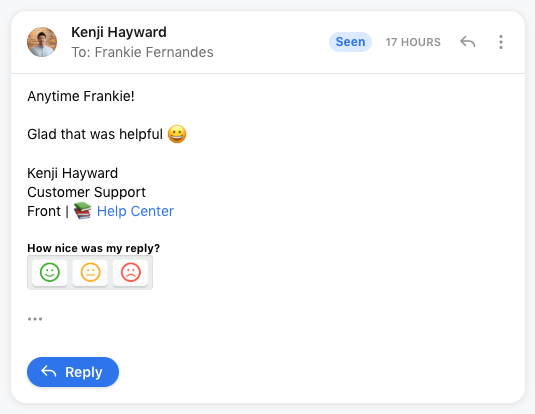 "What we like most is that we are able to integrate with Front so that the feedback ties directly back to the related conversation. This lets the support team have instant feedback on issues and can help us quickly address any negative customer experiences."
People at Front place a lot of value on customer feedback. "If you make your customers happy, your business can succeed! How will you know how they feel if you don't get their feedback? "
"When it comes to support, customer feedback is critical for helping us understand what makes sense, what needs more explaining, and what you can improve when it comes to tone and thoroughness. But it doesn't stop there. We also use customer feedback to develop messaging and influence product strategy."

Front's company culture
When asked about staying up-to-date on trends, Fronts head of customer support Kenji Hayward mentioned support communities and conferences: "I stay updated through tight-knit support communities, for example Support-Driven. I also go to support conferences and my local network of other support leaders to exchange ideas."
Front does a number of things to motivate their team. "We have weekly 1 on 1 meetings to connect and make sure work is on track and the team is feeling good. We also have goals and rewards! If we get a CSAT of 9.5 average for a month, every support teammate gets 500 Bonusly Cookies (our employee rewards system)!"
They also motivate their team by posting the positive feedback they get from customers for the whole company to see. "To do this, we have a shared inbox in Front, of course! Any reviews and surveys we get from customers go into a Customer Feedback inbox, and anyone in the company can go scroll through to see what customers have to say. It's great because we all know what we need to improve on, and we can all celebrate wins together!"
Front's advise for your customer support
"If you want to understand your customers, you need to ask for feedback! You'd be surprised how much great insight they're willing to give. Nicereply makes it simple for your team to develop a scaled customer feedback machine that is measurable, and it can help your team give world-class support."
---