Customer love letters don't come out of thin air, though. They're earned. And as with any relationship, customer relationships are build on personal connection, empathy, and trust.
Working in support can be tough. Dealing with frustrated customers and solving issues all day can sometimes feel thankless, and it's easy to get worn down.
But every once in a while, a customer reaches out to thank us and let us know how much we've helped them, sometimes in response to a CSAT or NPS survey and other times just completely unprompted.
In any case, getting a note like this is kind of like getting a customer love letters. You feel all warm and fuzzy and you're grateful to the person who wrote it. Knowing that you made a difference in someone's day, no matter how small, is one of the best things about working in support.
Read on for seven customer love letters to companies who've cracked the code to providing the type of support that builds relationships and inspires customer ardor:

I'm Lovin' It
When Keisha Washington was having trouble with the Loom browser extension, she sent a chat message to the Loom support team. At the same time, she was so frustrated that she also went to a competitor's site and started exploring her options there.
She didn't necessarily want to leave Loom, but she wasn't sure when she'd receive a response from their support team. She just wanted to finish the project she was working on as soon as possible. Luckily, Anne from Loom got back to her quickly and helped her get back on track.
As thanks, Keisha sent Anne a recording of the McDonald's "I'm Lovin' It" jingle. Anne responded with an "I'm Lovin' It" GIF, and the two continued chatting about Loom features and sending other fun messages back and forth.
Keisha left a glowing review of Anne in Loom's CSAT survey, but she was so impressed with the interaction that she also sent out a Tweet to let the world know about her experience.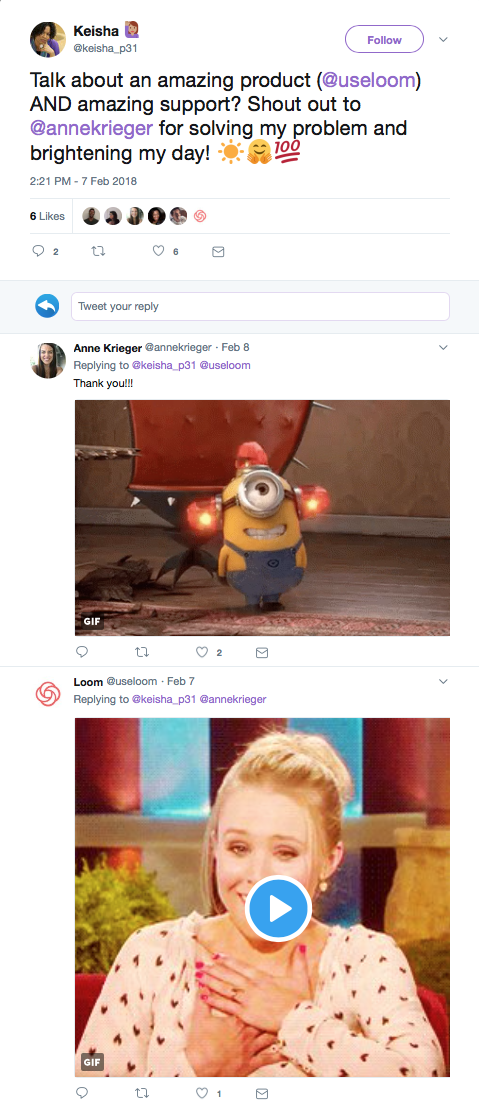 Anne not only helped Keisha solve a problem with the product. She made a personal connection with her by treating her like a unique individual and having a conversation with her, instead of a "ticket" to be closed.

Making Replacements Easy
Most of us have been there before: we ordered something online and the package is marked as "delivered," but it's nowhere to be found. This is a typical support inquiry for e-commerce customer support teams. Some teams put the burden of proof on the customer, making a bad experience even worse.
But when a customer wrote into Hush about a lost package, they took care of it fast, and they made it easy. The customer was happy, and she left this customer satisfaction comment as proof:
"Avalon from customer service helped me out tremendously! She was incredibly helpful and quick to respond. Definitely went above and beyond to help me get my order, and was super pleasant throughout our interaction. I went from being incredibly disappointed (although I don't believe it was Hush's fault) to super excited to receive my package! Avalon is amazing and I definitely would shop with Hush again based on her customer service alone."
"Happy customers is why we do this!" said Lexi Forde, Customer Support Manager at Hush. "This is one of my favorite customer love notes because it shows how much we really care about our customer experience."
The team at Hush trusts their customers. Rather than making their customer provide proof of non-receipt or go through hoops of bureaucracy to submit a mail claim, Hush simply shipped a replacement.

Covering Everyone's Packages
In a similar lost package situation, MeUndies showed their commitment to their customer base by following up on the customer's inquiry in just two hours.
As it turns out, the package had been rejected by a building manager, so MeUndies sent out a free replacement, no questions asked. Throughout the exchange, the agent followed the MeUndies support philosophy: expressing genuine empathy for the situation and personalizing her messages to match the customer's tone.
"Our goal is to create customer obsession, transforming everyday customers into MeUndies family and brand advocates. We do this by building lasting relationships through highly personalized service experiences," explained TJ Stein, Director of Customer Experience.
In this case, their customer had this to say about the person who helped her:
"She's the bomb, yo. I think rap songs would refer to her as a 'shawty'? I'm super white though so if that actually is an offensive term, she's just a stand up dude. That's right 'dude' is gender-neutral. Get with the times."
Like Hush, MeUndies didn't go back-and-forth unnecessarily haggling over the issue. They simply trusted the customer's word and made things right.

Staying Glam in the Face of Crisis
Every once in a while, support teams have the opportunity to really be there for their customers during times of extreme adversity. The recent wildfires in Southern California were one of those times. The fires affected over 100,000 people and many ipsy customers.
The ipsy team sent out messaging to all their customers in Southern California, just to let them know that they were there for them, and that they wouldn't have to worry about their ipsy subscription during their time of crisis.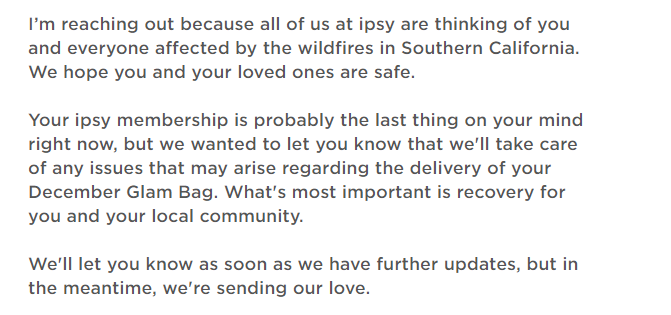 With this gesture, ipsy showed their customers that they empathized with their adversity. Also they truly cared about them — not only as customers, but as people. This inspired lots of customer love, including this heartfelt Facebook comment: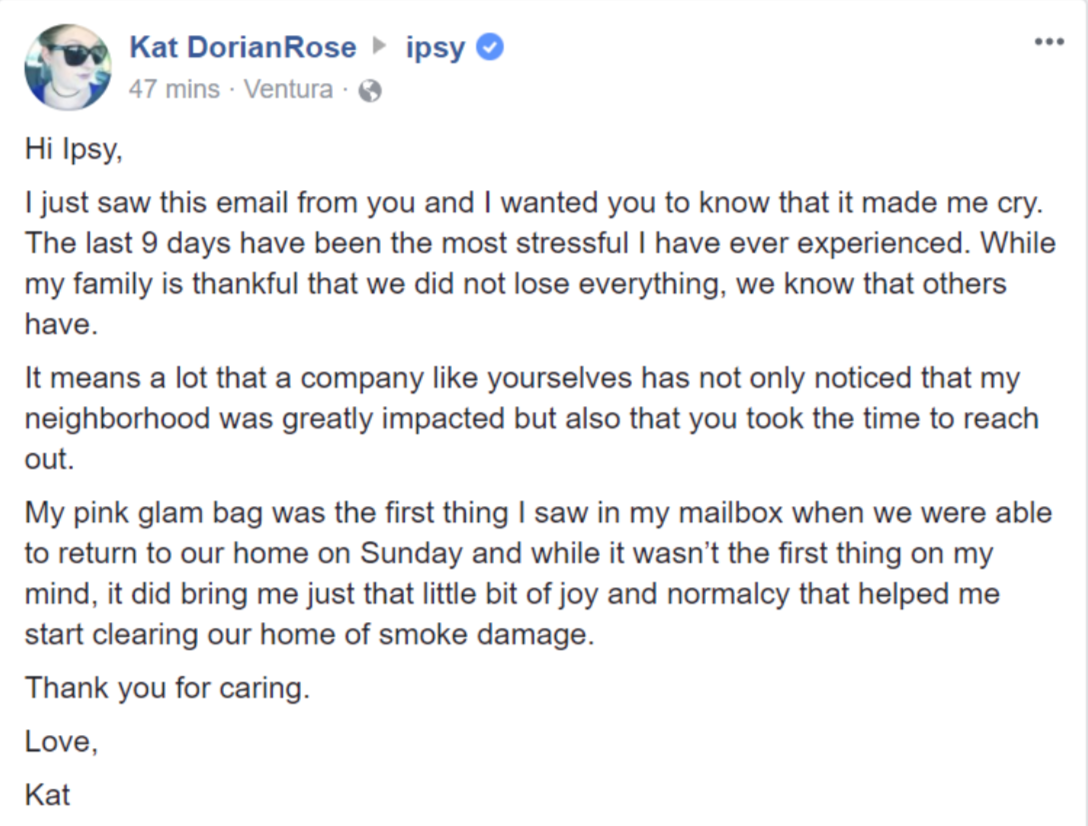 ipsyCare Manager Katharine McCarthy explained, "It can be tough to find the right words in a crisis like this one, but we realized that the simple acknowledgement of what our members were going through meant more to them than we would ever have expected."

Nerding out over Fitness
Brittany Ferguson, Rebel Support Leader at Nerd Fitness, gave one of her customers such a fast and caring answer that she got this in return:
I just wanted to say "Thank you" to Brittany to responding to me earlier questions and requests. That is the best customer service I've ever seen and keep up the good work!! I imagine you guys don't hear that enough in Customer Support and wanted to say I already love NF and you guys rock!!
Brittany's customer was considering purchasing two different fitness programs. She ended up buying one. But shortly afterwards, she got a marketing email with a discount code for that same program.
So she wrote to support to see if they could apply the code to her purchase retroactively. Not only did Brittany honor the discount, she also gave her the second program for free. As icing on the cake, she threw in some free guides to help make sure the customer would succeed at her fitness goals.
"I don't think it was at all what she was expecting," Brittany said. By surprising her with such an easy turnaround and adding in the extra gifts, Brittany showed that she cared, and that she was invested in her customer's success. "If given the chance to surprise and delight," she added, "I'm all about it."
This is because Brittany knows that this level of care is what inspires customer love. And this "surprise and delight," doesn't even have to be free gifts. It can simply mean surprising and delighting the customers. By responding to them in a way they maybe didn't expect: with fairness and a demonstration of dedication to their success.

Offering Trusted Guidance
NerdWallet's customer support team mission statement says it all:
"Our mission is to provide a best-in-class experience for our members by empowering them to use our products successfully, advocating for them across the company, and serving as a trusted human touchpoint as they navigate their financial lives."
Because of the industry in which this team operates, they don't always have direct access to things their customers need advice on, like credit reports. But that doesn't mean they can't help. The NerdWallet team are experts who guide their customers. They provide the information and resources that customers need to do things on their own. Like contacting a credit report issuer.
When one customer wrote in about some unfamiliar items on her credit report, Emily Kinzig from NerdWallet didn't have visibility into the report. But, she did have the right advice. She counseled the customer through the process of addressing those unfamiliar items directly with the credit report issuer and the bank.
While Emily didn't directly solve the problem, her trusted guidance resulted in glowing praise from her customer:
"Emily could not have been more willing to help. Not only that, but her help was spot on, because I followed it and it worked–Transunion removed the two accounts I had no knowledge of from my credit report! Please thank her for me!"

Making Exceptions
At Loom, the support team's philosophy is to treat each customer as an individual, going above and beyond to cater to their unique needs. Customer Success Lead Susana Cigano had the opportunity to put that philosophy into practice.  Customer wrote in asking for an exception to the Loom referral system.
It used to be that customers had to refer two friends before they could access Loom's full set of Power Features. This customer in particular didn't feel comfortable doing that. She didn't have any friends whom she thought would be truly interested. She felt like she was stuck between a rock and a hard place: either sending unwanted invitations to her friends or missing out on the full feature set. But Susana made it easy for her. She just unlocked the Power Features.
Not all customers are alike. While some customers may have connections to refer to a service, others may not. Susana recognized this. She empathized with the customer and made an exception to Loom's normal flow. Because of her commitment to a personal touch, Susana's customer was happy:
"I didn't expect a response, let alone a solution so quickly if at all. Thank you so much for providing such a personal experience. Of course, now I am going to tell everyone about you and how lovely you are! <3"
This was a happy ending for this particular customer, but it later became a happy ending for many more. After receiving similar comments from other customers, the Loom team realized that there was a whole group of people being alienated by the referral system. So, they did away with it.
Now, everyone who signs up for a Loom account gets access to the Power Features right away. Loom still encourages referrals. But in other ways that they feel are more aligned with the behaviors of their customer base. This, support pros, is empathy in action.
---