CX contributes to the overall success of the company with the number of metrics that it impacts, many of which are valuable to cross-functional teams as well as support.
Right now, only 13% of organizations have the appropriate infrastructure in place to really kick a customer experience strategy off the ground. For a long time, customer experience and customer support have been viewed as cost centers—necessary evils that a company had to have to complement the product itself.
However, recently the tide has started to change: CX is starting to be seen as a value-add to the product itself, something that adds to a company's offerings, not just exists because of them.
According to Harvard Business Review, 73% of businesses agree that delivering positive, reliable customer experience is absolutely critical to their company's growth and success. Similarly, 93% of businesses agreed that it would be their key differentiator by 2020. Those of us that work in support and customer experience already know just how important what we do is, but how do we convey that value to our leadership teams?
It comes down to language. In customer experience, we speak to different values and measurements than people at the executive level might. Heck, we even use different languages that team members that work in marketing and sales.
This blog post is going to break down the different values that you can speak to when discussing CX with your executive team, and then give you the appropriate translations to speak about them in a compelling way.
What does good CX offer to a company?
There are so many amazing things that CX does for companies and the customers that they serve. However, rather than speaking to the wide swath of benefits that CX contributes to, it's most valuable to focus your time on the metrics that aren't relevant to the goals of other teams.
For example, focus on retention and acquisition metrics when talking to your VP of Sales, rather than talking about the qualitative values found in your inbox conversations. Here are a few of the key contributions that CX makes at the company-wide level.
Providing excellent experiences
This sounds fairly qualitative to start, but did you know that 54% of customers will never do business with a company again after a single negative experience.
Offering a mature, robust, omnichannel customer experience helps keep customers happy and keeps them paying for and using your product. The best way to provide excellent customer experiences is by following these four steps across all customer-facing teams:
Listen to your customers everywhere that they offer insights.
Use the insights that customers provide to better understand their needs.
Implement a system to help you collect feedback, analyze it, and act on it regularly
Reduce friction wherever your customers report running into trouble.
Better retention and acquisition
According to Fundera, 65% of all business comes from existing customers. That means that over half of your revenue is controlled by people that are already paying you and experiencing what your company has to offer.
Companies that offer better CX make more money. Take a look at this chart from Hotjar that explains the revenue spread across companies that ignore CX completely, or mark their CX strategy as Novice, Competent or Mature: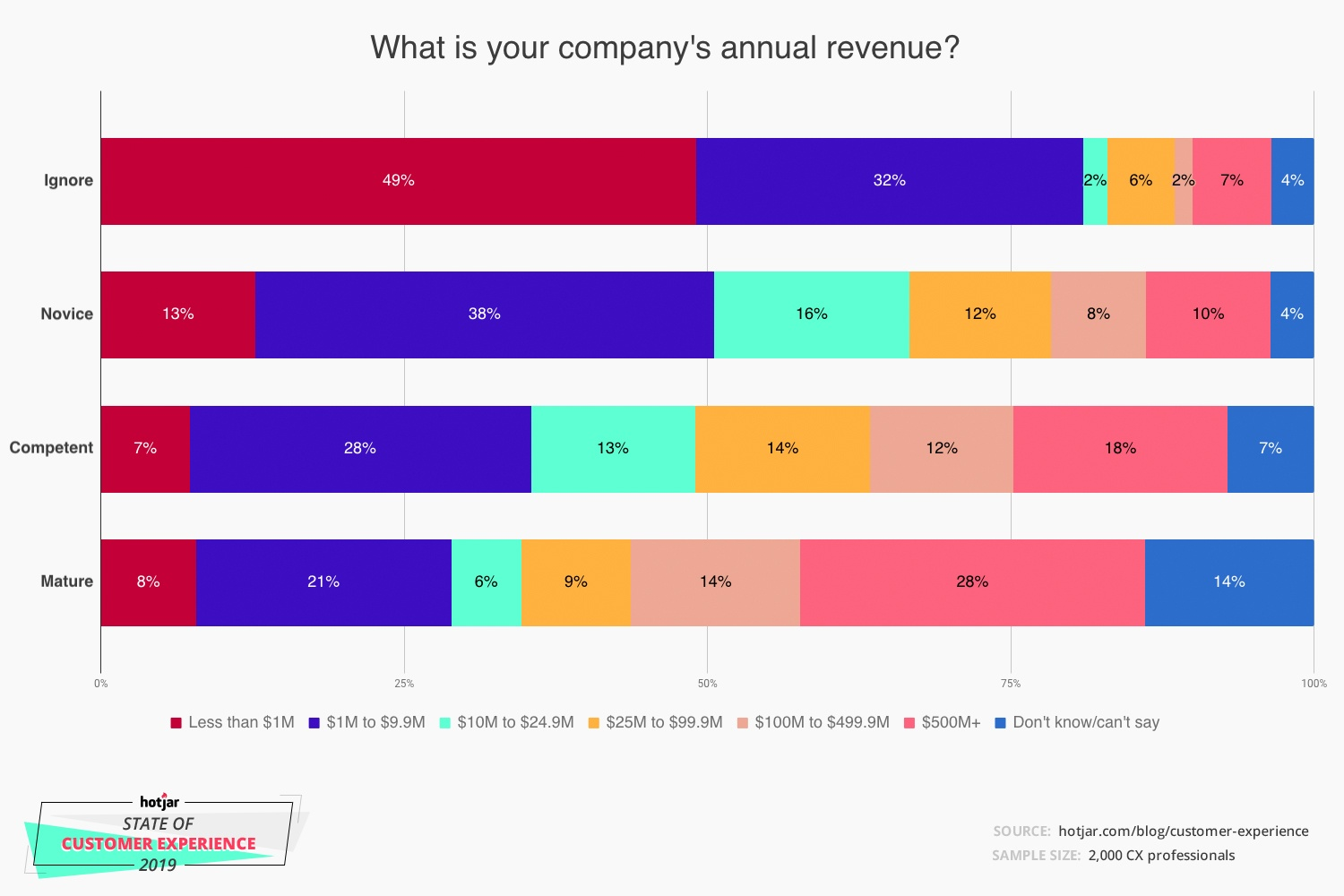 You see that 28% of the companies self-designated as having a "mature" CX strategy also make over $500 million a year. In the US, 43% of customers are willing to spend more money at the customers that they are loyal to, and many mark excellent customer experience as one of the largest drivers of loyalty. The two go hand in hand.
Task completion
Most companies know that having a handle on your customer journey is one of the key ways to ensure product stickiness. If you know the steps that your customers need to take in order to get the most value out of your product, you're much better equipped to drive them in the right direction. After all, you can't give directions or draw a map if you don't know where you're trying to get to.
Having a solid CX offering is a great way to keep track of what tasks your customers have or haven't done and then start taking steps to make the process more frictionless. A good rule of thumb is: if it's a key component of your product, it shouldn't be confusing or hard to implement—even to someone who is a new user.
Customer intent and needs
Having a fully-fledged CX organization gives you a window into the customer experience. Members of the team spend their whole days guiding your users through best practices or through problem patches with your product. Because of that experience, CX teams are also some of the best equipped to explain customer intent and their needs.
Sure, your marketing and product teams have some understanding, but if they're not talking to the actual customers every day, how informed in reality is that knowledge? CX teams are the keepers of customer insight and can offer valuable qualitative data to your organization.
How to link it to ROI?
Now that we have a bit of a deeper understanding into the key company-wide benefits that CX offers, let's delve more into how they can be linked to ROI and used to convey value of CX to upper management.
Provide quality data across segments
Based on the findings of a survey from MarketingWeek, 70% of companies admit to having incomplete or out-of-date customer data, and 6% of annual revenue is being lost through poor quality data. CX gives you a number of amazing data points that you can use to measure the effectiveness of new approaches, especially when compared with data from other teams. This is incredibly important, too, given that strategies driven by gut feeling (rather than data) increase by almost 4X among less mature companies.
Only 3% of mature companies choose "gut feeling" as a top strategy driver; the success of their strategy is evident in their fiscal returns.
Here are a few data points that you can use to link CX to ROI:
CSAT/NPS
Customer Loyalty
Customer Effort Score
Churn
Impact content
Continuing on the trend of cross-functional value, having an amazing CX strategy also contributes to your marketing and content goals. Great CX teams are primed and ready to provide useful information for customer testimonials, use cases, and other user-generated content. Importantly, 88% of consumers say that product content is extremely or very important to their purchase decision. This then is reflected back in page views, conversion rate, and search efficacy.
Align with consumer trends
Lastly, no one likes to get left in the dust. Having a CX team that is wholly-focused on making sure your customers get the experiences that they deserve keeps your company up-to-date on best practices and strategies. Use their vast experience and knowledge to drive you in the right direction with new trends like AI, chatbots, predictive messages and omnichannel support.
Instead of having to invest in a team member specifically to learn about tooling and trends, take advantage of the people that you already have.
Conclusion
Customer experience used to be a cost-center: companies only invested in the team because they thought they had to.
Now, customer experience is growing as a valuable and important asset at many companies. CX contributes to the overall success of the company with the number of metrics that it impacts, many of which are valuable to cross-functional teams as well as support.
It also gives back by providing useful data that can help calculate ROI on specific, customer-focused initiatives and marketing strategies.
Gain additional executive team support by leveraging these impactful metrics and conveying your message in a language that they'll understand: hard data and benefits.
---