Luckily, as customer experience has grown in importance, so has the tooling that helps us provide it.
Customer Experience, up until recently, wasn't really in the limelight. People knew what it was, but it didn't really seem too important. As long as your customers' questions got answered, it didn't really matter how it happened.
However, it's become increasingly important to provide a good experience to your customers. Oracle did a study that confirmed that 86% of buyers will pay more for a better brand experience, but only 1% feel that vendors regularly meet their expectations. Yikes.
Another study confirmed that even just a moderate increase in customer experience generates an average revenue increase of $823 million over three years for a company with $1 billion in annual revenues.
It's in your best interest to try to provide your customers with the most excellent experience that you can.
Luckily, there are a number of technologies that have come out over the past several years that are total game changers. Read on to find out about these products and how they can help you and your team.

Trello
Trello is the one name brand product that we have on this list.
The reason for that is that Trello doesn't fulfill any one specific task: it's open-ended. It can be used for almost anything you think of, from professional to personal. You can have everything from your team meeting notes to your plans for your wedding all in one platform.
For customer experience teams, Trello is great for a few things:
Imagine all of the different software where you are currently keeping information on those topics. Maybe you have meeting notes in Google Docs, use JIRA for bug tracking and feature requests, and Nicereply for measuring customer satisfaction. Trello allows you to, theoretically, compound all of those things into one place.
Alternately: if you aren't doing some of those things (like you don't track bug reports or feature requests), doing so would for sure offer a better experience to your customers.
Customer journey mapping
Gartner predicted that by 2020 more than 40% of all data analytics projects will relate to an aspect of customer experience. One of the most interesting types of data analysis that has come up recently is customer journey mapping.
A customer journey map is a way to visualize all of the data that you have about your customer base. You create a visualization of all of the points in your customers' lifecycle, from their first view of your blog all the way through to their point of churn. This is valuable because it helps clue your customer-facing teams into where the customer they're working with is on the continuum of your customer journey map.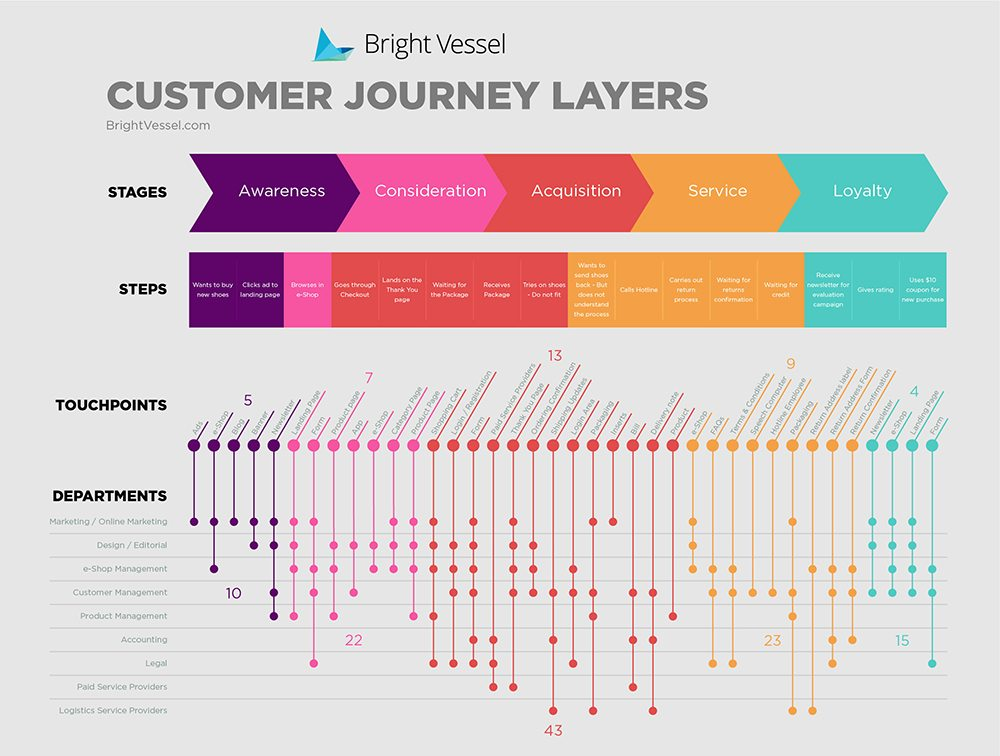 That knowledge lets your team give better proactive support with information that your customers might need to make the most of your product.
For example, if a customer reaches out to your support team and, based on your customer journey map, they are right at the point where they might start adding team members and working collaboratively, your team could send them information ahead of time to help guide them. Specifically: documentation about team administration, or a FAQ that covers that part of your product.
Pretty cool, right?
There is a ton of software that you can use to do this. Here are just few that are tried and true:
Omnichannel platforms
Back in the day, customer support was just answering phone calls. There was no such thing as another channel, let alone unifying all of the channels into one place. Enter omnichannel.
According to Google, 98% of Americans switch between devices in the same day. In fact, 15 years ago the average consumer typically used two touch-points when buying an item and only 7% regularly used more than four. Today consumers use an average of almost six touch-points with nearly 50% regularly using more than four.
It's incredibly important to be able to serve your customers no matter where they reach out—omnichannel helps you do that. It also helps you provide context for your support people so that they can give the best solutions possible.
Have you ever reached out to a large corporation with a problem, and had to repeat your troubles over and over again to every support representative? Conversely, have you ever had an incredibly easy support interaction where it felt like everything just came together?
Chances are the first company wasn't using a tool that enabled omnichannel support, and the second one was.
Look into your help desk to see if they offer omnichannel or multichannel support. It's one of the best products offered for customer experience.
Artificial Intelligence
Providing the best possible customer experience requires quite a bit of staffing. It's possible that, once you start opening up multiple different channels, you won't have the staff needed to keep them all running.
If that's the case, you're not alone.
According to Forrester, 46% of global contact center decision-makers project their contact centers will grow by 5%-10% in the next year. That's an unsustainable rate to be able to hire and train quality staff at.. Most contact centers have been turning to Artificial Intelligence (AI) to fill the gap.
AI is something that's been around for what feels like forever, but just recently has been perfected enough to be able to help with customer support and experience. Using AI, your team is able to deflect low-hanging fruit conversations, redirect customers to documentation, or even do some digging to help the customer support representative have more context once they do get to the ticket.
It's super useful and frees your agents up to be doing things that their skills actually lend themselves to. Instead of doing menial triage, for example, they can use their energy towards tackling out of the queue projects or helping with trickier inquiries.
Luckily, many customer support tools have AI built into their chat and contact form functionalities.
In-app Onboarding
No matter what you do, some of your customers are going to naturally churn. You lose nearly 75% of your users within their first week of using your product. By the end of the month, you're down to 6% of your registered users. By the end of 3 months, only 4 out of 100 users are left. Wow.
So, while it may feel like you're hemorrhaging users, there is something that you can do: in-app onboarding.
According to Hubspot, there are three starting phases when someone is first using your product. These are the things that you need to guide your customers towards in order to have the best success and retention:
Short-Term Retention—Week 1: Use the product more than once
Mid-Term Retention—Week 1 to Week 4: Establish a pattern of usage
Long-Term Retention—Week 4 and beyond: Rely on the product as an indispensable tool
In-app onboarding allows you to train your users towards best practices in your product. The best part is that, unlike documentation, it's right within the context of your website. When someone gets guidance right within the framework that they are needing help for, it's much more impactful and immediate.
If you don't have an in-house team of engineers, you're in luck. There are a few products that have started making their bread and butter by helping companies build onboarding experiences with minimal dev involvement. Here are a few that you might have heard of:
Conclusion
Customer experience is valuable and precious.
It's one of the few differentiators that customers have nowadays, amongst all of the various competitors that every product has. Luckily, as customer experience has grown in importance, so has the tooling that helps us provide it. Keep yourself on the cutting edge of technology in order to ensure that you're giving people what they deserve: the very best.
---