It's not that important what kind of business you do. Providing great customer experience is what matters in the end.
Why? We are humans that live in social bubbles. If we like it or not, we are surrounded by brands and products we bought thanks to someone's recommendations.
There are many ways to provide a great customer experience. Most of the time it isn't about big gestures, but about the little kind acts, customer support managers do for us.
We collected several examples of great customer service in 2021, where these actions delivered a satisfied customer that spread the good word about the brand. Read our latest tips on how to provide great customer service.
Start your day 
with great 
quality 
content
Examples of great customer experience in 2021
Chewy
Chewy is an online retail pet store that proves how little is enough to gain a customer's recommendation and a customer's love. A loyal customer didn't hesitate and shared an opinion on Twitter: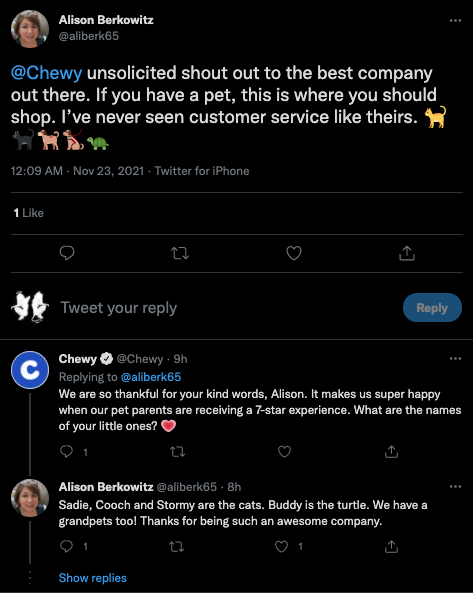 TIP: Show an honest interest
Sounds easy, right? But how many brands can say they truly care? The first tip is to show real interest in your customer's feelings, intentions, and customer satisfaction.
Apple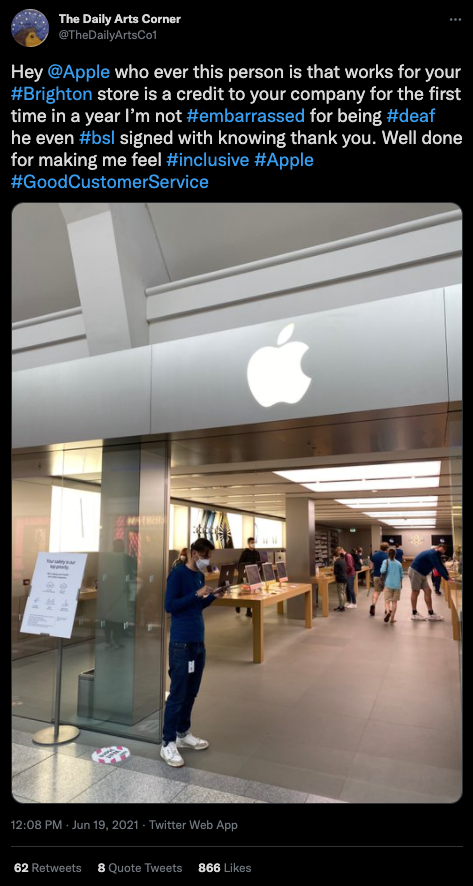 Great customer service can be provided in many ways. Especially, in unordinary situations, you can recognize your top customer support agents or employees.
TIP: Be emphatic
Apple shows they can serve excellent customer service for everyone. The deaf customer felt welcomed and integrated. And the good emotion is what you want to grow in your customer's mind.
Xbox & Nike
Guess what is the most important factor of great customer service. We live in a fast world and everything we want should be delivered…exactly, fast too!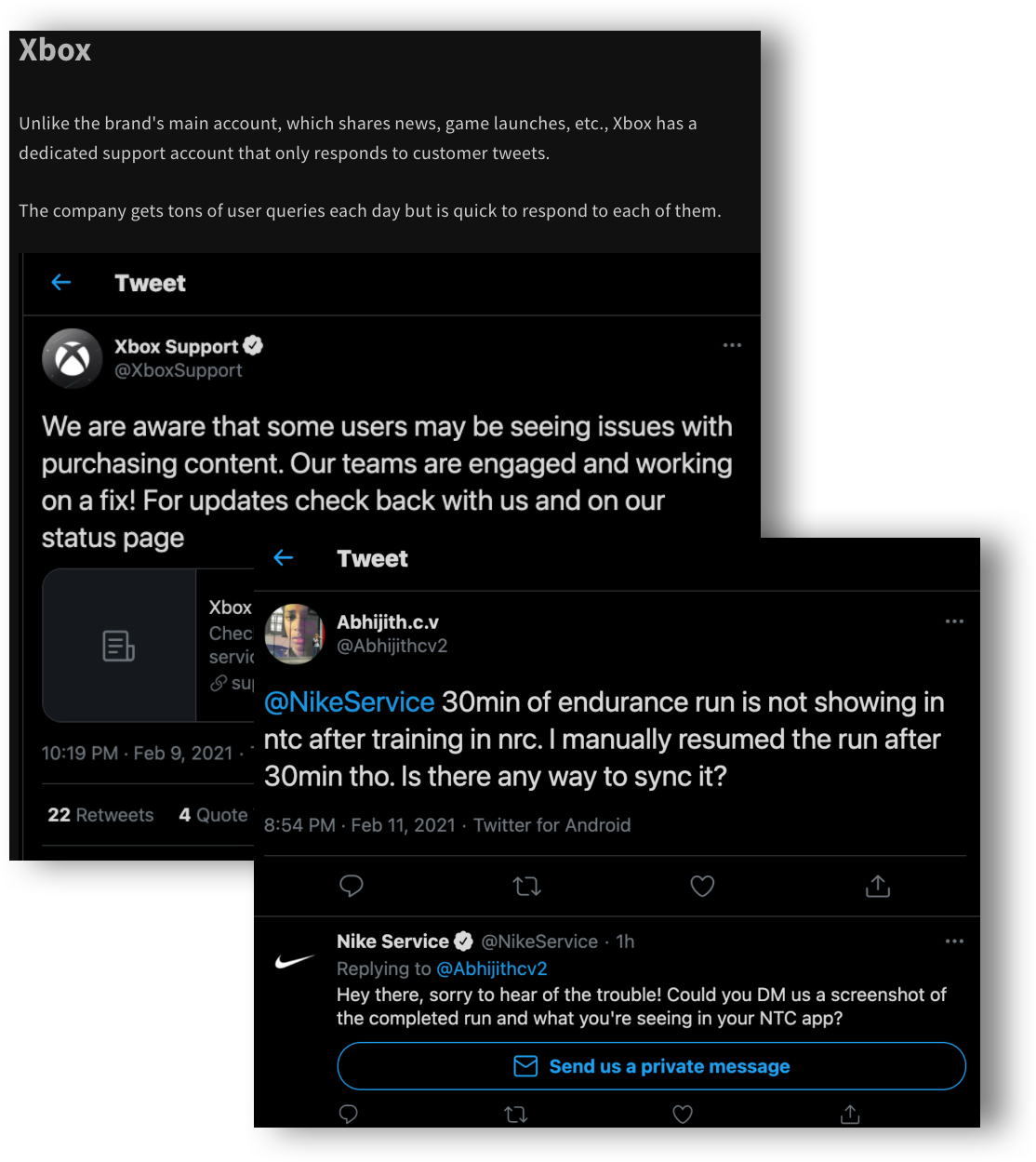 How to make sure your customer service managers will be there "on time" and won't miss anything? One of the things you can do is create a separate social media channel like Twitter and dedicate it only to customer support requests.
TIP: Invest in your support service
If you are a big-size company like Xbox or Nike, create a separate channel where you can concentrate the wishes & troubles of your customers. It'll make life easier for your customers and customer support agents too.
Domino's Pizza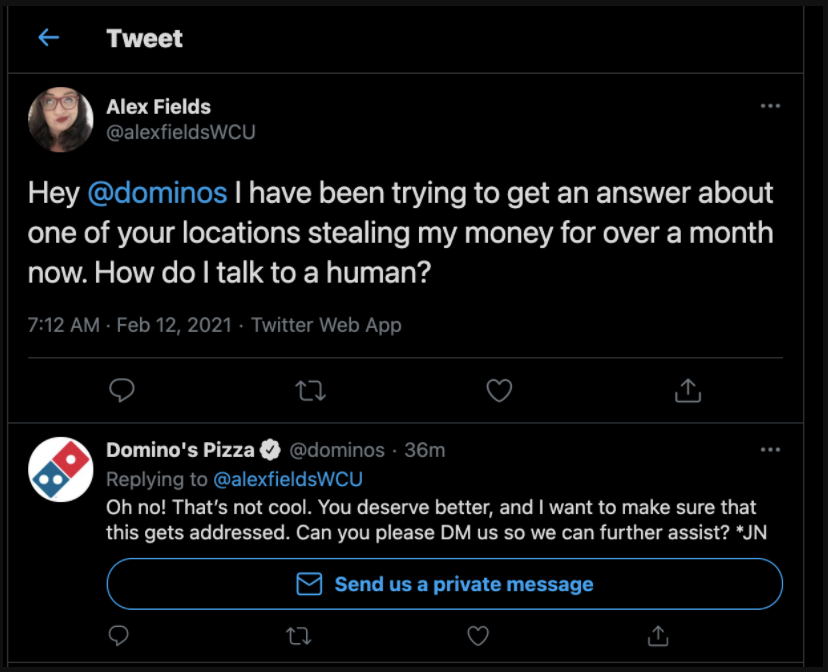 We don't need to introduce you to Domino's Pizza. But for those who never heard about the brand, they won't please you only with delicious pizza slices but also with a great customer experience too.
TIP: Listen to your customers
Always prove you are listening to customer requests and show a proactive attitude in solving the issues.
BARNER
Hours spent behind the laptop screen led me to discover the BARNER e-shop. (Oh, wait, not really. It was a recommendation from a friend!) The brand sells mainly blue light blocking glasses. What took my breath away was speed and it seems I'm not the only one who appreciates quick services.
Zendesk surveyed 3,000 people worldwide to find out what customers consider as the most important factor for excellent customer service.
The TOP answers were:
I can resolve my problems quickly.
Customer support is available 24/7.
The customer support agent was friendly.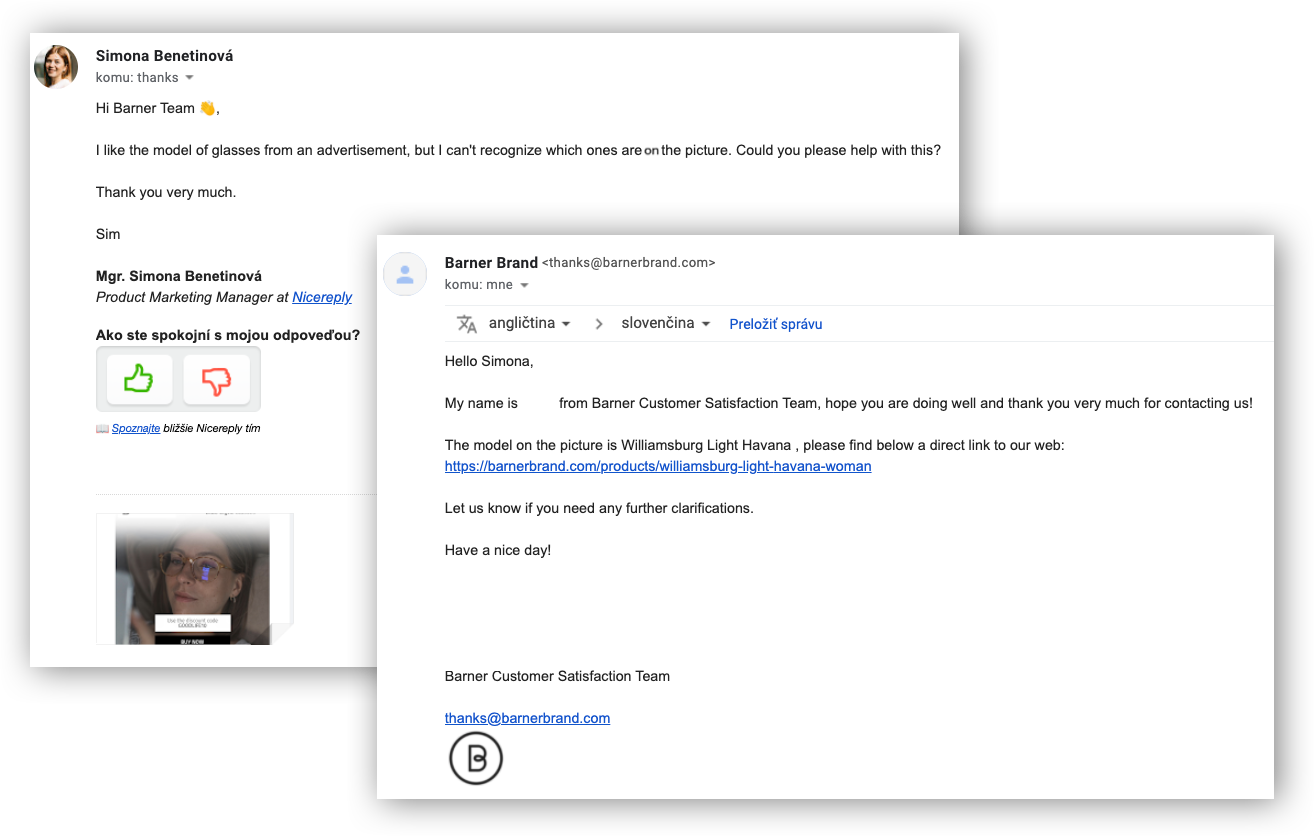 TIP: Be fast
When I purchased my blue light blocking glasses I didn't hide a surprise. I received them the next day from the order. The second time I was asking the support team which model is shown in the advertisement. I received the quick answer within 2,5 hours. That's how happy customers are made.
SheCodes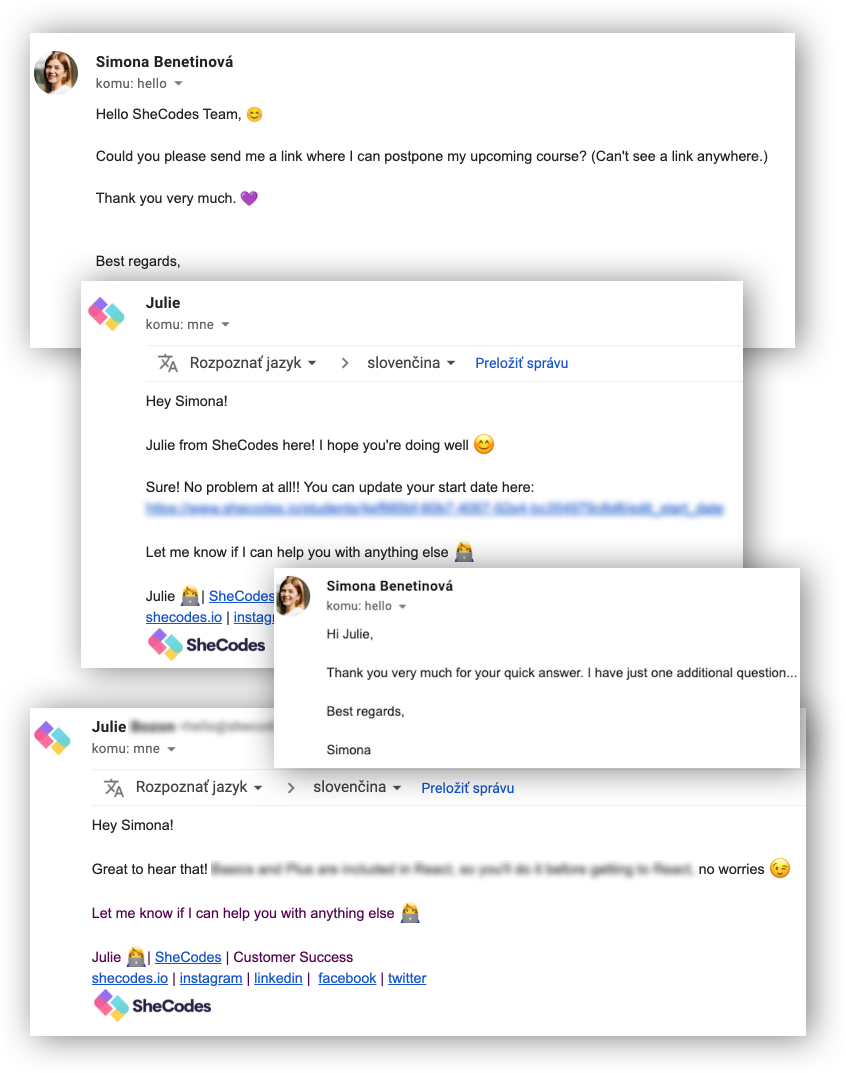 The last outstanding customer experience comes from a fast-growing community of SheCodes. Women interested in tech are welcome and treated with love.
TIP: Be proactively helpful & develop an emotional connection
Julie, a customer support manager, always provided me with fast and helpful answers, no matter how many times and what I asked. The coding bootcamp is based on a supportive women's community so you don't have to be afraid your questions are dull or lost. Do you know why this community is growing so fast? It's because of all the customer recommendations, success stories and alumni references shared on their personal social media profiles.
In the end, it's all about emotions. How we remember things or people in our life. And the way how we will remember the brands is often linked to emotions based on how we remember the customer support managers.
Brief recap
Remember, providing great customer service can benefit both sides because:
Your customer support agents feel their job is important. The feeling of appreciation makes everyone happy!
Your customers relate to your business and have positive emotions about you.
Your happy customer will recommend you to others.
You increase the probability that customers will come back to you.
You have a chance to become a customer's top-of-mind brand.
---