Support automation helps customer support teams deliver the same (or better) customer experience much faster.
Automation seems too good to be true. The marketing buzz can often stretch the truth of what's currently possible. No, there isn't a bot that can answer all your customer questions instantly. Yes, automation can still create those frustrating loops that leave customers begging to talk to a human. But the failings of automation don't mean that you should avoid it all together. When deployed wisely, customer support automation can help your humans provide better, faster support.
To help you dig through the noise and find the actually helpful use-cases for automation, we've gathered seven practical examples of customer support teams using automation.
Onboarding with Proactive Emails
Imagine if you had to remember to email every new client with a list of things they should do. Not only would you probably miss a few emails, but you'd also be spending a lot of time trying to figure out what customers need what information.
This is where automation comes in handy. You can start by simply sending out emails after one, three, or five days after the customer has signed up. Trello does a great job of this, breaking the parts of their product into a series of onboarding emails.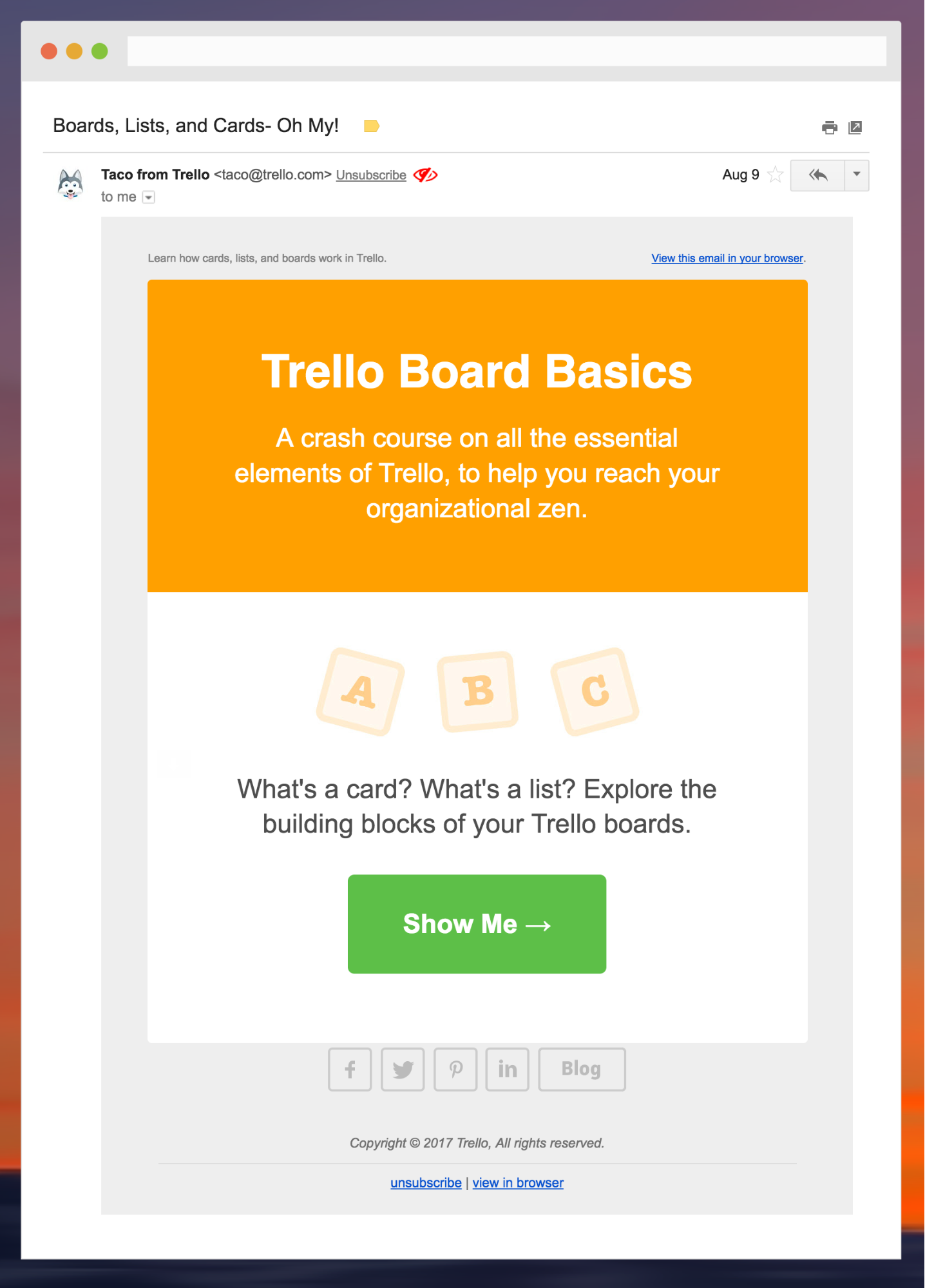 For more advanced automation, trigger onboarding emails based on user activity. When I recently purchased a new sports watch and connected it to Strava, a running app, I started getting emails to set certain things up. For example, once I'd uploaded my first activity, Strava reminded me to sync my heart rate monitor.
Because these onboarding emails are specific to the user, they have a bigger impact. Plus, they prevent customers from needing to talk to customer service agents for help – they already have all the information they need to be successful.

Create Feedback Loops
Sense Labs used Nicereply to build an automated real-time feedback loop. "Using Nicereply, we can immediately respond to a customer as soon as they contact us, have a productive interaction, and see their feedback and ratings within minutes," says Aisha Strauss, Director of Customer Success at Sense. "If the interaction wasn't satisfactory, we can reach out immediately, taking our customer support to the next level of 100% follow-through. This approach has helped us provide the best-in-class customer experience."
Sense automatically sends out a customer satisfaction survey after every interaction. If the customer responds negatively, the conversation is automatically escalated so a senior team member can step-in and help out. This makes sure that every interaction is resolved to the customer's satisfaction.
Proactive SLA Assignments
Cisco Meraki run automations on every email that comes through their inbox. With reminder tags, they can ensure that emails are responded to in under 15 minutes. "The tag will flag the message as urgent if no one has replied within that time," Michael Randall, Sales Support Team Lead says. "Front lets us know automatically when we need to follow up." This makes sure that their Service Level Agreements (SLAs) are met, both internally and externally.
It's important to note that these automations don't take a lot of knowledge to set up. There's no programming required. Because Cisco Meraki uses Front, they only have to indicate the tags they want applied, and what they want the tags to mean. From there, the platform handles everything automatically.
Assign Conversations to Specific Team Members
Hootsuite's customer success team uses automations to make sure each customer contact is handled by the right person. Sometimes that person is the customer's account manager, but sometimes it's a more technical member of the team with unique expertise.
Laura Ene, Customer Success Team Lead, says, "We love that we can leave a comment on an email and escalate it, and we know that nothing will get lost in Slack." Automations are perfect for making sure everything moves smoothly and nothing gets dropped. In a busy team like Hootsuite, that's critical.
Paging PagerDuty
The great thing about automations is that they can run 24/7 – even when it's not possible to have agents watching all the time. This makes automations a great way to trigger notifications for critical issues, such as downtime or VIP customer inquiries.
Jason Dugdale, Tooling and Support Engineer at Front, uses Zapier to bring an on-call agent's attention to urgent conversations.
"When a conversation in Front triggers our 24/7 on-call alert, we trigger a PagerDuty alert for the on-call agent," explains Jason. They've set it up so that only certain customers can trigger the alarm by sending in an "urgent" message.
They've also set up a Zap to @mention that teammate in Front, and bring attention to that conversation. The Zap can also send a messsage to Slack for additional visibility. The behind the scenes automation makes sure that the entire team can rest easy.
Team Happiness
Not all automation needs to be customer facing to be valuable. Sam Olson, Support Manager at Hudl, uses Zapier to build internal automations that keep his team running smoothly. For examples, Sam says he's combined a Slack workflow with Zapier to make it easy for someone to request a schedule change and then be notified when that change was approved. They also have set up birthday automations and a Spotify playlist automation to help build team camaraderie.
Tagging incoming tickets
Tagging customer support tickets is a big part of most support agents' jobs. But this is a task that no-one really wants to do. That's why improvements in automated tagging are so exciting. MonkeyLearn's natural language processing (NLP) software enables companies to detect themes, keywords and sentiments in natural language.
Archer, investment management software, used MonkeyLearn's automation platform to triage, tag and sort through an increasingly large number of customer conversations.
Alyssa Wilkowski, Senior Programmer Analyst at Archer explains why these automations were so important to their success. "To efficiently absorb our fast-increasing volumes, we required automations to stand in as quarterback of our tickets, to file but take no action on others, and to recognize and escalate requests for which we are contractually obligated to meet specified service levels." Their automation solution improved response times by 65% and agent productivity by 20%.
Automate the pain away!
When deployed thoughtfully, automation helps customer support teams deliver the same (or better) customer experience much faster. Whether you use automation for organization, repetitive tasks, or triggering emails, it's going to make your life easier.
If you decide you want to start automating customer support, start by looking for the tasks that your team does every day. These will yield the biggest results, and your team will be happy to have them off their plates. From there, consider how you can offer proactive support through automation – can you notify agents of outdated tickets? Or email users with new information? Finding these moments that are ripe for automation will help you develop a thoughtful support automation strategy.
---