Customer Effort Score seeks to quantify and highlight these very difficult conversations, so that customer service teams can avoid them in the future.
Created in 2010, the Customer Effort Score is fairly new to the scene but is becoming increasingly more popular. Ever been burned by a company's support team? Long wait times, vague answers, and way too much back and forth. That's exactly what the Customer Effort Score (CES) aims to eliminate.
What is Customer Effort Score (CES)?
Customer Effort Score is a metric, which customer service teams are using to evaluate how easy customers thought it was to get a resolution to their recent contact. They measure it by surveying customers after the resolution of their customer service conversation.
The idea is that customers enjoy doing business with companies that are easy to work with. Great customer service is a big part of making business transactions easy. Think about the last really frustrating experience you had with a company. It probably involved several emails back and forth with the customer service team. It likely felt very difficult to get clear answers and solutions from the company. After spending so much time and effort dealing with the company, you might think twice about purchasing from them again, right?

How was CES developed?
It's a common belief that great customer service builds customer loyalty. Much of the work customer service teams do is designed to delight customers, making them more loyal. In this case, customer loyalty consists of three specific behaviors:
Repurchasing: where customers continue to buy from you without canceling or churning.
Advocating: where customers tell their friends and family about your company and refer new business to you, and
Expanding share of wallet: where customers spend more money and purchase more from you.
Disloyalty is the opposite behavior. Disloyal customers will buy less, share bad experiences with family and friends, and eventually stop purchasing from you altogether.
In 2010, a team of researchers at the CEB wanted to uncover the most effective strategies customer service teams used to build loyalty. What they found surprised them. While most customer service teams believed that delighting customers was the most important part of their job, delight actually has very little impact on building loyalty, and mitigating disloyalty.
"As we analyze responses from more than 97,000 customers, what we find is that there is virtually no difference at all between the loyalty of those customers whose expectations are exceeded and those whose expectations are simply met." – The Effortless Experience
What impact do customer service teams actually have on loyalty?
It turns out that customers are most swayed in their re-purchasing decisions by how easy it is to do business with a company. Customer service teams are highly influential in this area. The CEB discovered "that the specific things customer service does to drive disloyalty among customers are largely associated with the amount of work— or effort— customers must put forth to get their issues resolved."
The Customer Effort Score metric grew out of a desire to measure the amount of effort customers were experiencing in their service interactions. By measuring it, teams can work towards decreasing effort, which in turn leads to more loyal customers.
And the metric works. It's more predictive of future loyalty than CSAT. In fact, 96% of customers that report high effort experiences become disloyal, compared to 9% of customers with low effort experiences (from the Effortless Experience).

Why should I measure CES?
Measuring Customer Effort Score provides actionable insight into how difficult customers find it to get help.
Most customer service teams measure the quality of their work in some way. Often this is through customer satisfaction surveys. However, as mentioned above, CSAT is a very poor indicator of future customer loyalty. Fred Reichheld, the creator of the Net Promoter Score (NPS) and author of The Ultimate Question, found that "60 to 80 percent of customers who ultimately defect had said they were satisfied or even very satisfied the last time they participated in a survey." Measuring CES can help teams understand why these "satisfied" customers are still frequently churning.
Once a team is consistently achieving 90-95% CSAT, any resources spent increasing CSAT result in decreasing return on investment. To raise CSAT even a couple of percentage points would take a lot of time, and not even result in a massive change in customer loyalty or perception. For teams in this position, initiating a CES program can provide new avenues for improving the customer experience and building customer loyalty.
A common concern with NPS and CSAT is that the feedback is often too vague and out of the scope of the customer service team. While product feedback is always helpful, customer service leaders may feel powerless to actually impact product design in a meaningful way. But because CES is designed to measure a very specific interaction, the feedback is almost always actionable by the customer service department.
Wondering if CES is right for you? Here are some indicators that your team might benefit from implementing a CES program:
You're already seeing consistently high CSAT ratings and wonder: what now?
Your customers continue to show signs of disloyalty even though CSAT ratings are high
You're receiving feedback that isn't relevant to the customer service team

How do I measure customer effort?
You can measure CES by surveying customers after the conclusion of a customer service interaction. The survey uses a specific statement: "The company made it easy for me to handle my issue," and the customer answers (on a standard 1– 7 scale) whether they agree or disagree with the statement.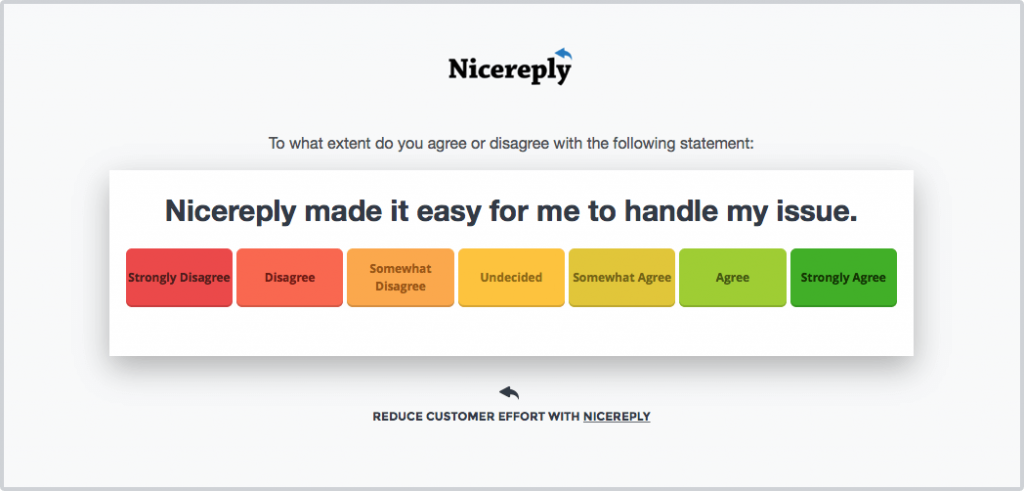 After the customer selects their rating, they usually follow up question where they can leave any additional comments or an explanation of their score.
As most help desks don't offer a native Customer effort score survey, teams wanting to measure customer effort will need to integrate a survey tool into their workflow. Nicereply integrates with all of the most popular helpdesks (like Zendesk, Intercom, HelpScout, and Freshdesk) and set-up only takes a couple of minutes. It's also possible to use the Nicereply API to build an entirely customized survey flow.
Ideally, CES scores are attached to the relevant user and conversation history. This aids in the future analysis of effort score trends and churn.

What do I use Customer Effort Score for?
Customer Effort Scores are best utilized by teams looking to optimize for loyalty. As Mat Dixon writes, teams need to focus on "finding new ways to get rid of the hassles, the hurdles, the extra customer effort that leads to disloyalty." CES helps point teams in the right direction. What's a good score to look for? Well, the CEB says that moving a customer from a `1′ to a `5′ boosts their loyalty by 22%. Returns diminish after that. A customer who responds a '7' is only 2% more loyal than a customer who responds as a '5'.
But it's not all about the numbers either. Here are four other ways you can get the most out of CES analysis.
A real-time feedback mechanism
As Customer Effort Scores come in, they can reveal customers who are still unhappy with the resolution of their ticket. Keeping an eye on incoming feedback helps customer service leaders react quickly to problems.
Supervisors may also want to reach out to any customers who experienced a high-effort situation for service recovery. Apologizing to the customer proactively could help prevent them from canceling in the future.
Evaluating agent performance
Agents who consistently see above normal CES results may need additional training. Excessive back and forth, unnecessary troubleshooting, or misinformation are all high effort experiences driven by under-trained agents.
However, keep in mind that senior agents who pick up more complex tickets, or take over existing problems may also see high CES results due to the nature of their work.
Distribution, not just averages
CES is a somewhat unique metric because, to get the most out of it, both the distribution of scores and the average need to take to account. For example, an average CES score of 5.4 looks pretty good, right? Except if you find out that it's made out of mostly 7's and 1's. While most customers are finding it really easy to get in touch (too easy? More on that later…), there's a handful of customers who are having a nightmare of a time getting help.
Analyzing distributions can help identify if all customers are having a generally effortless experience, or if there's a small subsection of customers who are really getting stuck. By identifying that small group of customers, teams can take action and proactively prevent churn.
Identifying trends and hotspots
Metrics are the most powerful when combined with the context they come from. This means understanding what type of customers are more likely to have high-effort experiences. It means understanding what channels have lower than average Customer Effort Score. It means digging deep into the data and uncovering trends that help explain the numbers.
Use CES data to help influence product decisions. By identifying common issues that are very difficult (high effort) to resolve, the product can prioritize the highest impact fixes.

Can CES be too high?
Yes, CES can be too high, and customers can find it too easy to get help. If every customer is finding it too easy to do business with you, you are probably not being very efficient with your customer service resources. When you are looking at the distribution, look for a bell curve with most responses around 5 or a 6. If it's heavily weighted towards a 7, it's too easy for your customers to contact you, and you should be encouraging them to self-serve. (If they were able to help themselves, you wouldn't see them in this survey)
Self-service is anything that allows a customer to solve their problem or question. It might be an interactive guide to CES, a help desk article, or an in-product tutorial. Take a look at these survey responses to see what content your team should be creating, and hopefully, you'll see the number of times customers *have* to contact you decreasing.

CSAT or CES?
Really love measuring customer satisfaction (CSAT)? Don't worry, you don't need to get rid of CSAT to measure customer effort score. These two metrics work well in harmony. CSAT is really great at real-time alerts that let you know how your customers are feeling RIGHT NOW. We recommend still including a CSAT survey in the signature of every one of your emails to seek feedback from customers frequently. Because CES is surveyed only on the resolution of a conversation, this doesn't get in the way.
Antonio King, Director of Experience at Shinesty, moved from measuring CSAT with Zendesk to measuring both CSAT and CES with Nicereply's integration. Not only did that allow Antonio to track both metrics, it actually increases their response rate. "We saw a 20%-30% increase in CSAT response ratings per week," Antonio shares on Medium. "Pulling last week's numbers, we had a CSAT response rate of 58% which is almost unheard of."
CES and CSAT work really well together – so don't feel like you need to choose one over another.

Benefits of CES
Customer Effort Score is rising in popularity for a few reasons. First of all, it is the best predictor of customer's future behaviour. According to published studies, CES is 1.8 times better at predicting customer loyalty than customer satisfaction and 2 times better than Net Promoter Score.
It can also be helpful to companies that have already achieved consistently high customer satisfaction scores. Because CES focuses on a different part of customer experience, you'll see different areas of opportunity to improve.

Potential CES Issues
There are definitely Customer Effort Score detractors out there. They argue that the research methodology is flawed and that the authors focus more on mitigating disloyalty that actually increasing customer loyalty.
In their research, the CEB team focuses on self-reported loyalty measures and "future intention" of loyalty or churn. How accurate are these measurements when compared to actual repurchasing and referral behaviours? It's hard to tell. They need definitely more research to confirm the connection between difficult experiences and disloyalty.
Secondly, while increasing customer's CES from a 1 to a 5 reduces disloyalty, the book doesn't focus on what companies should do to build loyalty. In fact, they argue against any time spent delighting customers. Most customer service professionals would disagree with this stance. Dr. Van Bennekom recommends that companies separate the "bow wow" from the "wow". Once you've eliminated high effort experiences from the customer journey, it's time to focus on the "wow".
How to superpower your CES experience
Tracking CES by channel
You will probably find that your CES varies the most by channel. Some companies are very easy to call for support, and some make live chat the most effortless experience. Customer Experience Futurologist, Dr. Nicola Millard, has found it is the best source of inspiration for her team at BT: "The great thing about [tracking by channel] is that it becomes very actionable then. For example, if IVR gets a rating of  two, you can question whether it really works for customers."
Before cracking on with CES, ensure that the integration you use allows you to segment scores by channel, ticket ID, customer, product, agent, and any other information you track in your service interactions. You will need this information later to analyze results.
Integrating with other metrics
CES works best when blended with other methods of customer surveys. For example: measuring NPS over a customer lifetime can help pinpoint product issues and provide a more holistic view of how customers feel about your company. At some touch-points, CSAT may be high, but CES may be low. Varying your surveys will give you more actionable insight across different channels and situations.
Unfortunately, survey fatigue is very real. If you are asking your customers for their opinions too often, you might see your response rate drop. Hence, plan out a schedule for surveys before launch to avoid overwhelming your customers.
Company-wide understanding
With any changes in how you measure customer experience, success is much more likely if you have the entire company on board. CES is definitely a more difficult metric to understand than CSAT, so we recommend doing a quick lunch-and-learn or sending around a team email on the subject. Educating others on why making the experience effortless makes good business sense will help you get buy-in on any projects you want to build as a result of the incoming information.

Measuring CES will help you grow
Building a customer experience founded on effortless customer service will win your company a lot of fans. By focusing relentlessly on eliminating hassle and removing hurdles to help, you become easier to do business with. And in 2021, that's a winning strategy.
---
Find out everything about CES in the podcast episode: The Ultimate Guide to CES with Challenger Inc.
Join our special episode with Scott from Challenger to hear about what CES is, how it can benefit your company, and how you can train your support agents to provide an effortless experience.
---