Customers who've had a bad experience with a company are only 40% likely to still be a customer in a year, compared to 75% of customers with great experiences sticking around.
CSAT is the most prevalent method of measuring customer satisfaction today. Businesses ranging from tech giants like Google and Apple to the smallest early-stage startups use it all around the world to see what works for their customers and what yet needs to be improved.
And for a good reason too. Interpreting the scores is easy for the employees, while customers clearly understand what's being asked of them. Plus, if executed properly, response rates tend to be much higher than regular long-form surveys.
If the previous lines didn't convince you, let's look at some numbers:
Customers who've had a bad experience with a company are only 40% likely to still be a customer in a year, compared to 75% of customers with great experiences sticking around.
It takes 12 positive experiences to make up for one bad experience.
67% of customers list a bad service experience as their main reason for churning.
95% of customers will share their bad experiences with friends and family.
As the famous quote by Peter Drucker says, "Whatever gets measured gets managed." If you want to improve your customer satisfaction and prevent negative experiences, the first step is to start measuring it.
Before you can start measuring CSAT within your Zendesk account, there's a decision you must do first. Should you use the built-in solution provided by Zendesk, or should you splurge for a dedicated CSAT tool? We'll try to help you make that decision with this post.
Built-in Zendesk CSAT tool overview
Zendesk Support comes with a built-in solution for measuring CSAT. Enabling it allows your customers to rate your experience on a binary scale of "Good, I'm Satisfied." or "Bad, I'm unsatisfied.". By default, Zendesk automatically sends the survey email 24 hours after the ticket has been marked as solved, although this can be customized.
After clicking on a "Good, I'm satisfied." link, customers are taken to a page where they can provide further comments.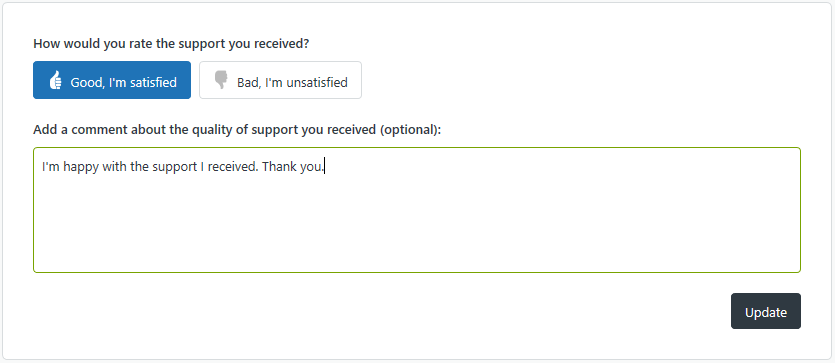 Unsatisfied customers who click on "Bad, I'm unsatisfied link" are then taken to a page where they can also provide comments, as well as choose from a pre-defined list of causes for their dissatisfaction. Selecting a reason is optional, as well as leaving a comment.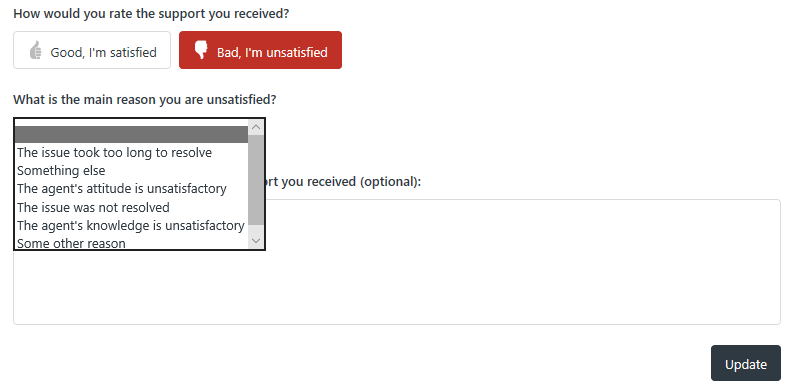 In terms of customizing the survey, there's very little that you can do. Zendesk uses system placeholders to display pre-defined survey templates in your email templates. The default option is a simple question written in bold with 2 links underneath it:

Using individual placeholders for positive and negative answers, you can get a slightly more stylized version, but you're still stuck with the same scale of 2 answers.

Apart from the visuals, you can also customize the wording to the question.
Pros: Why use the built-in Zendesk CSAT
Now that we've seen the overview of the built-in Zendesk CSAT tool, let's see what makes it a good choice for your customer feedback program.
Pro: Hassle-free setup
You don't need to register with any 3rd party vendors, create any accounts, copy any API keys, or look for any misplaced login credentials. Being a part of Zendesk Support's offering, all you need to do to enable the built-in CSAT tool is to head to the settings page of your Zendesk account. There you can allow your customers to rate your tickets and thus start collecting customer feedback. You, however, do need to be an admin to make this change, and you also have to be running on the right Zendesk plan (professional or enterprise).
Pro: Simple to understand
While lacking in terms of customization, the simplicity of Zendesk's CSAT solution can be perceived as a good thing. It's easy to set up, easy to work with, and most of all, easy to understand. One question with binary "Good" or "Bad" answers leaves little room for interpretation, misunderstandings, or any kind of ambiguity. Your satisfied customers will know where to praise, and your dissatisfied one will know how to complain.
Pro: Reliability and deliverability
Everything is handled by Zendesk, so you don't have to worry about downtime of any 3rd party service. As long as your helpdesk is running, your surveys will be sent.
Being sent from the same service as the main information about the ticket also means less chance of surveys being caught by spam filters, resulting in potentially higher deliverability rates, although this depends on your audience.
Pro: You're already paying for it (sort of)
Zendesk's built-in CSAT solution is a part of Zendesk Support and you technically don't have to pay anything extra to start using it. However, there's a slight catch, with customer satisfaction ratings being available only to Professional, Enterprise, and Elite plans. If you're currently using Zendesk Support on an Essential or Team plan, your only options are to look for a 3rd party CSAT solution or to upgrade your Zendesk plan.
Cons: Why use a dedicated CSAT tool
Zendesk CSAT is a solid place to start when measuring CSAT, but let's take a look at some reasons why you might want to go with a more powerful dedicated tool.
Con: Limited customizability
Dedicated CSAT tools like Nicereply allows you to customize your surveys to a much greater degree. You can choose from several different scales like 10 stars, 3 emojis, or 2 thumbs to collect a much diverse range of feedback.
You can also add a logo, change the colors to go with your branding, and even add an extra question to get more information.
Con: Only measuring CSAT
Zendesk's built-in solution allows you to only measure Customer Satisfaction Score, but there are other interesting CX metrics, that can enrich your customer feedback program.
Both Net Promoter Score and Customer Effort Score can provide you with powerful insight to improve your customer experience. You can also implement them, without sending more emails…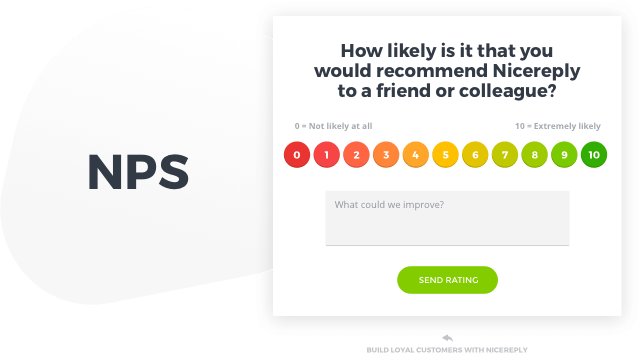 ---
Con: Surveying post-resolution only
Zendesk sends its CSAT survey only once the ticket is marked as solved. While this gives you a good idea of how the customer feels after the resolution, it provides little insight into how he feels during the support process.
Dedicated tools can also do post-resolution surveys, but Nicereply also allows you to place your CSAT survey directly into the signature of every email reply you send out to your customers. This means your customers can rate an agent after every reply, giving you deeper insight into your support process, as well as a chance to turn around conversations that frustrate your customers.
Another benefit is that measuring CSAT in an email signature allows you to use a previously occupied "email slot" to measure a different metric, such as CES or NPS, post-resolution to get even more feedback.
Con: Your data is locked in Zendesk
Now we love Zendesk as much as the next guy, but the fact is that businesses sometimes change their stacks. Having all your customer feedback as part of Zendesk Support means, that if you do decide to migrate to another platform, those customer ratings are going to get left behind.
Even if you don't migrate, you're still unnecessarily siloing your feedback data, without a possibility to connect it to other systems. 3rd party solutions like Nicereply provide a wide array of integrations to share your feedback between different systems, like helpdesks, call-center systems, and CRMs.
Con: Rudimentary reporting
Zendesk allows you to see your overall customer satisfaction score, individual ratings, comments, and satisfaction reasons (if enabled) for up to the past 90 days.
Dedicated CSAT tools provide a much more in-depth look at your data. With Nicereply, you can see all the stats and trends in one place. You can also see ratings of individual agents, and also organize them into teams, which you can then evaluate and compare.
Every rating is also linked to its respective ticket in Zendesk Support, so you never lose the context of a given rating. Every rating you ever receive is stored, with no 90 days limits.
Con: Only available to Zendesk professional plans and up
As mentioned before, customer satisfaction ratings are available only to Professional, Enterprise, and Elite plans. There's currently no way to enable the native Zendesk solution for those currently using an Essential or Team plan.
Conclusion
Zendesk's CSAT tool is a solid choice for teams just starting to measure customer satisfaction, but teams who've been at it for a while, power-users, and teams using entry-level Zendesk plans will probably do better by getting a dedicated CSAT tool.
If you'd like to see a comparison of all the CSAT tools, it's currently available on the Zendesk Marketplace. Check it out.
---