Whether it's a help desk to process tickets or software to collect feedback easily, there's a software solution that will make your job easier and more efficient.
For many people, customer service is a key factor when deciding whether or not to do business with a company. In fact, Microsoft Dynamics 365 found that 90% of people consider customer service important in their choice of brands. Knowing how vital customer service is for a business, companies must work hard to deliver outstanding support.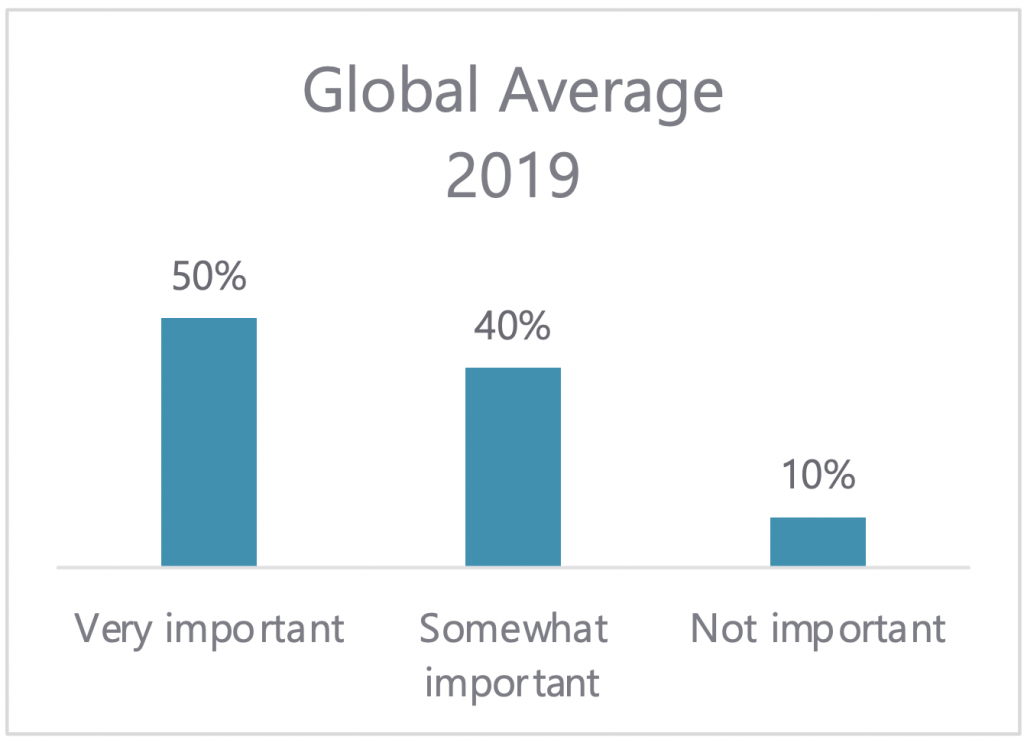 As part of that commitment, support teams delivering stellar support to their customers rely on a collection of tools. That list of tools includes everything from the ticketing system that allows teams to access a shared email inbox all the way to an enterprise-level, cloud-based call center.
However, it can be hard to know what works best when digging through the various options in the market. The amount of alternatives is huge. In this article, we've listed some of the best customer service tools to help you and your team be efficient in delivering a fantastic customer experience.
What to look for when choosing a customer service tool
When deciding which customer service tool to choose, focus on figuring out your company's needs first. It'll be much easier to end up with a software solution that covers those and avoid paying for features you don't need.
When comparing solutions, consider the following three areas:
Implementation: How easy is it to set up and use the software with the configurations you need? The quicker you can implement it, the faster your agents can be up and running, giving your customers the support they request. Will this tool be ready out of the box, or will you need engineering time to get it up and running? Take into account that customer service software implementation depends on various factors, like your business' workflows, integrations, related apps, required customizations, schedule, etc.
Customization and feature capability: Your ideal customer experience software should be flexible enough to customize it according to your needs so you can handle complex problems. It should also scale as your company grows and come with all the features your agents need. Ideally, you don't want to end up with a tool that stops working once your business reaches a certain size.
Value: What do you get for the price you pay? Cost is a deciding factor when choosing a particular software, so you want to make sure you're paying for a tool you'll use to its full potential while serving both your customers and your agents. Some solutions have a fixed cost, while others depend on the size of your team or the extra features you'll be adding. Take this into account before making your choice.
Start by asking yourself what are your company's core needs when it comes to customer support. For example, if you're offering your customers support through social media, phone, and email, you might want to only consider help desks that provide full omnichannel support as a feature.
Let's now take a look at the top 5 customer care tools for 2021:
Best for: All-in-one help desk tool
A help desk software is the bread-and-butter of customer support. It's the central place where you respond to your customers' questions and work around the clock to turn their issues into an opportunity to delight them by offering fantastic support. Having an efficient support ticketing system that integrates well with your existing software tools is crucial to deliver consistently great support.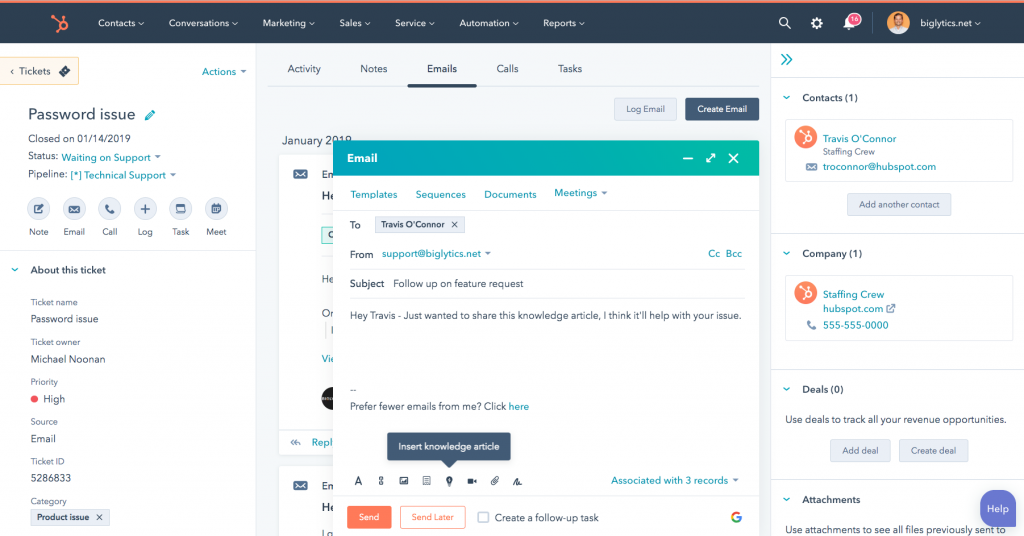 HubSpot Service Hub is a help desk and issue tracking solution that streamlines your customers' requests into a shared inbox. Because Service Hub is built on HubSpot's free CRM, every interaction your customers have with your business is stored in one place. This adds context to each ticket and makes it easy for agents to deliver personalized support to every customer. Understanding a customer's history is crucial for a more efficient, individualized support interaction.
HubSpot Service Hub connects email, live chat, Facebook Messenger, and other software tools into one universal inbox, so your whole team has the visibility to manage and reply to conversations in one place. Use ticket statuses, assign owners, and work together so that nothing gets dropped. By building automated workflows and chatbots, customers get faster support. Or, let customers help themselves by using HubSpot's beautifully designed knowledge base tools.
HubSpot Service Hub shines when combined with other HubSpot tools like HubSpot Sales Hub and Marketing Hub. Support customers along their entire customer journey using the HubSpot ecosystem – every team will be able to provide personalized interactions, no matter where the customer is along their journey.
You can get started with HubSpot Service Hub for free. While HubSpot is aimed mainly at small- to medium-sized businesses, there's an enterprise plan available for larger companies.
Features:
Shared Inbox
Team Management
Customer Feedback Survey
Pricing: Free
Best for: Customer Feedback
Finding areas of improvement in your customer support is not something you can do on your own – you'll need your customers' help. Surveys are a crucial tool for collecting their thoughts.
Nicereply is an intuitive tool that lets you do exactly that. Even if we weren't writing on their blog, we'd recommend them, since we love how easy collecting feedback is through their numerous plug-and-play integrations. One key advantage of Nicereply is that you can set up in-signature surveys to collect feedback right when customers are most likely to give it – immediately after an interaction with your brand. The tool also lets you maintain your company's look and feel across surveys by customizing the forms for your specific needs. Plus, you don't need to send your surveys manually – Nicereply lets you automate the distribution of your surveys to deliver them at the times you want.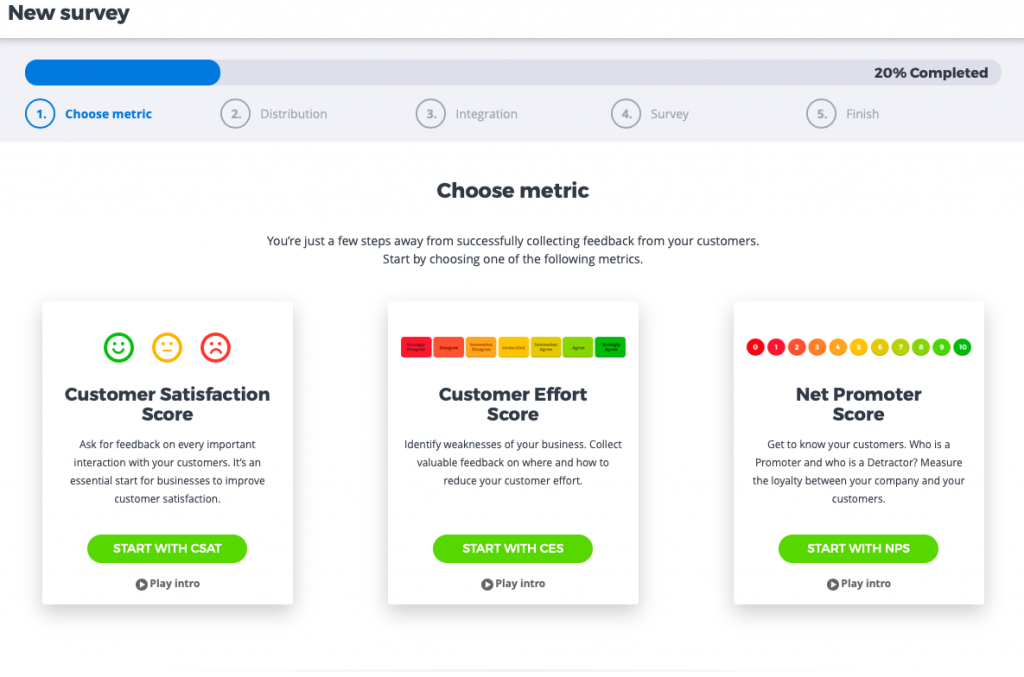 As an added bonus, Nicereply records customers' answers as soon as they click on the survey, so even if they don't finish it, you'll still know how they felt. It also lets you easily collect metrics like CES, CSAT, and NPS. These scores surface opportunities for your company to improve the customer service journey, and react in real-time to dissatisfied customers.
The tool integrates with other customer support software so you can quickly use it in combination with your other tools. For example, you can use Nicereply with apps like Zendesk, Front, LiveAgent, Freshdesk, Aircall, Mailchimp, and Gmail, among others.
Lastly, besides offering a great survey tool, Nicereply has an extensive collection of ebooks, podcasts, and other documents for customer support folks looking to expand their knowledge. From "Top Questions to Ask in CSAT, NPS & CES Surveys" to "Support Phrases To Use and Avoid in Your Conversations," Nicereply offers a ton of resources on their website for you and your team to hone their skills.
Features:
Multi-channel data collection
Customer service analytics
Customizable branding
Data analysis tools
Customer sync based on ticket ID
Customizable templates
Pricing: $39/month for the basic plan
Best for: Omnichannel support
Using separated support tools and communication channels to talk with customers often results in messy interactions – some conversations fall through the cracks, get repeated, or are neglected. HelpCrunch combines multiple communication channels in a shared inbox, letting you communicate with your customers via live chat on the web, in-app messenger, email, and SMS, using real-time customer data in one platform.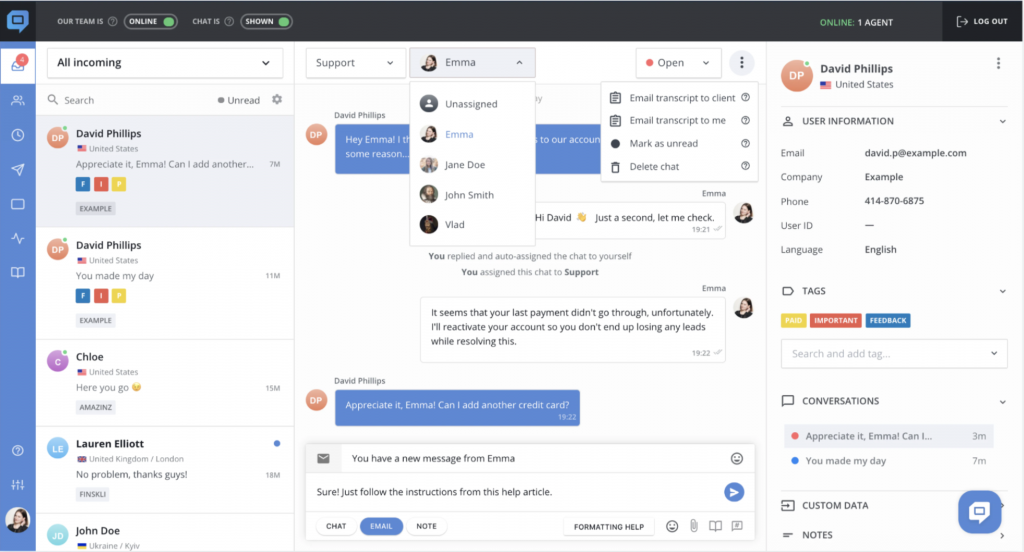 With HelpCrunch, you can get all support emails and incoming chats from customers in a shared inbox and respond via your channel of choice without having to leave HelpCrunch, saving you time. You can also send automatic email follow-ups every time your chat messages stay unseen by customers for a set amount of time.
HelpCrunch also makes it easy for customers to get the information they need without waiting for a response from the support team, offering 24/7 customer self-service through a knowledge base or FAQs.
This support tool also lets you easily customize your live chat to your brand style, including adding agents' avatars and choosing the chat size, color, logo, and localizations.
HelpCrunch integrates with other apps and the tools you might already use, like Slack or Google Analytics.
Features:
Live chat
In-app messenger
Email marketing automation
Knowledge Base
Pricing: $15/month for the basic plan
Best for: Call Center Software
The phone still dominates as the medium of choice for many customers, particularly when resolving a complex issue. Handling customer calls efficiently is crucial to delivering outstanding support.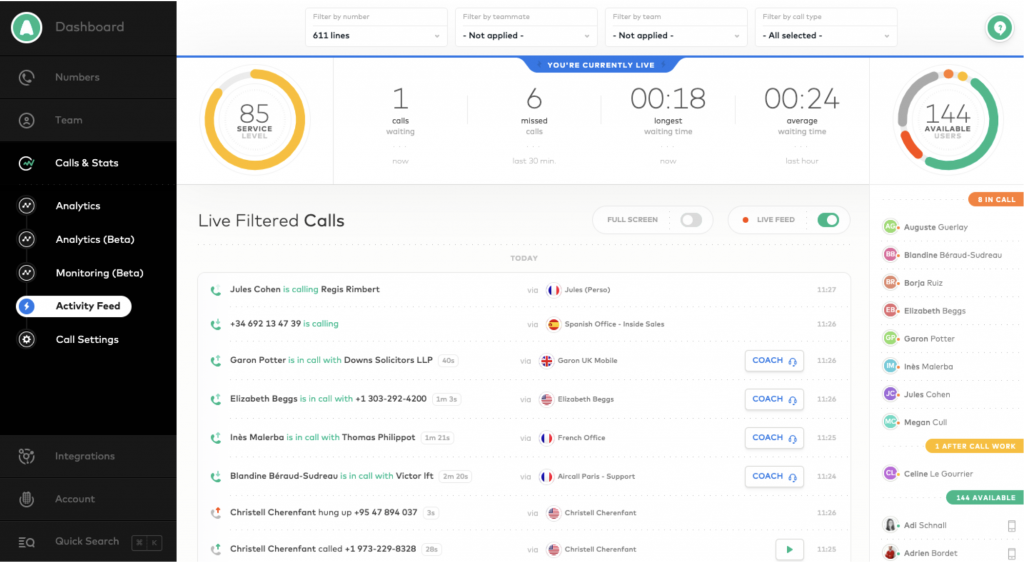 Aircall helps sales and support teams communicate clearly and efficiently through a cloud-based phone system. Since the only thing required to get started is to download the Aircall app, teams can start making and receiving calls quickly.
Within Aircall, you can claim numbers for your business in 100+ countries, even if team members are based in different locations. You could, for example, call customers using a cell phone, and they would still see the office phone number, which makes it easy to make calls from anywhere.
In addition, Aircall offers advanced collaboration tools like the option to speak to a colleague before swiftly transferring a live call. Thanks to its Shared Call Inbox feature, it gives you a complete perspective of calls that require a follow-up and lets you archive old assignments as you go.
Finally, Aircall's call center software also lets you connect all caller history and records to your CRM, help desk, or collaboration software, so cross-functional teams can review all customer interactions in one shared place.
Features:
No hardware required
Shared call activity feed
Advanced analytics
Live note-taking
Pricing: $30/user per month for the basic plan
Best for: Live chat
With its quick response time, over 70% of customers find live chat the most satisfactory form of communication with a company, so it's no surprise that offering chat support contributes to happy customers.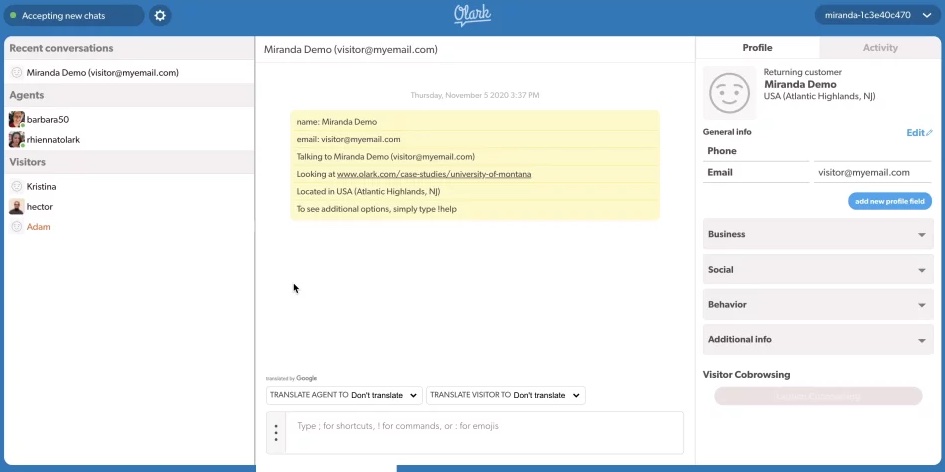 While some customer care software includes a live chat feature, a specific, more robust tool could be a better option. Olark is an easy way to add live chat to your website that comes with powerful features like live chat automation rules and detailed live chat reports updated in real-time. With automations, you can send custom messages based on visitor behavior, route chats to the correct department, or greet customers automatically. The analytics feature lets you monitor chat volume, customer satisfaction, and agent activity. Then, you can have summary reports delivered straight to your inbox.
Your chatbox is part of your brand and website, and so it should be consistent with their design. Olark lets you customize your chatbox to your branding by simply adjusting colors, shape, and position.
Olark also offers the handy ability to collect information from your visitors before a chat begins. You can ask them anything, from name and email to team size, product preferences, or problem type. It offers a high degree of customization by letting you build your own unique forms with Olark's flexible drag-and-drop editor.
Lastly, it features integrations with several CRMs, eCommerce, and help desk platforms. Olark also integrates with WordPress.
Features:
Canned Responses
Screen Sharing
Third-Party Integrations
Geotargeting
Proactive Chat
Pricing: $29/month per seat
The Best Customer Service Software
Your customer's expectations are evolving. Customers now look for quick answers, avoid having to deal with various people to resolve an issue, and want more channels for contact support. Customer support teams need to be well equipped if they're going to respond to these expectations efficiently.
Make the most of your team's time by using customer service solutions that help you deliver world-class support. Whether it's a help desk to process tickets or software to collect feedback easily, there's a software solution that will make your job easier and more efficient so you can focus on what you do best – helping your customers.
---