Companies are storing three times as much data on Zendesk as they did five years ago, and twice as much data per customer.
When it comes to knowing what customers really want, data can be illuminating. Zendesk's 2020 Customer Experience Trends Report dropped earlier this month, combining the data of the 45,000 companies using Zendesk with an external survey of thousands of agents, managers and customers.
We dived into this report to pull out some of the most important data points you need to know to build your 2020 customer service strategy. These six trends might surprise you, but they should definitely impact the way you think about helping your customers.
Good service matters most to the youngest generation
In a world where convenience is king, it might seem like good service isn't as important anymore. Personal, human service can feel like a relic of a different era where you'd shop at the local store and everyone would know your name.
Maybe that's why good service is most important to the younger generation. Customer service has the highest impact on customer loyalty for millennials, when compared with Gen X and Baby Boomer survey respondents. When making decisions about where to spend their money, having a great experience is their top concern.
What does this mean for you?
While it might be tempting to automate much of the customer service experience, that might not be the best approach. Yes, ease of use is important, but more and more customers are looking to form a connection with the businesses they shop with. Millennials want to develop a personal relationship with vendors and to feel like their loyalty matters.
Fewer than 30% of companies offer self-service, live chat, social messaging, in-app messaging, bots or peer-to-peer communities.
A surprisingly low number of companies have deployed helpful tools that extend the capability of their help desk. Only a third of companies offer self-service or have an active customer community forum, and less than a third of companies offer chat, in-app messaging, or bots.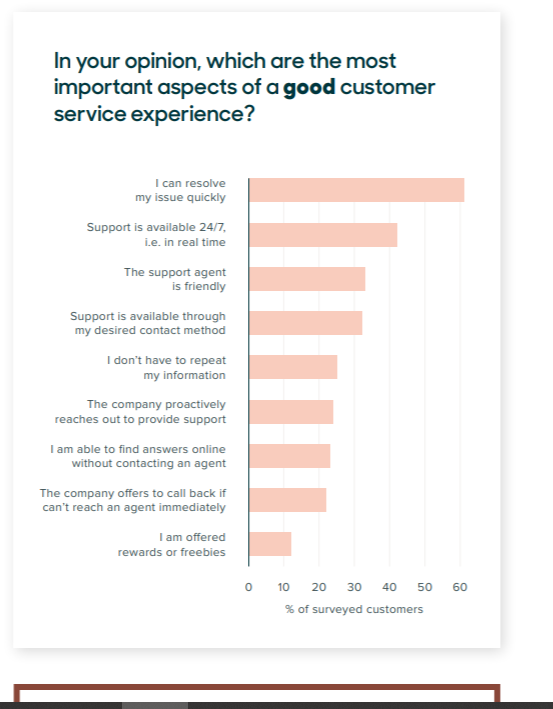 This is surprising because, in spite of customer's preferences, low effort tools are still not being adopted. According to Zendesk's survey, "69% of customers want to resolve as many issues as possible on their own, and 63% of customers always or almost always start with a search on a company's online resources when they have an issue."
Furthermore, helping customers to resolve their issue quickly is the most important aspect of providing a good customer service experience.
What does this mean for you?
There's a huge opportunity to beat the competition when it comes to offering a low-effort experience that your customers will love. While adoption rates are increasing, most companies haven't jumped on board yet. Adopting new tools like in-context self-service and an AI-powered knowledge base can make you stand out in the crowd.

Companies that effectively leverage customer data solve four times the number of customer requests.
Companies are storing three times as much data on Zendesk as they did five years ago, and twice as much data per customer. We're collecting more data than ever on our customers – but how are we using it effectively? According to the report, "companies that leverage the most customer data — those in the top
25% of managing data relative to other similar companies — see 36% faster resolutions and a 79% reduction in wait times."
Using data to help resolve customer inquiries effectively can make a big difference to your customer experience. Customers don't like repeating themselves, and they don't like providing information that you should already have available.
What does this mean for you?
Identify where customer data is not being used effectively. See where you can connect platforms together (such as your feedback tool, your billing software and your internal logs) to get more context about your customer's journey.
The Phone is Still King.
Thought phone support was dead? Think again. Two-thirds of customers say that they resolve their issues over the phone.
Phone usage was the fastest growing customer service channel (alongside chat support) of the last five years. In fact, 68% of companies offer phone as a channel, with an additional 16% of managers expecting to add it over the next 12 months (which represents a 25% growth).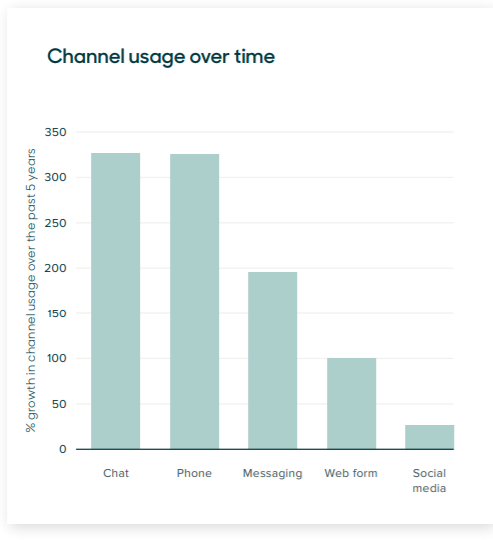 What does this mean for you?
It's not time to ditch the phone lines yet. Depending on who your customers are and what your business model is, it might make sense to include phone support in your 2020 customer support plan.
The Chief Customer Officer is on the rise.
In the last five years, the number of dedicated customer experience executives grew more than 1000%, in both B2B and B2C companies, according to Forrester. That same report found that approximately 70% of the top 50 Fortune 500 companies have a CCO (or similar) in place to ensure the customer experience gets the attention it deserves.
What does this mean for you?
Evaluate who owns the customer experience in your organization. When large scale projects have to be coordinated across multiple functions, who is accountable for success? If your answer is "no-one" it may be worth assigning one executive the responsibility of serving customers.
Many customer service teams don't have a dedicated method to measure their success.
In order to know if you're heading in the right direction, you need to define a measure of success. Do you want to focus on speed of resolution? Reducing churn rates? Personalized service? If you don't know what your priorities are, it's impossible to make bigger strategic decisions. And it's tough for your agents to know what they should be focussing on.
A surprising 28% of teams don't quantify their success at all. This number is much higher in smaller teams where processes may not have been put in place yet. As teams grow, the importance of creating KPIs and relevant goals increases.
What does this mean for you?
If you are a growing team, it's time to determine how you measure success. Of the teams that do have methods put in place, 46% use customer satisfaction (CSAT) surveys to measure success. Collecting customer feedback through CSAT tools is a great way to keep a finger on the pulse of your customer's feelings.

Get ahead of the competition
Customers are clear on what they want – a dedication to good service, fast and easy answers and a variety of contact channels. However, most companies haven't yet caught up to what customers are looking for.
This gap represents a huge opportunity for companies looking to capture a larger market share. By investing in customer service improvements, you can rocket ahead of the competition. Listen to what today's customers are asking for, and you can win on customer experience alone.
---