Remember the days of elementary school where you could pass surveys across the aisle via intricately folded notes? You almost always got a response, even if it might not be the one you were looking for.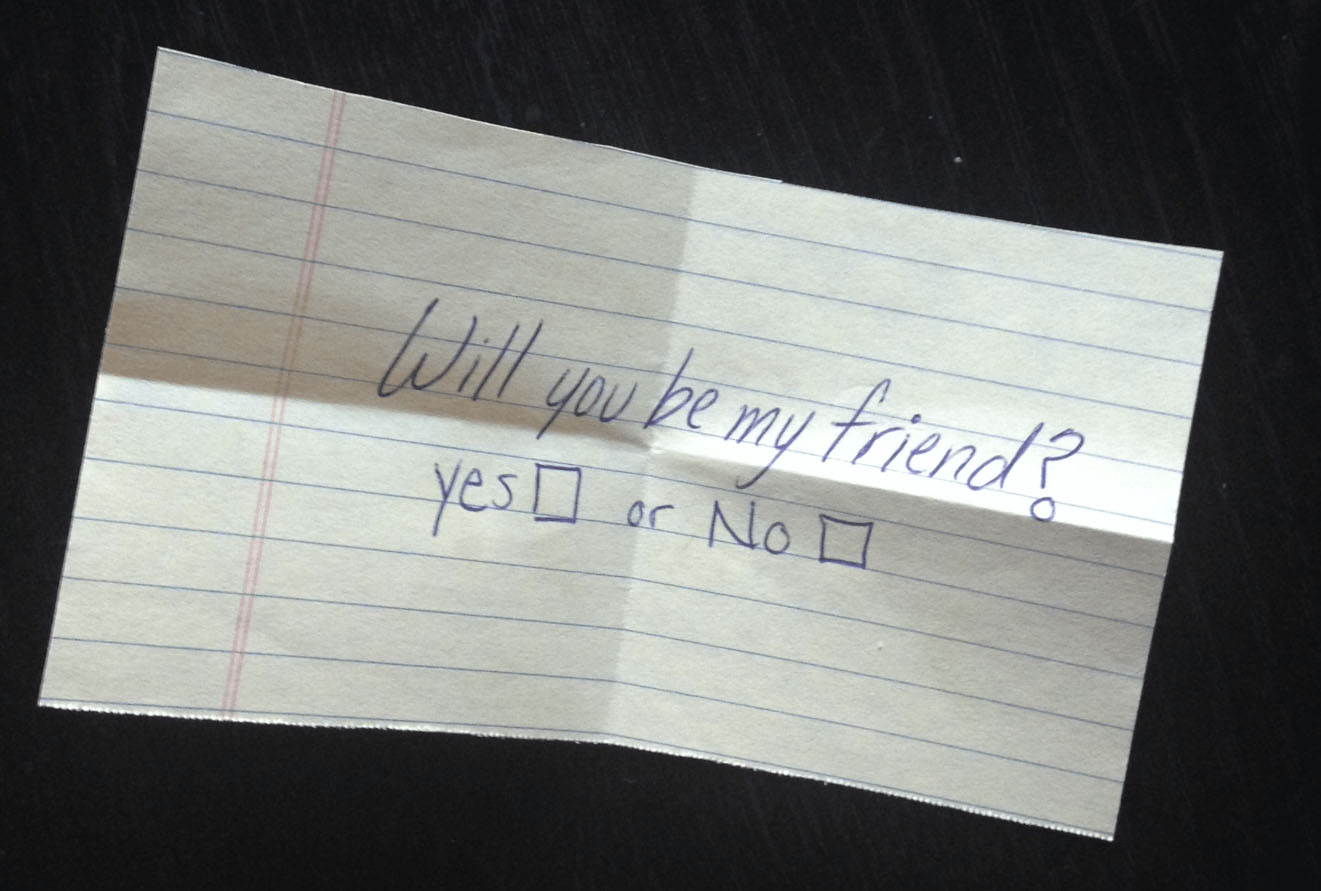 Nowadays, sending surveys has become more of a science than an art. Choosing the best possible survey distribution boosts response rates and encourages better feedback. Your response rate is calculated as the percentage of people who received the survey who completed it.
The higher the response rate, the more feedback you have, and the more likely it is to be representative of your survey pool. For example, if you have a low response rate, it's likely because only the most passionate people (either unhappy or happy) took the time to fill it out. If a higher percentage of people respond, you'll be receiving feedback from a more diverse set of respondents.
Survey distribution can also improve the quality of the responses you receive. For example, if your survey comes quickly after the resolution of the ticket, customers will remember the experience more clearly.
If you delay the survey distribution by a few days, they may not feel as passionately about the experience, meaning you won't get any heat of the moment responses. Each of these types of responses have their own advantages, as we'll discuss further below.

Survey Distribution 101
Before we jump into specific situations which affect your survey distribution style, let's review the basics characteristics of distributing a survey.
Timing is everything
You want to make sure to survey customers while the experience is still fresh in their mind, but also allow enough time to make sure the issue is actually resolved. If you're embedding the survey in every message, seeing the results in real-time is critical to acting fast.
Considering your customer's time is also useful to boosting response rates. We've found that survey responses decrease dramatically on the weekend and increase around 5pm on a weekday. Bothering your customers at lunchtime on a Sunday might result in your survey being archived before being replied to.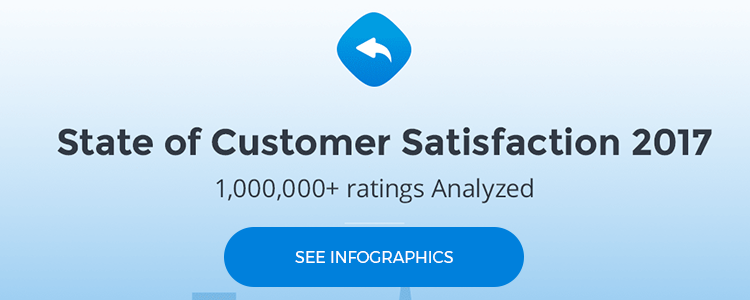 The format of the survey is key
We don't recommend sending questions on scraps of paper (like in grade school). Companies today mostly prefer to do web surveys, either by email delivery or an online form. If you're using Nicereply's API you have a few more options on where to build in surveys to your platform. (We'll also be offering in-app feedback options soon! Ssshhhh…)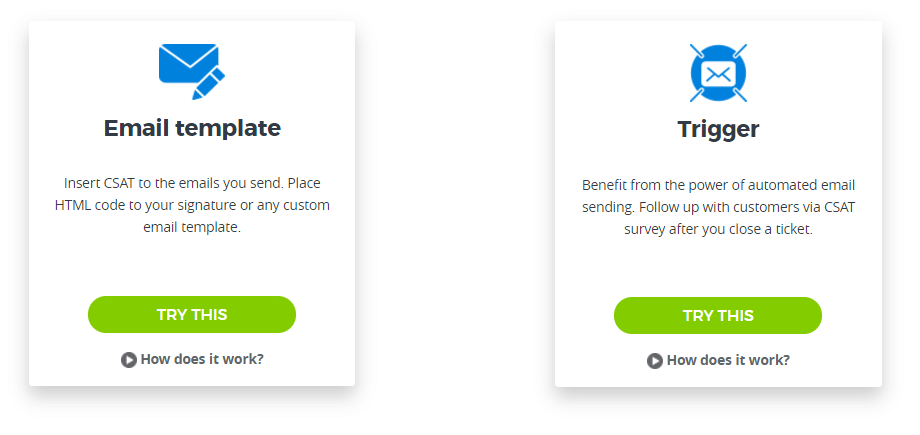 If you're choosing to use emails, ensure the design is simple and straightforward. Customers are more likely to respond if the survey is 1 click and simple to understand. In tests using instant ratings we received 236% more ratings than surveys where customers needed to submit their response. Subject lines and any additional text should clearly state what the survey is in regards to.
Email surveys also need to be optimized for mobile. It's estimated that 55% of all emails are read on mobile devices. If your survey isn't easy to respond to on a small screen, you'll likely miss out on that feedback.
Collect all necessary information
When setting up survey distribution, you'll want to decide if the survey is anonymous or user-identified. Anonymous surveys can bring in more honest answers and prevent "backlash" based on poor responses. However, not knowing who said what removes context from the reply. It also makes it impossible to follow up if needed.
If you need to include information about the customer or ticket in the response, make sure your integration supports it. Instead of asking for information, you may be able to capture the email address when the survey is submitted and use that to find any relevant context needed.

Choosing the Best Method for Sending Surveys
The best method for sending surveys is the one that gets the best results for you. What works best for your situation might be totally different from another situation. We'll break down some of the most common use cases for Nicereply surveys and the best distribution methods for each here.
If you're a customer support team
You're most likely focussed on surveying for customer satisfaction (CSAT) or customer effort or both. For CSAT, there are two ways you can choose to distribute your survey. Either embed the survey on every email reply through your Help Desk integration, or use a Trigger to send a separate survey after the conversation is resolved.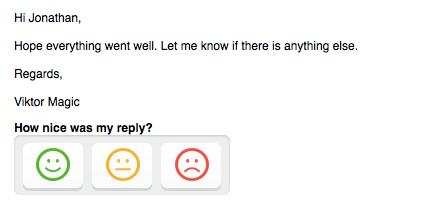 Each distribution method has their own merits. By including the survey in every email signature, you get realtime feedback and can act quickly if things start to go south. However, it does mean that customers might be too quick to tell you their issue isn't resolved. There's no cool down period.
We recommend using embedded CSAT surveys in every email to get continual feedback. Then, when the issue is marked resolved, you can follow up with a separate CES survey 24 hours after. This allows you to track customer feedback from start to finish.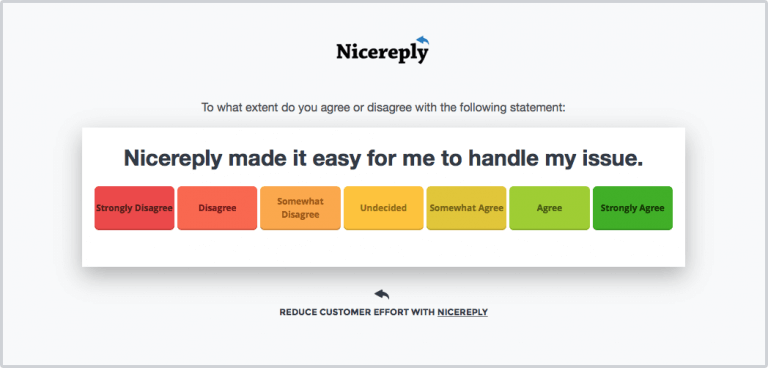 If you're measuring employee happiness
NPS surveys are a great way to measure employee loyalty and get a baseline on the way your employees are feeling. Employee NPS surveys can be sent out quarterly or semi-annually and the resulting trendline tracked over time.
Employee NPS surveys are almost always distributed by email and done anonymously. Your team will be much more willing to respond honestly and openly if they know their identity is protected. Otherwise, they could fear retribution from managers who dislike their responses.
To distributed an employee NPS survey, setup a new contact list in Nicereply for the employees that you wish to survey. Then, create a new campaign and send your survey. You can edit the subject line, sender and choose whether you want to remind non-respondents.
If you're measuring customer NPS
You can either distribute NPS surveys in-app or by email. Email surveys tend to be more representative of your user base, because in-app surveys depend on users being logged in to your product.
To distribute an NPS survey to your customer base, setup a new contact list in Nicereply containing the customers you'd like to survey. Create a new campaign and send the survey.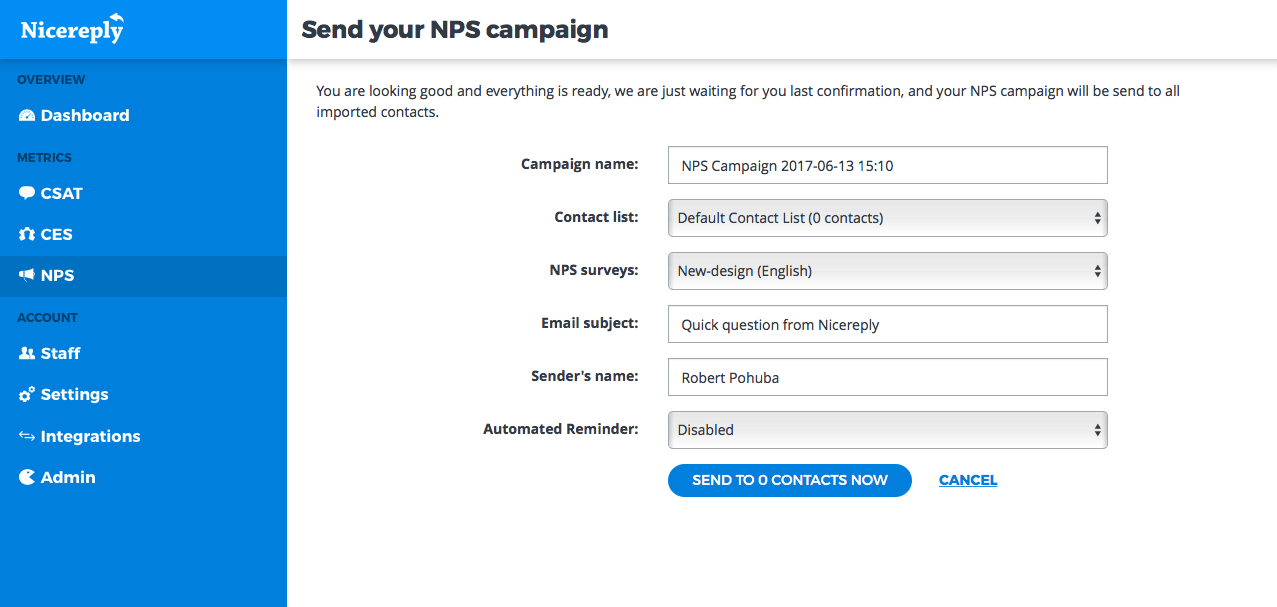 NPS surveys can either be sent to the entire customer base at regular intervals, or sent based on specific events in a customer's life cycle. For example, you might want to survey customers immediately after they've completed their onboarding or after their first billing cycle.
If you email customers directly
At Nicereply, every employee includes the CSAT survey on the bottom of their emails, even if they aren't in customer support. Sales, marketing and finance all encourage feedback from people they email regularly. Often it's a nice way to see that our reply was helpful and everything is resolved.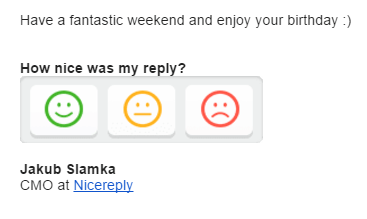 To start using surveys on all your emails, you can copy the embed code into your email service (like Gmail or Outlook).

---

Updated survey distribution methods in Nicereply
We've recently released the ability to send both CSAT and CES surveys based on Triggers. If you've connected your help desk to Nicereply, you'll see the ability to choose your integration and set up criteria for when to send the survey.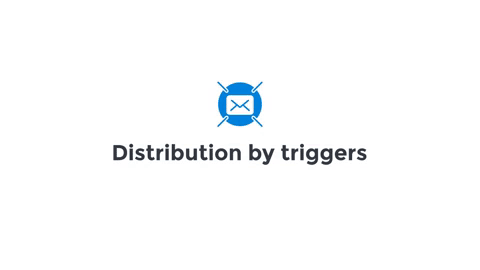 We still offer our classic embedded surveys as well as notification integrations. Why not try it out and see what works best for your customers?
---