Cultural fit is equally important for you and for your candidates. Don't be afraid to make a little more effort.
Running a remote business proved to be an efficient way to go through all the difficulties and hard times and not losing clients, employees, and money. The whole COVID-19 situation is a strong argument for remote working. It encouraged or even forced numerous companies to consider this option.
The world is in crisis mode right now, therefore, a growing number of employees are turning to remote employees. In fact, by 2028, 73% of all teams will have remote workers. The good news is that many newbies willing to make a remote career are actively entering the workforce market. Nevertheless, to hire, onboard, and retain a great customer support agent may bring numerous challenges. Let's get fully prepared and take into consideration those, which are the most likely to happen.
Hire the Right People with the Right Qualities
Running a successful team of remote support agents requires hiring or training people with corresponding skills and aptitude. Soft skills are of key importance at this stage as customer service runs on soft skills. Thus, you are to look for people who are good at communication, problem-solving, and negotiating.
Why Do These Qualities Matter?
Customer support agents are people who negotiate, solve complex problems, and communicate technical details and features to people with no or little technical knowledge. For sure soft skills require further improvement and training, like any other.
However, developing them from scratch is next to impossible.
Working remotely is a skill itself, thus you need to make sure you are hiring the right people which will make a good customer support team.
Set your expectations early
To hire your ideal customer support agent you have to be precise and clear from the very beginning. You have to communicate your expectations and the quality you require. Your job description needs to include the tasks that the agent will be performing, and the specific skills you're looking for.
Try to make your job description specific, avoid confusing wording, including the lists of skills, responsibilities, and day-to-day tasks to attract proper candidates. Here is an example of customer support job requirements from Workable: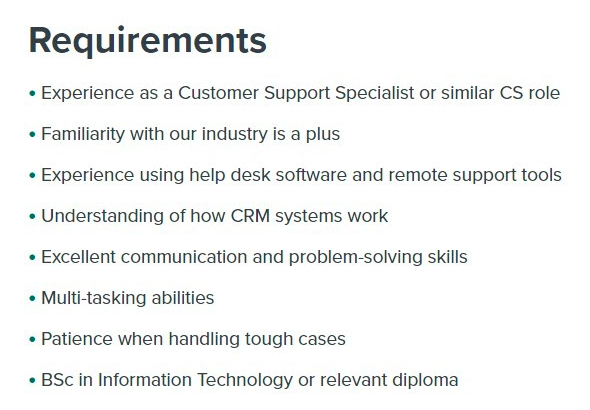 Check the candidates' tech
Excellent technical skills are a must in the digital age. Remote customer support agents have to work with numerous tools and be good at explaining complex technical processes in simple words.
A mere screening of the candidates' resumes won't work in this case. You'd better check the candidates' skills to make the onboarding process as efficient and as useful as it is possible. However, pay particular attention and give preference to the ability and willingness to learn rather than the excellence of the present skills.
Ask the right questions
Getting a pool of promising candidates is just the initial step and, as soon as you have your list, it is high time for you to think of the interview process. Finding the ideal customer support agent requires numerous interviews and data processing. The overall success of the interview largely depends on the questions asked. Choose the right questions that can certainly give you the insights you need and help you evaluate a candidate's competency.
Keep in mind that you are hiring a remote customer support agent. Therefore, you should pay attention to remote working skills. For Instance:
"What does 'working remotely' actually look like for you?"
"How do you ensure your home office has a good working environment?"
"Do you prefer working within a structured more working schedule or do you prefer more flexibility? Why?"
"How do you organize your working files, tabs, links?"
"What's your biggest concern about working remotely"
Talk About Productivity
Contrary to the common belief that it is easy to get distracted, while working remotely, a recent study found that remote employees work, on average, 9.5% longer than those who work in an office, and are also 13% more productive.
Feeling in control of one's own schedules gives a feeling of independence and inspires. Remember to support this feeling and allow flexibility. Communicate this intention to your prospective employees from the very beginning, yet reserve the right to keep an eye on the working process.
Nail your onboarding experience
Onboarding remote customer service representatives quickly and efficiently are your key to success. Having selected your perfect candidates' carefully think through the onboarding process. Studies show that companies with a strong onboarding process boost new hire retention rates by 82%, and that is what you are aiming for.
The best way to overcome difficulties and frustration is to have precise instructions.
"Have an onboarding checklist of all the resources and make sure you research all of the software in advance of the remote team induction." — Francesco D'Alessio, Newton
Make hiring remote-friendly
As your key goal is to recruit an ideal customer support agent and you are doing it on a remote basis mind several specific features. First, all the stages of the interview process should be made remote-friendly. Mind time-zones and reach an agreement upon the details. Build your own remote working culture.
Remember that your remote candidates are not just looking for a role but the company as a whole. Cultural fit is equally important for you and for your candidates. Don't be afraid to make a little more effort.
Summary
According to statistics from the federal Bureau of Labor Statistics, customer service representatives' jobs are expected to grow 10 percent by 2024. With a growing demand for this type of specialist, hiring a team of at-home customer support agents may prove rather beneficial for the company.
We armed you with recommendations that will make the hiring process smooth. Following the right strategies and approaches, you can build a successful team of remote customer support agents that will help both your customers and your company to succeed.
Erika is a career and productivity copywriter who believes in the power of networking. In her free time, she enjoys reading books and playing with her cat Cola.
---