Focusing on ways to reduce Average Handle Time will help you keep your team lean and powerful.
As customer support professionals, we're not strangers to data and metrics. It seems we're always measuring something. In fact, I think we might be obsessed with data. But data helps us do our jobs, and ultimately helps improve the customer experience.
Start your day 
with great 
quality 
content
The problem with being data-obsessed is that we can sometimes drive the wrong behaviors. For example, think about the time it takes to handle a ticket. If we optimize too far in the direction of efficiency, it's possible to negatively impact quality. In this post, we're going to look at Average Handle Time (AHT) and share five ways you can reduce Average Handle Time without sacrificing quality.

What is average handle time (AHT)?
Average handle Time, or AHT, is a metric used traditionally in contact centers where the point of contact is immediate (meaning phone calls or live chats, not email). The purpose of AHT is to measure the average time customers (and the agents helping them) spend on a call or chat, including hold time and conversation time.
While AHT is more commonly used in contact centers with phone or live chat support, it can be helpful to look at this metric in non-immediate contact channels (email/tickets) as well.
I think of AHT in non-immediate channels as a way to measure the time it takes to respond once the ticket is being actioned by the agent. In other words, the timer starts once the agent opens and begins reading the ticket.
Many help desk tools have time tracking features built-in, so that you can easily measure the time it takes to "handle" or resolve each ticket. By doing this, you'll be able to get a better understanding of your team's overall AHT, and you can use that data to make operational decisions and improvements.
How to calculate Average Handle Time (AHT)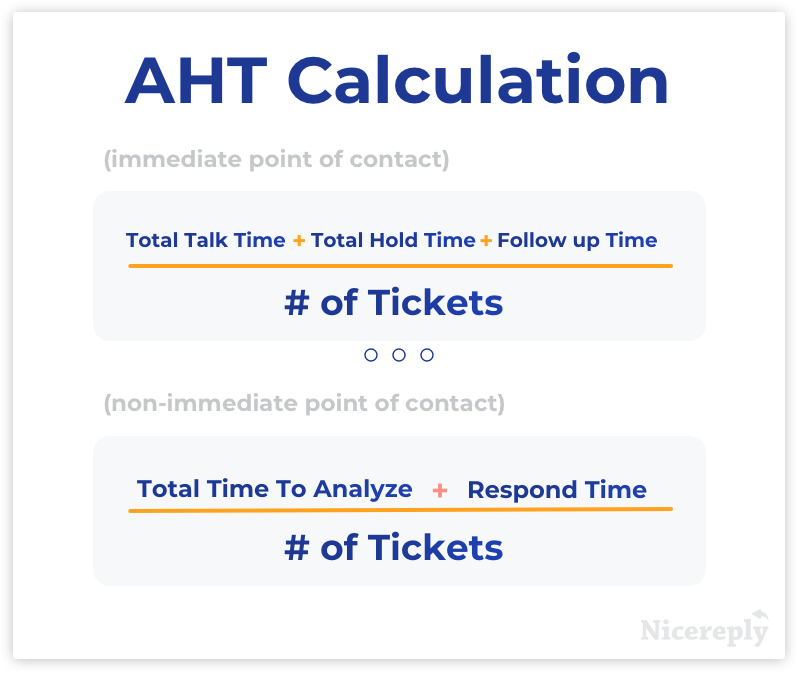 Example:
Total Talk Time (1700 minutes), plus Total Hold Time (500 minutes), plus Follow up Time (300 minutes), divided by the amount of calls (120). The resulting 20 minutes is the Average Handle Time.
This calculation is better suited for call centers, but similar formula can be used to calculate AHT when using other channels, like messaging and chat or email.
Average Handle Time is one of my favorite metrics to look at because it involves figuring out ways to improve processes on the agent side, which ultimately effect the customer experience. AHT helps managers determine hiring and training needs, as well as identify issues with current processes and tools.
The longer it takes to handle a ticket, the longer customers have to wait and the more agents you will need to have on staff to handle the same number of tickets. Simply put, AHT can be looked at as a way to measure efficiency.
Benefits of a low AHT
It's important to note that AHT, like most metrics, should be looked at alongside other metrics. In other words, don't only look at AHT and make all of your decisions based on that metric alone. It's important to consider other metrics as well.
For example, if you do something to lower AHT, and it works, but the result from that is a decrease in customer satisfaction, you might want to reevaluate your strategy. Having said that, there are several benefits to improving your AHT.
It can lead to happier customers
Customers love a high quality, fast response. If you can do that, you have nailed the ideal customer support interaction. Fast responses that lack quality often lead to a more negative customer experience than a high-quality response that takes more time.
If you already have the "quality" part down, there might be ways you can maintain that level of quality while reducing the time it takes to work on tickets. The faster you work through tickets, the faster you respond to all tickets in the queue, and customers appreciate that. In other words, average handle time has a direct relationship with average response time.
It can keep support costs down
Making the process of answering tickets more efficient will only make your support team as a whole more productive. Identify areas of friction throughout the process, and find ways to remove them.
Focusing on ways to reduce Average Handle Time will help you keep your team lean and powerful.
It can create happier support agents
Support agents love to work smarter, not harder. A clunky tool and process can lead to disgruntled and uninspired employees. Use tools and systems that enable the team to get the required tasks done quickly, and if they're a delight to use, even better.
Happy support agents stick around longer, and provide that much more value to your customers.
5 ways to reduce Average Handle Time
A low AHT has a ton of benefits for your customers and your support team. Now, let's look at some of the ways you can reduce Average Handle Time – without sacrificing quality.
1. Use efficient tools and processes to reduce Average Handle Time
Use the right tool for the job. If you're a scrappy startup, you might not need the enterprise-level help desk tool right now. In fact, it might be bogging you down and having a negative impact on your AHT, ultimately affecting a lot of other business metrics. Avoid unnecessary friction in workflows, and always be looking for ways to work smarter.
Keyboard shortcuts and macros are your friend, use them! Most importantly, know how to use the tools you're required to use. If you're a manager, make sure the necessary training opportunities are in place when onboarding new team members.
2. Know the product(s) you're supporting
Support agents need to know and understand the product(s) they're supporting. Effective ticket routing can help with this, and there are tools out there that can do this really well. Getting the right tickets to the right agent can have a positive impact on reducing average handle time because it avoids the ticket being passed around from agent to agent, which just kills time.
Using a tool like Monkey Learn or Answer IQ, you can automate some of these processes to save even more time.
With agile development, products are constantly changing and adding new functionality. It can be hard to keep up with this rapid pace of development, but agents need to be trained on the subject matter they're expected to handle, otherwise it will just take more time to… handle. It's important to stay up to speed on product changes, improvements, and new features.
Set up regular lunch and learns, or weekly demos. Stay close to the product team or implement systems so that you know what has changed and how it works.
3. Make it a goal to resolve in the first contact
Resolving tickets on the first response always feels like a big win, and it is! By putting in the extra effort to deliver a flawless first response, you'll avoid having additional responses to deal with which can improve the Average Handle Time. There are several things you can do to knock that first response out of the park.
Use screenshots and other visual aids like animated gifs. CloudApp is great for this. Collect information proactively, so that support agents don't need to seek additional information out in the first response. You can ask for some of this information in the contact form. You can also build a custom integration that pulls in relevant data from your internal systems so that it's easily accessible within support tickets.
Many help desk tools have integrations with CRMs like Salesforce to pipe in information for this reason.
Finally, provide the single best answer (try to avoid multiple options when possible). Options confuse customers, so be careful how you phrase them; you want to be as clear as possible in your first response in an effort to reduce room for questions or clarifications. Whenever possible, give customers a single answer that sets them on the path to success.
4. Look at other data
To understand how you can decrease your Average Handle Time, you first need to have an understanding of which cases have a low AHT and which cases have a high AHT. Then, you need to understand why that's the case.
Are the high cases all assigned to a specific agent? If so, additional training might be needed. Is your AHT high across the board? Maybe you need to reevaluate the process of handling a support request; there could be too many steps and requirements in place, or internal knowledge might be difficult to navigate.
It's also possible that your tickets are highly technical in nature, in which case, a high AHT might be expected, and you might need to hire more support agents in order to maintain a reasonable response time.
5. Know where your internal knowledge is stored and make it easily accessible
No support agent relies solely on their brain to store all the information they need to do their job. There's too much information for that. That's why most support teams maintain a library of internal documents.
Internal documentation is a support agent's best friend. For example, when someone reaches out to cancel their account… what's the protocol? This is the type of information that should be stored internally (and perhaps externally as well) to help new and existing team members find the information they need quickly.
Guru is great for making small bits of knowledge easily accessible to support teams. Another tool worth looking into for streamlining knowledge is Digital Genius.
How can Average Handle Time influence your CSAT
Average Handle Time can also have a big influence on your Customer Satisfaction score (CSAT).
CSAT is the king of the customer support metric scorecard, but speed metrics like Average Handle Time, Time to First Response, and Time to full resolution are the crowned princes.
While we all know that response speed in support is important, different customer bases have different sensitivities to response speed. Underestimate it, and you won't be getting back to your customers as quickly as they expect.
Overestimate it, and you risk being overstaffed or wasting valuable team resources where they could be better used elsewhere.
Agents should not aim to lower their AHT simply to get the caller off the phone, or provide mediocre answers to respond fast as possible. That certainly harm the quality of your support and lower CSAT scores.
Conclusion
Reducing Average Handle Time isn't about cutting corners, it's about optimizing your processes and improving the customer experience. As you start to analyze your AHT data, make sure you keep a close eye on happiness and satisfaction metrics.
Speed and quality are tough to balance, but in most cases, I'd make the argument that quality should always be a priority.
---