You're capable, talented and so, so skilled! You've got this—we know you do.
The current economic situation has impacted almost everyone in different ways. Whether you've been furloughed, laid off, taken a salary cut, moved to a different team or been restructured, you're likely dealing with some kind of professional pain brought on by the pandemic. We get it. We hear you. And, we want to help.
Don't fret. If you're out of a job, there are still a number of great places to find work! Despite the fact that the pandemic has affected many companies negatively, it has also boosted certain sectors: online ordering, for example, and food delivery are booming.
We've created a list of places to find great work that fits your needs right now. Most of these are for remote-specific jobs, but some offer insights for both remote employment and otherwise. Take a look through the list and find your next dream job. We believe in you!
Still Hiring
Specifically designed in response to COVID's impact on business, Still Hiring is a list of all companies that are still hiring and the jobs that they are hiring for. The jobs listed here are global, ranging in remote and colocated, and also are searchable by role type. The search is slightly less robust than other dedicated sites, but the content is still extremely valuable.
They also offer a weekly newsletter which may be a better avenue to receive updates, given that the search functionality is not as detailed as other job-hunting sites.
WFH But Hiring
Another site built in response to industry-spanning impacts from COVID, WFH But Hiring is a site for both job hunters and job offerers to post information about themselves. If you're seeking a new role, add your resume to the site for companies to find. If you're offering roles for employment, list your jobs for free on the site for people to find. The whole project is entirely free, making it a bit more attractive to job hunters and companies alike.
The one limitation of this site is that it's location-specific to NYC and SF right now. So, if you aren't looking for roles in those hub cities, this may not be the most useful for you.
We Work Remotely
Created by the founders of Basecamp, this job board offers listings across all job types. If you're a support person looking for work, you'll find it here, but you'll also be able to find marketing, engineering, product design offerings, and much more.
The site is handily organized by type of job sought, and allows you to search based on a number of parameters including whether it is fully remote, part- or full-time, and what type of role it is. Similarly, you're able to see sorted "similar jobs" recommended at the bottom of each listing—something that is massively helpful for anyone mass-applying to new roles.
PowerToFly
This site started as a place for women and diverse candidates to find roles with companies that aligned with their values. Since then, it has pivoted to also include daily online events and a community for candidates to talk about their job search and gain support from people like them. Much like We Work Remotely, PowerToFly includes roles from across the company, from DevOps to HR.
One of the best benefits of using this site is its newsletter creation functionality. Gone are the ugly lists of potential (usually irrelevant) job offerings. PowerToFly allows you to use custom filters to get new and exciting roles delivered to your inbox in a way that is both beautiful and functional. Let the job hunt come to you.
Support Driven Job Board
For support-specific roles, the Support Driven job board is one of the best places to go. The most interesting aspect of this job board is the heavy focus on the companies that are hiring. Rather than individual roles, the first view that a user is given is of all of the companies that are hiring right now. From there, you're able to click through and view the individual roles that are available.
Once you're looking at roles, you're able to sort based on the type of contribution you're looking to make (Executive or Individual Contributor, for example), and whether you'd like to work remotely, or co-located (and where).
Particularly useful for job seekers is the feature that Support Driven offers to upload your resume for job offerers to search. You can also search based on the salary-level that you are looking to receive if the company has added it as the available information.

Remotive
Remotive started as an email newsletter that included best tips and practices for working remotely. They then added on the addition of job listings cross-industry that were specifically remote.
Not only do they group jobs by industry, location, role, and company—they also show you how many jobs in each role have been posted in the last month. For anyone who is job hunting, or worried that the job market is going to dry up in pandemic conditions, this can be a great reassurance that there are still people hiring.
We Support NYC
Each week, a dedicated team of community and support professionals put together the excellent We Support NYC newsletter featuring both interesting articles AND a huge list of current job openings. The list is split between NYC specific roles and remote jobs.
Sign up for the newsletter to be the first to hear about new roles, and check out their archives to see previous job postings.
AngelList
AngelList is a site that not only allows you to find jobs but also gives you a solid overview of how the startup ecosystem is performing. You can see information like companies that are looking for funding, and mutual connections between yourself and a company. You're also able to see the financial standing of the company that you're applying to—it can be useful to know if a company is currently seeking funding in this market, for example.
One of the most unique aspects of AngelList is the filtering system that they use when allowing users to search for jobs: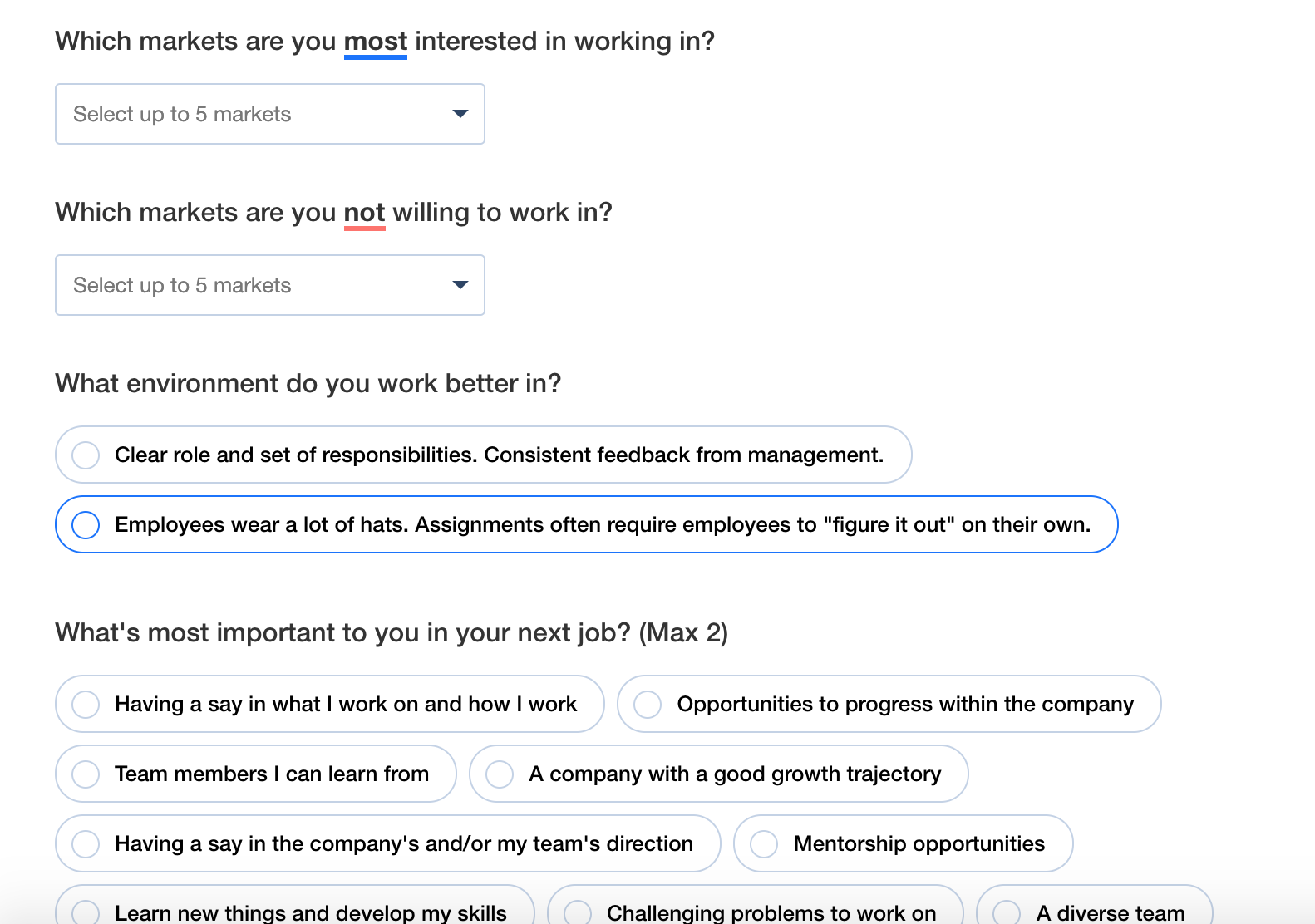 This search function allows you to really control the results that you are getting back, and customize your search to find a company that fits your needs exactly. You'll know exactly what you are getting into, transparently, before you even apply.
Remote.co
Remote.co is an extremely robust job posting site that includes roles across industries and teams. Design, development, healthcare, accounting–name it, and they've got a list for it.
You can search based on industry, company name, whether the company is international or domestic, even on how much experience you need for the role. Like other sites, if you prefer to get a newsletter of listings, you can customize your preferences and get new jobs delivered right to your inbox to review and apply to each day. This is definitely more focused on stable companies, rather than start-ups like some of the other sites.
Conclusion
Things are scary right now even without losing your job. Take some of these sites and let them make your job hunting a little less stressful and nerve wracking. You're capable, talented and so, so skilled! You've got this—we know you do.
---