Email communication is one of the most effective ways how to talk to your customers. Learn what tools can help you to master it.
With over 95% of customer service teams using email and 98% of customers using email for customer service, having the right tools for the job of email communication is critical to keeping customers happy.
In this blog post, we're going to take a look at some of the top tools that will help you master email communication with your customer. We'll also go over some best practices for email communication so you and your reps can keep in tip-top customer service shape.
Start your day 
with great 
quality 
content
Email communication best practices
Here are some effective email communication best practices that your whole team should be aware of.
A little empathy goes a long way
Nothing turns a customer off quite like a cold response.
Did you know that "68% of customers believe pleasant reps were the key to a recent positive experience"?
Here's another one: "Roughly 70 percent of all purchasing decisions are based on how a customer feels they're being treated."
It's not even really about being empathetic – it's just about being nice. Being nice can go a long, long way toward creating a great customer service experience. Make sure your team isn't just sending out boilerplate emails; they should be doing their best to listen and show that they care.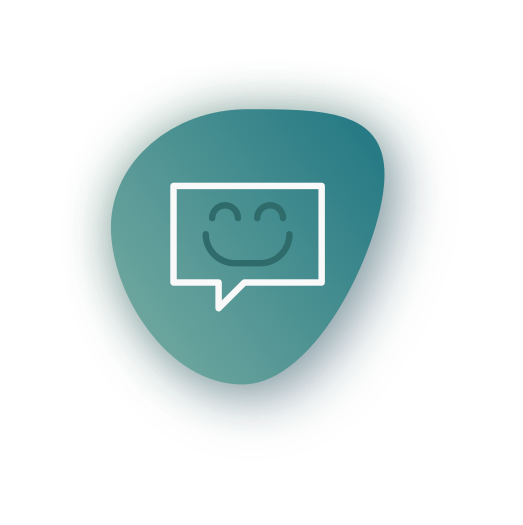 Keep it positive
We've all been to an official government building like the Department of Motor Vehicles, and we all know what an ordeal that can be.
And you know what makes it worse? Let's just say that the folks at the DMV aren't exactly known for their bubbly personalities.
When customers come to you with issues, they're usually frustrated.
If your customer support staff match that negative energy with their own negative energy, it can be a recipe for disaster.
Make sure your customer support team is doing its best to keep language in its emails positive no matter how the customer is acting. This can help the customer to calm down.
You can also use email autoresponder tools to send welcome or thank you emails to your customers.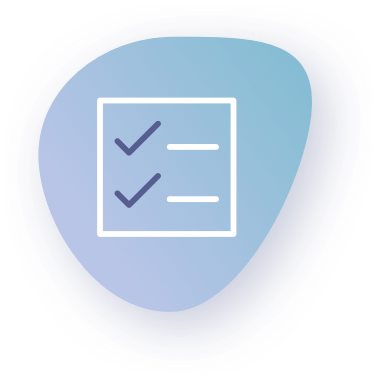 Be as clear as possible
If your customer is already frustrated, confusing them is just going to make things worse.
When you don't have someone on the phone and you're just going back and forth via email, it can be more difficult for your customers to understand what it is you want them to do.
That's why it's critical to be as clear as possible. This isn't freshman English – short sentences are your friend.
Simple and straightforward is the best way to go. If you have to deal with a complex problem that has a complex solution, it might be better to move the conversation to the phone.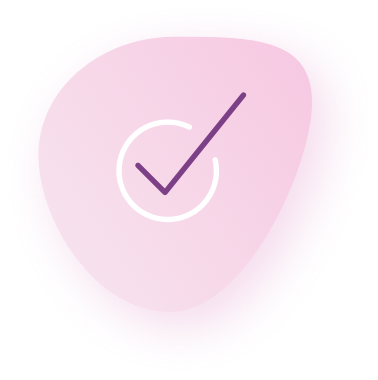 1. Nicereply
First on the list is Nicereply, an all-in-one survey solution that can revolutionize the way you communicate with your customers via email.
What makes Nicereply so great is that it's more than just a way to automate email surveys — it's all about getting the most value out of your surveys as possible.
Some of Nicereply's seriously cool features include the Customer Effort Score, which measures how hard your customers have to work when dealing with your representatives and customer support team.
 It helps you identify where your customers are struggling so that you can smooth out their experience.
Other features include in-signature surveys, automated post-resolution surveys, and simple ways to let your customers give you feedback (from a thumbs up/thumbs down option to a 10-star scale).
Onboarding is a cinch. The step-by-step guide is simple and easy to follow, and you can even get a free setup call if you're having a little trouble.
Check out Nicereply pricing options here.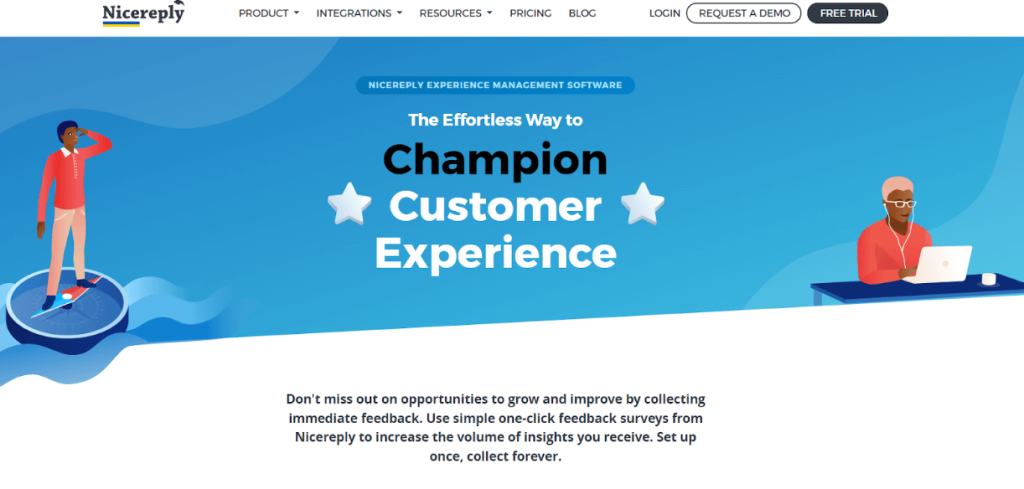 2. Mailbutler
Mailbutler is an incredible tool that helps you take your email interactions with your customers to the next level.
What makes Mailbutler so great is its wide variety of features. From beautiful email signatures and templates to free email tracking, undo send, send later, and more, Mailbutler has everything you need to manage your emails intelligently.
The problem with email is that you can get so many that things just slip through the cracks.
With Mailbutler, you can set to-dos directly on your emails and contacts. Moreover, you can leave notes so you remember what you need to do.
And if you're trying to prioritize your work, you can hit the snooze button, put your head down, and knock out those pesky tasks, and your email will reappear in your inbox at a time of your choosing.
Check out their pricing here.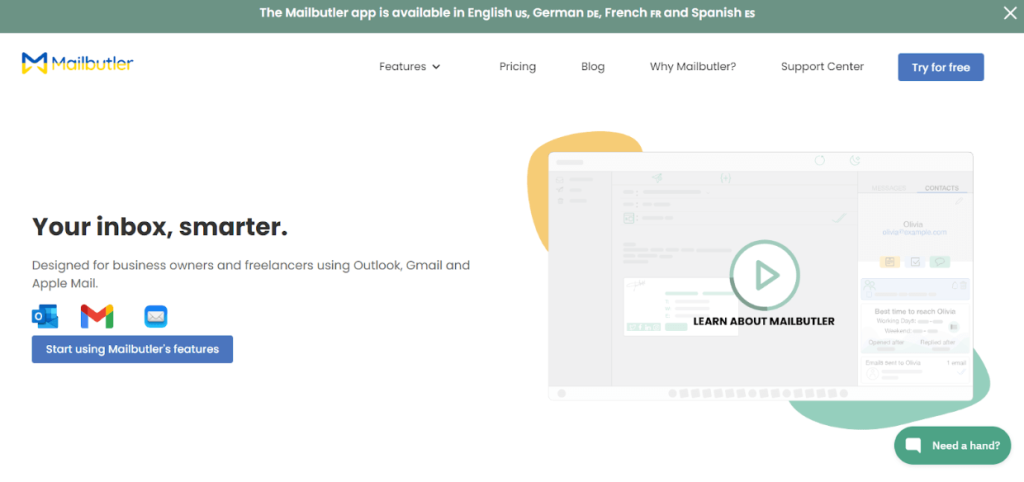 3. EmailAnalytics
EmailAnalytics has one big thing going for it: "Teams that use EmailAnalytics respond, on average, 42.5% faster than teams that don't."
If that's not enough to sell you on it, we don't know what will.
EmailAnalytics is a lot more than just seeing what's going on in your team's email box. You can see their words per minute, their rate of inbound emails, which customers are taking up most of their time, and more – all without ever having to get into their inbox.
The simple visual dashboard makes digging into your team's email activity a snap, so you can get the data you need quickly without having to drill down through confusing interfaces.
Check out its pricing here.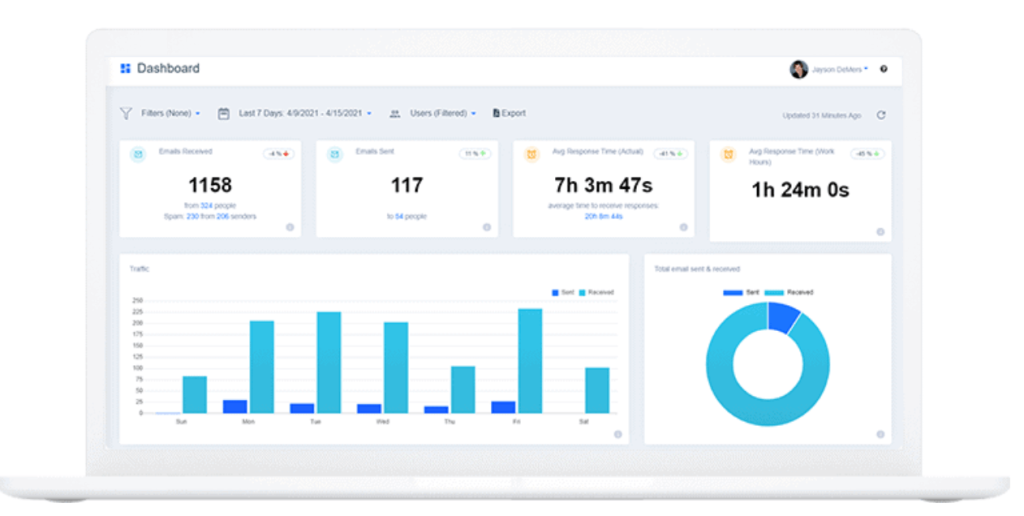 4. Crystal
Crystal is a really interesting tool that gives you insights into your existing customers. It also provides you with insights into your potential customer's natural behavior and communication style through email.
You can just imagine how valuable this information is. Crystal gives you specific instructions on how to communicate with someone (and how not to communicate with them).
For example, it might tell you that your customer wants to know more about the benefits of a product than see you try to build a relationship with them – basically, that they want you to get to the point.
It might also tell you that the same customer doesn't want you to rush them but rather would prefer you give them as much info as possible without being pushy.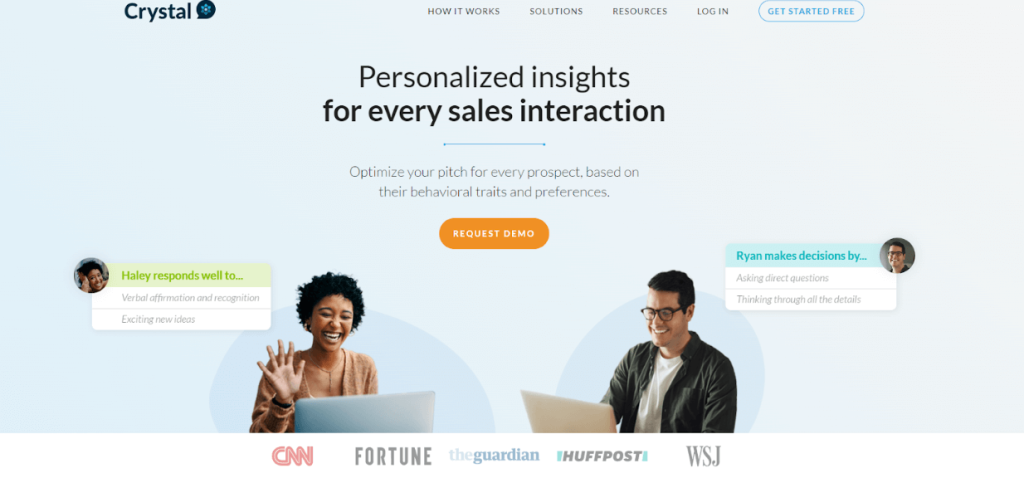 Conclusion
Before you start implementing these best practices into your business' email communication, make sure you have a plan in place. That way, you'll have an entire team working toward the same goal.
---