If you wish to scale your business and connect with your brand's biggest asset – the customers, you not only need to get in on the tech wave but also lead the way to futuristic innovation.
Increasing revenues for any business, big or small, can be an uphill task. From driving sales and reducing costs to saving time and amplifying marketing efforts, there's much to consider, that too a shoe-string budget and overworked resources.
But, what if there was a flip side that didn't require you to hit the panic button every second (pun intended)? One that gave instant, profitable, and measurable results? As you may have guessed, in this blog, we'll talk about the wonder that is technology and how it acts as the biggest boon, especially for small businesses if used correctly.
A single click of a button can overthrow a billion-dollar marketing budget.
A single app download can outperform hundreds of non-performing offline stores.
A single Facebook post can reach millions in an instant as opposed to a salesperson doing door-to-door selling.
These examples are just the tip of the iceberg. Countless research and our past history prove that technology has and will continue to drive innovation in the best and most profitable ways imaginable. Which is probably why most brands today choose to go the digital route instead of staying static and stuck in a rut.
To that end, here are five handy tips businesses can try to increase revenues and godspeed on the road to success.
Repeat Business, Rewarding Benefits
Do you know what's even better than getting new customers at your doorstep? Getting them to 'stay over' for the night.
Simply put, new customers can prove to be valuable for a business.
But broadening your base of repeat customers can turn out to be invaluable.
Let's look at a real-life example to make better sense of this:
Selling Merchandise Via Chatbots by Musicians, Axwell /\ Ingrosso
Popular Swedish DJs Axwell /\ Ingrosso launched exclusive merchandise via a chat bot on Facebook Messenger and enjoyed the following results:
Increased sales: £10,000 worth of merchandise sold.
Decreased costs: Marketing spend reduced by 80% with the calculated cost per click (CPC) lowering to £0.25.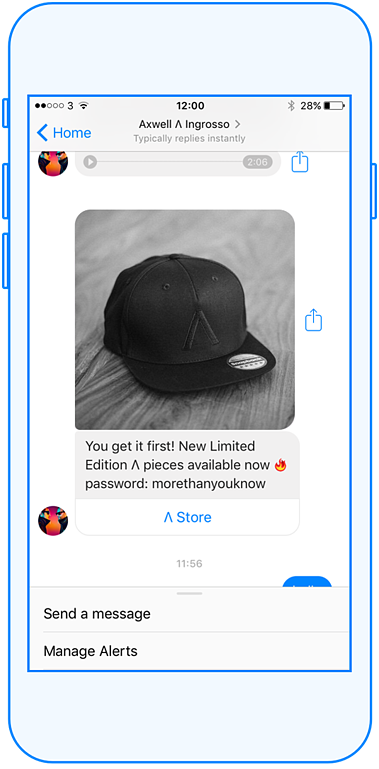 Why it succeeded?
Convenience: Research by Nielsen suggests that over 56% of customers prefer messaging a business than calling the customer service helpline number.
Familiarity: Using a digital platform like FB messenger allows for greater reach as users are more comfortable using this platform.Plus, it gives way to a more streamlined and effortless purchasing experience.
Engagement: It boosts interactivity as customers actively engage with the brand and end up feeling 'special,' all thanks to timely query resolution via the chat bot.
Lesson for Businesses: Small businesses understand the need to achieve more with less better than most. One way to kick start the process is by embracing simplistic technology and integrating it into the marketing and business strategy. Additionally, in order to steer ahead of the competition, it is critical that you reach the right audience at the right time – which is kind of the forte of all kinds of technology-driven innovation.
Real-Time Communication is the 'Real Deal'
The math is simple: The higher the number of customers, the greater their queries and concerns will be. So, do you just put your hands up and leave the customers to fend for themselves? Not really.
The trick lies in establishing a clear communication channel using an innovative and interactive feature such as live chat. Take, for instance, the live chat software which can offer the following benefits:
Drives more traffic and footfall to the website.
Enhances user engagement and offers a more seamless customer experience for the user.
Boosts the number of leads and converts them into long-term customers.
Promotes customer trust and reinforces loyalty in the brand.
Increases revenues by reducing overheads such as customer service costs.
Weathering the CX Storm like a Pro: Nordstrom
Let's look at how the American luxury department store, Nordstrom allows customers to engage with the brand on a number of relevant issues such as canceling an order, initiating returns and refunds, inquiring about order status, etc.: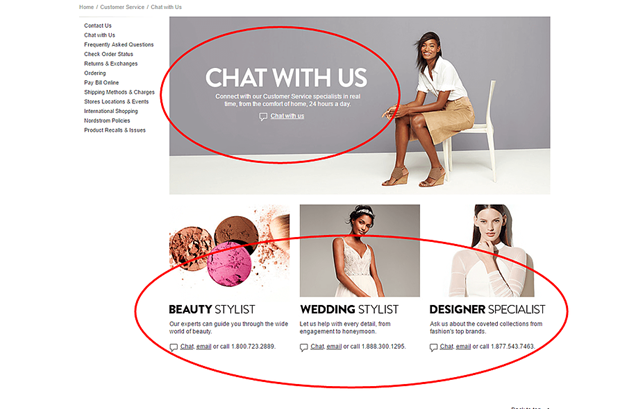 Lesson for Businesses: It goes without saying that as your business grows, so does the window of opportunities for customer communication. To cater to the added complexities in a swift, convenient, and cost-effective manner, live chat can be your best bet yet.
The Sweet Spot: Value-Driven Giveaways & Deals
Understand this: In order to gain, you first need to give. Translated into business lingo, it means that offering sales, discounts, and free giveaways can ultimately boost sales and increase revenues.
How Sephora's Loyalty Program Creates Raving Fans
Perhaps the best example that comes to mind is the beauty giant, Sephora with its "Beauty Insider Loyalty Program":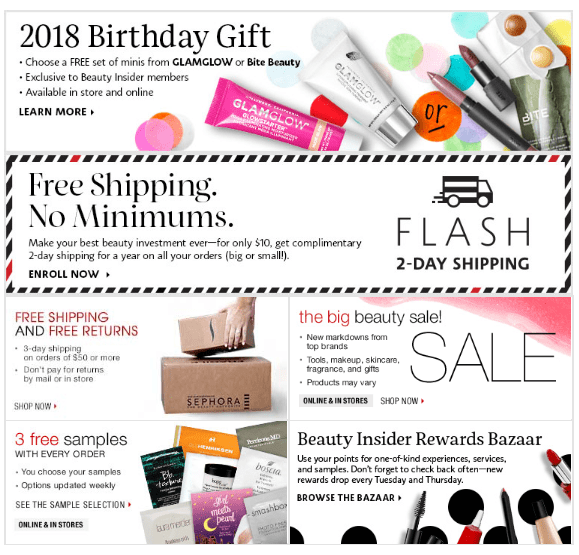 ---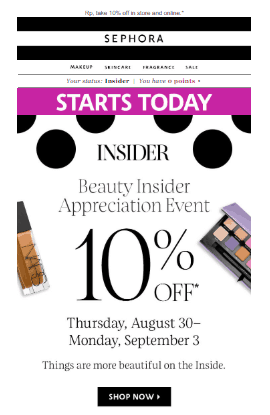 What makes this loyalty program tick is the fact that it:
Reaches out to customers via user-friendly platforms such as the mobile app and the website where they can easily redeem loyalty points.
Informs customers about new product launches, as well as showcases relevant products based on the user purchase history.
Offers a loyalty reward system with serious value-adds and exclusive benefits to the Sephora members.
Engages customers with personalized and effective communication that keeps them coming back for more.
Lesson for Businesses: Businesses need to look at the "big picture" and drive sales instead of focusing on short-term losses. This can be done by offering meaningful value-adds such as coupons and discounts on a customer's special occasions (birthday, anniversary, etc.) or simply to promote new products.
Are You Talking the Talk While Walking It?
Without risking being authoritative or arrogant, show your customers what makes you the industry leader. You can do so by integrating futuristic and informative product videos, including "how-to" tutorials, dedicating a section for creative and interesting blogs on the website and social media pages, etc.
Airbnb Website & App: Like a Breath of Fresh Air
Airbnb makes a strong case in this regard. With an intuitive UX design, a community-driven approach, an easy-to-navigate website, and a personalized experience, the Airbnb website landing page immediately instills a sense of confidence and trust in the brand's offerings: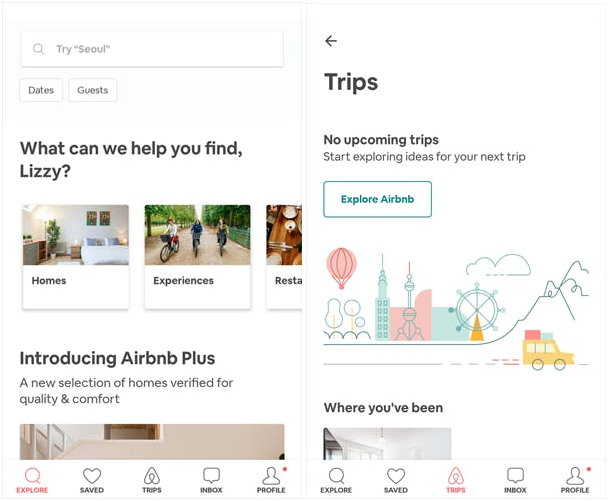 The brand also crowdsources user-generated content in a masterful manner to offer more to the users than what they signed up for. Take, for example, the "Guidebook by Hosts" section which highlights nearby attractions, an authentic list of "things-to-do" etc. as shown below: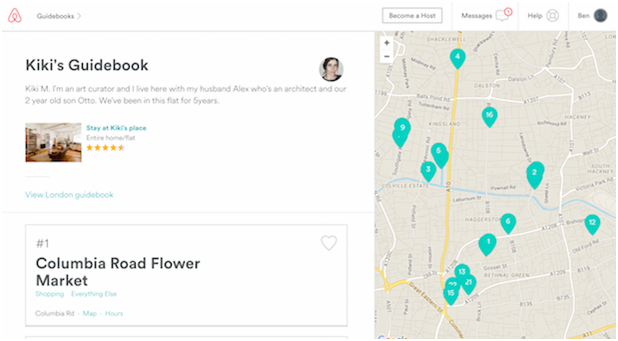 Lesson for Businesses: You need to showcase your "digital leadership" if you wish to stay an industry leader in today's dynamic world.
E-Commerce for the Win
Research by Frost and Sullivan suggests that B2B E-Commerce sales are predicted to reach $12 trillion globally by 2020. In fact, a tremendous 95% of purchases will be made online!
So, if you haven't invested in a website yet and are only selling via in-store means, it's time to go virtual. Plus, you can leverage e-commerce automation marketing tools and extract maximum advantages for your business such as:
Saved time: Through intelligently executed automated tasks, processes, and campaigns.
Greater flexibility: By way of experimenting with new ideas and putting them into action.
Increased profits: Through a more productive working system that allows manual assets and resources to cater to customers and handle more complex tasks.
How Nike Is in It for the Long Run
Industry leader, Nike, is making a mark for itself in the e-commerce domain by following in the footsteps of digital innovation. Its revamped website makes use of stellar product photography, on-point content, and dynamic videos to reel the users in: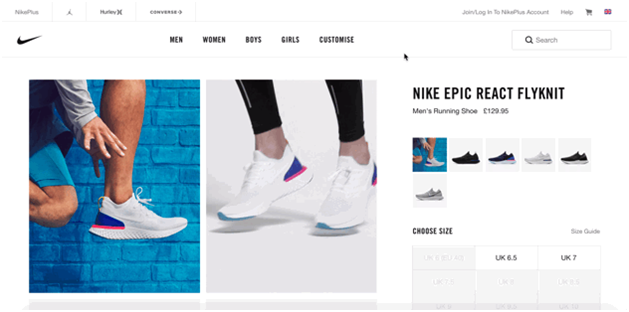 Learning for Businesses: Embrace the magic of E-Commerce as a digital platform and enjoy greater customer engagement. By completely transforming your digital image, you can reap ever-lasting benefits. As Mufasa quipped, "Everything the (screen) light touches, will be yours…."
Wrapping Up
If there's one thing that can help level the playing field for your business in this competition-crazed economy, it is integrating technology into integral aspects of your business and marketing strategies. The recent bankruptcy filed by the American fast fashion retailer, Forever 21, sure puts things in perspective. If you're not cutting costs and looking at ways to attract and retain new customers in a cost-friendly manner, you might as well shut shop.
In a nutshell, if you wish to scale your business and connect with your brand's biggest asset – the customers, you not only need to get in on the tech wave but also drive it and lead the way to futuristic innovation.
---