Customer service and marketing. They may seem like two very different, separate departments in a company but the more closely they work together, the better.
Don't believe me? Take a moment to think about the roles of both teams.
The marketing team drives customers to the business, whether that be an online shop or a brick and mortar store. They then help customers make their way through the buyer's journey that ultimately leads to them becoming a customer.
In other words, marketing done well turns potential customers in paying customers.
Customer support team's job is to keep those customers happy and coming back for more. Now more than ever, customer service is a make or break piece in how people perceive a brand and plays a large role in a customer's brand experience.
Get where I'm going with this? Marketing creates stellar brand awareness and ushers your customers in with open arms and customer support works their charm to keep them around.
So, makes sense that with the overlap these two teams have that there are plenty of opportunities to join forces, doesn't it?
Let's take a closer look at this, shall we? Here are 4 ways both your customer service and marketing team can work together to create a well-rounded brand experience for customers.
Understand customers on a deeper level
Marketing 101 taught us that marketing to every and anyone is a big no-no. Instead, understanding the core person or group of people who actually want to hear and buy from you is a much smarter plan.
Figuring out who those people are will not only make life so much easier when creating marketing and branding materials but when communicating one on one with customers as well.
Customer support team members are usually the ones getting to know customers on a more personal level. It could be highly beneficial for those on the marketing team to utilize that knowledge. This could include sitting in on customer calls, interviewing customer support team members or sitting in on their team meetings.
All of which can help clue the marketing team in on customer behavior, language and thoughts that will help develop targeted branding materials.
Open the door to testimonials and case studies
According to Bigcommerce, 92% of consumers read online reviews and testimonials when considering a purchase, 88% of consumers trust online reviews as much as personal recommendations, and 72% of them say positive reviews and testimonials make them trust a business more. As you can see, testimonials and reviews matter – a lot.
Often we associate customer support reps with solely handling disgruntled complaints and helping customers with any questions they may have. But, there's a strong chance that they're also hearing some great things about your company from customers.
What better way to utilize that information than to pass it on to the marketing team to be used in emails, promotional materials, case studies and website copy (with the customer's permission of course)?
Creating customer centric content
It's safe to assume where there's a marketing team, there's a marketing strategy that includes regular and consistent content creation.
Earlier I mentioned how customer service and marketing could work together to create a deeper understand of who your company's target customers are. They can also work together to put together a solid editorial calendar for those customers.
By being in constant contact with customers, customer support reps are sitting on a treasure mound of great content ideas.
Tapping into that knowledge and those one-on-one conversations can give the marketing a serious boost towards creating targeted content that speaks directly to the ideal customer.
Create a dialogue between both teams with either a monthly or weekly (depending on your content needs and strategy) discussion to bounce ideas off each other. Or perhaps consider using shared docs where both teams can swap ideas.
The insight customer support reps have can help create much needed content that directly addresses customer problems and pains.
Customer service via social media
In many companies, especially smaller ones, the marketing team is still the one who handles the social media accounts. With increasingly more vocal customers this can cause problems if customer service and marketing aren't on the same page. Especially if the marketing team is treating social media as a one and done task.
Social media customer service is becoming widespread. It's crucial for your social media manager (SMM) or management team receive the same level of training as customer support. If that's not an immediate option, having open lines of communication between the marketing and customer support team is crucial.
Though both options combined would be ideal.
Should a situation involving an unhappy customer arise on Twitter for example, the SMM should be able to escalate it to the appropriate support rep with confidence.
A streamlined process and training system for all customer facing roles makes for a strong brand image and opens the door to more positive customer interactions.
Keep everyone in the loop
It may seem like customer service and marketing are completely different but there many similar goals for both teams. One of which is to create amazing customer experiences while and turning customers into loyal fans.
Regardless of what team someone's on, keeping everyone in the loop makes all the difference. Especially, in terms of customer experience and branding.
If a customer experiences one type of interaction with the marketing team and a totally different one with the customer support team, it's going to raise some suspicion.
All the more reason to combine forces and create an incredible experience all around.
---
How did you like this blog?
---
About the author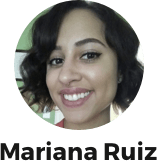 Mariana Ruiz is a copywriter + blogger with a background in customer support and digital marketing. She uses her experience and storytelling superpowers to create content for brands + businesses she loves. Connect with Mariana on LinkedIn!
---