Control Quotient is important for two reasons – customer experience and employee engagement. An environment that allows for high CQ will see both happier customers and happier employees.
Recently, I had to move to a new city. I had rented some house appliances from a renting site and I was hoping that I'd be able to take them with me at my new place. Because I had already paid rent for a year in advance and they had service available in the city that I was moving to, I thought it wouldn't be an issue. The situation I'm in right now is not something I knew would happen.
When I called the company though, the rep said that I'll need to cancel the rent agreement and place a new order under the new city because it's part of their policy. How painful. Unfortunately, after this reply, I wasn't left with any other options.
You might have come across similar, frustrating situations where support reps answer along the lines of:
"I'm really sorry but you can only replace that item because of our business policy. There is nothing much I can do for you."
In fact, for that matter, as a support rep have you ever felt that you could have had done more for this customer if it was not for the company policy that you needed to stick to?
There is definitely a solution to overcome this frustrating experience and deliver better customer service. That solution according to HBR and the CEB is – Control Quotient.
What is CQ?
Control Quotient is the ability of a rep to use their own good judgement and maintain control in high-pressure situations. In fact, providing an environment that supports high CQ is also one of the four pillars of providing a low effort experience for your customers.
Some of the things which show signs of high control quotient in a rep are:
Resilience: Being able to handle high-pressure situations without being burned out.
Advocating: Being able to advocate for the customer internally.
Self Guided: Expects guidelines and not scripts.
Responsible: Takes responsibility for own actions.
Emotionally Intelligent: Being able to handle emotionally charged situations well.
Why is CQ important?
As per the survey conducted by the CEB, the highest contributing factor (11.2%) in a rep's performance is Control Quotient, where performance is measured by customer satisfaction and the quality of customer support given.
Control Quotient is so important that even if you leave a low performing rep in an environment which allows for a high control quotient – you'll see their performance improve. This is because the ability to take ownership of a situation naturally drives better customer conversations. A rep being able to take ownership contributes to a low effort experience for the customer because the customer doesn't need to navigate confusing policies as I did, and they don't have to work hard to ask the right questions and get help.
Not only does CQ improve the customer's experience. But it also improves the employee's experience. Customer Support is a high-pressure job where the customer always expects a solution or a positive reply from you and the company expects you to deliver best customer service in every situation.
We're always in a situation where we're trying to keep both sides happy. Lack of control in certain situations can send reps into a self-protective bubble where they end up sounding more robotic than human which ultimately leads to burnout.
Lack of accomplishment and ownership is one of the major reasons for burnout among customer support reps. The cost of hiring new reps and training them is higher than keeping the existing reps happy with their jobs. And sometimes when you try to retain reps who want to leave, you end up paying more to retain them.
The solution to overcome this problem is to make customer support reps feel engaged. Giving them an environment where they're in control of the situation can not only help them enjoy the job but also bring out the best in them.
Everybody can handle easy conversations, it's the high-pressure conversations which take a toll on reps and they can handle them better when they're free to take control of the situation.
How do we increase Control Quotient?
Control Quotient is not something you can implement for your reps. Instead it has to be enabled by providing them with a suitable environment. This can only be achieved when the rep is in control of the situation. You can't expect this to happen when the rep is asked to support the customer using the strict rules and pre-written scripts.
Businesses need to develop an environment which enables and improves Control Quotient among the reps along with other qualities. I'm going to share three possible ways to achieve this as shared in The Effortless Experience as well.
Trust in the rep's judgement
Customer: "Hey! I didn't know my account was on auto-renewal. My card got charged. I haven't been using the product. Could you please refund me the full amount and cancel my subscription?"
Rep 1: "Let me check with my team on the refund. I need to confirm if it is possible to refund the amount or not given this situation."
Rep 2: "Sure. I'll go ahead and process the refund for you. While I'm doing that can you help me understand if it was the product or any other reason that you want to cancel the subscription? We can use this as feedback to improve things :)"
You can see that in the second reply, the rep took control of the situation. This is only possible when the management places trust in the judgements made by the rep. Over time it makes them confident when handling tough customers. In the example above, it not only led to a low customer effort experience, but also helped deliver better customer service.
We need to do away with the checklist behavior where the reps are expected to stick to a checklist when handling conversations. The more they can stick to natural human conversation, and focus on building a connection, the better it works for both the customer and the rep.
Rep understanding and alignment with company goals
While giving the rep the permission to use their own judgement is the first step towards enabling Control Quotient, it also requires agents to toe a fine line between not taking initiative and overstepping the boundaries of "above and beyond". This fine line is where both the rep and the company need to make sure that they are aligned towards the common goal.
More often than not, customer support teams are just expected to follow the decisions taken by the management. This has to change to develop Control Quotient among the support reps.
One such example of how to keep everyone working towards the same goal is to align the support team with with your marketing campaigns so that they can not only use them as part of the conversations but also help in spreading the word.
Rep: "PS: We're trying to collect some data on how our customers use the feature that you just requested for. Would you be happy to join our discussion on Monday?"
By adding this extra line at the end of a conversation, the rep is not only doing marketing for an upcoming event but also helping to build a relationship with the customer while collecting more data.
Another example as shared in The Effortless Experience book:
A young boy passing by a construction site asks the same question to two of the builders:
Boy: "Excuse me, sir. What are you working on?"
Worker 1: "I'm just laying bricks."
Worker 2: "I'm helping to build a beautiful new cathedral."
You can see the difference it makes when the employees feel a sense of connectedness with the business or the product.
A strong rep peer support network
Having a strong rep peer network increases Control Quotient by 17% according to the CEB. The three ways to build a strong peer network are to:
help each other in how to best handle difficult conversations,
give adequate time to support each other and,
be receptive to peer feedback.
This could be as simple as sharing the best practices to handle difficult customers in a team meeting. Suggesting what tactics to follow during peer reviews or sharing tips on how to recover from a difficult customer conversation before going into the next one.
Managers can encourage this through forums where the frontline reps seek help from each other without being judged. This could also be a place to vent out to let the emotions flow so that it doesn't impact the next customer conversation.
Also, it is important to develop a culture of peer support and feedback so that each of your reps does this as part of their job and not as an extra activity. It is very crucial in helping new joinees as well because they can feel involved and safe that they got each others' back. It is important to invest time in helping each other because a bit of moral support can really help reps.
When you develop a culture where everyone is giving and sharing best practices and feedback, people become more receptive. For the feedback to be successfully implemented, the reps need to be receptive.
Conclusion:
What's on the inside shows up on the outside! This is why it's important to enable an environment where the support reps feel in control of the situation. It goes a long way in providing better customer service to the customers. We need to place more trust in their judgement based on the situation, align them with company goals and develop a strong peer network. And as CEB says "To get control, you've to give control."
---
How did you like this blog?
---
About the Author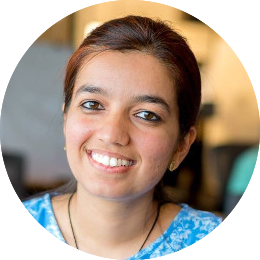 Sandeep Kaur
Senior Customer Advocate @HackerRank. When I'm not day dreaming or binging, I'm working on writing something about customer service or reading a (Auto) biography. When at work, I keep thinking of streamlining processes and connecting dots between things to simplify them.
---