Zapier is a web integration platform that allows you to connect popular web services together without being a developer. Nicereply integration with Zapier lets you easily automate tasks between 400+ web apps. Check Zappier's app directory.
How to use Zapier with Nicereply
Each connection (or integration) between 2 apps that automates your workflow is called a "Zap". A Zap is made of a "Trigger" (ex.: When I receive a new email in Gmail…) and an "Action" (ex.: …then send me an SMS message). Zaps run automatically and transfer data without any work on your part. Only  Zaps that are "On" count against your limit.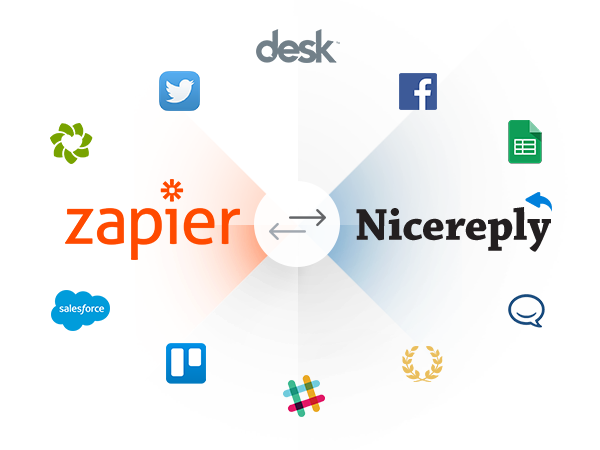 Here are just a few examples to give you an idea of how it works:
Post new Nicereply CSAT ratings into Slack
Rather than checking your Nicereply rating feed, stay concentrated on your customers. Use this easy automation to start pushing new ratings into your Slack and keep your team in the inner-circle with customer feedback.

Save new Nicereply CSAT ratings to Google Sheets
Stop exporting and importing your ratings for further analysis and reporting. Use this handy automation for saving new ratings in your Google Sheets to save time!

Add new Desk users to Nicereply
Creating Nicereply accounts for new members of your customer support team may be time-consuming. With a little automation help, you can create new accounts in Nicereply for every new user in Desk.

How can I set it up?
First of all, you have to sign up for a Zapier account. They have a Free plan with up to 100 tasks per month. It's fine if you get 100 new subscribers per month. For more, you will need to upgrade to a paid plan. The Basic plan starts at $20/month.
See the Nicereply + Zapier setup help, or you can create your own Zaps by following this guide.
---