Don't get stuck with the one channel you've originally decided on. Add channels into the mix and achieve an insightful look into the customer journey.
Customer feedback is essential for your company's success. Listening to your customers and responding to their needs is the single most important thing to stay competitive. But it might be difficult to determine how, where and when to survey your customers.
Should you use a pop-up survey in your web app? Send them an email or a text message to their mobile phone? Choosing the right channel for your customer survey is certainly not a task to be taken lightly.
There are quite a few options to choose from. It means you can pick the one best suited for your business model. But how do you go about choosing the right channel for your customer survey?
Here, we'll look at what successful companies are using to engage their customers, and how multiple channels can work together. We'll explore the pros and cons of each method. So you're better equipped to develop a plan that best meets your company's unique needs.
Test the Waters Before you Dive in
With so many channels – how do you determine which one is more brand-oriented and which one – more transaction-oriented? There really is no 'one size fits all' channel that works for all companies that implement it. It all depends on a variety of factors and, above all, your timing in approaching customers – right after purchase, after a promotion, etc.
Don't think that you're stuck with the channel you've originally decided on. You can add channels into the mix as necessary, to reach specific audiences.
Experiment with new channels to determine their effectiveness before starting to use them frequently.
Once you have examined your channel options and selected the channel mix that is most appropriate for your objective and target audience of the message, map out a test period for trying it out to see how it goes.

E-mail
Although still one of the most popular ways to engage consumers, email is not without its flaws: lower response rates and slower response times. The primary benefit of using email are the higher rates of qualitative feedback. Customers who take the time to answer a customer survey via email are more likely to be invested in a brand. They are ready to spend some time writing comments that provide more detail on the reasons behind their answers.
Integrating NPS, CES or CSAT survey  with your email is easy and contributes towards getting more feedback. You can prepare your survey campaign, send it to your contacts and collect responses or feedbacks from your customers.
NPS Example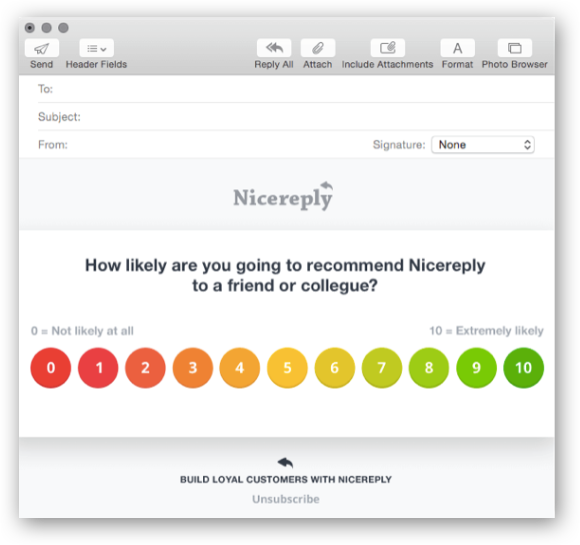 Or you can add CSAT survey to your signature and ask customers for feedback at the bottom of every email.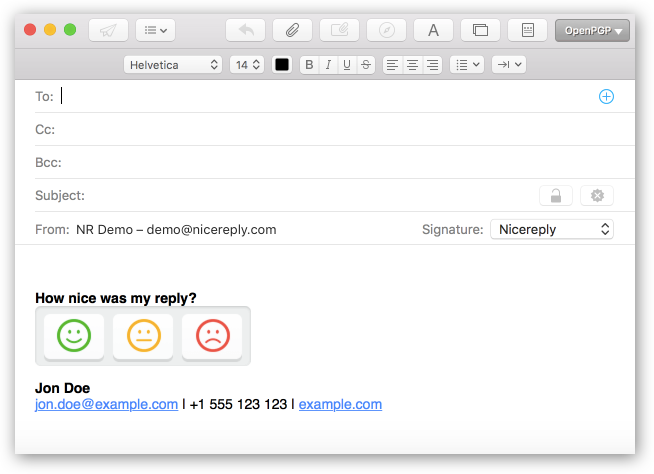 Another great feature of the email channel is that it leaves a lot of room for customization and attractive design. A good example of an attractive e-mail for engagement is HSBC's, which uses strong visuals and has a message that is specific to the consumer market for home insurance.
In-app
In-apps are flexible as they allow you to choose how each message arrives for your customers: a post, note and chat. They have higher response rates than emails, but lower rates of qualitative feedback.
In-app surveys deliver contextual feedback. They are quick to engage consumers in sharing, tagging, sentiment analysis, and other means of gleaning insight via in-app surveys. Since the majority of consumers are mobile users – in-apps are the quickest way to reach them.
What's even more – younger generations like Millennials and Generation Z prefer text to email and phone, so engaging them via an app is best. Also, the in-app functionality of emoticons is another huge benefit as evidenced by the success of Facebook's in-app survey and the way they capture expressions easily through emoticons.
Consumers enjoy personalized surveys, which are easy to create with apps. You can integrate features like multiple responses.
SMS
With transactions, deliveries, and services, texting remains the most effective and immediate way for brands to interact with customers. Especially since most Millennials prefer this method of communication to email, phone and social media.
Sending a text message allows you to grab customers in the place they tend to spend more and more of their time – on their mobile phones. Response times are almost immediate and you can optimize a small number of questions and make them really count. And, there are plenty of providers that offer a "text to survey" opportunity, which requires no additional administration to record a response.
Apart from that, text messaging can be leveraged to send reminders to respondents who have not filled out the customer survey yet.
Getting customers to register delight or dissatisfaction via email or SMS seems like the most logical approach. If the customer had a bad experience, they're probably not going to come back to your site to give you feedback.
If you combine the power of those two customer surveys together—for example, one in-app and one via email—you can achieve an insightful look into the customer journey. And tapping into multiple feedback channels is the surest way to get there.
Use Multichannel Engagement to Drive Customer Loyalty
Many companies like Walmart, Nordstrom and Target, are investing in multichannel strategies. It's for engaging their customers to drive their digital transformation efforts.
Because consumers are making their purchase decisions faster than ever, brands are looking for more effective ways to quickly obtain feedback from them in an effort to turn them into returning customers.
One of America's best-known fashion retailers – Nordstrom – has been investing in innovative solutions that allow the brand to merge online and in-store shopping experiences via interactive touch screens in fitting rooms across their stores.
The implementation of a wide range of features, rewards and customer incentives allows the retailer to collect extensive data on customer purchases and preferences that helps them improve marketing and product design, and optimize ad spend.
Warby Parker – the affordable designer eyewear label – has been focused on mining data and using algorithms to continually innovate and A/B test, and personalize offers and messaging to improve customer experiences. Feedback to their app and home try-on program has been overwhelmingly positive among consumers. Leading to the company planning on introducing even more specialty products and app features in the near future.
For these two (and many other) brands – collecting, unifying and analyzing data from multichannel surveys is the quickest way to understand buyers and identify high-value consumer segments. Of course, there's more to data insights than just driving product sales.
Data can help brands predict changes in customer interest, plan optimal distribution routes and inventory levels, ensure on-time delivery and enhance the overall customer experience. The ultimate goal being – to drive sales, loyalty and engagement.
---