It's hard to be human right now. There are many scary and confusing things happening in the world that make it easy to be cranky.
Wouldn't it be nice if your support team could be a bright spot in your customers' day instead of just making things challenging? Now is the time to hone your customer focus and work to delight the people that come in contact with you.
It won't be easy: 54% of B2B support teams have seen increased volume during the pandemic, along with 45% of B2C organizations. As volume increases, your team's attention may dwindle as they try to accommodate more requests. Instead of pushing them to work harder, try encouraging them to work smarter.
Here are four ways to keep your customer happy and boost satisfaction, even when everything else is going sideways.
Proactively help your customers
Proactive support is nothing new, but it's more important now than ever. The state of the world is changing rapidly, and your services are likely evolving with it. Keep your customers updated as soon as anything shifts.
ShipBob's SVP of Customer Experience Margaret Kędziora explains: "We are using in-app notifications to make our merchants aware of changes to our standard operating procedures. This way, they have the most important information they need when they login to our dashboard – even if they don't check their email."
Be as communicative as you can be. As soon as something in your offering or supply chain changes, tell your customers as much as possible. You may worry about frustrating your customers by giving them bad news, but nothing is more frustrating than being kept in the dark.
The boosted volume of support tickets has benefits beyond keeping your team members busy. Review your volume to gain insights on where to improve your documentation and onboarding experience. When used in tandem with proactive notifications, improving documentation can help deflect some of your incoming tickets.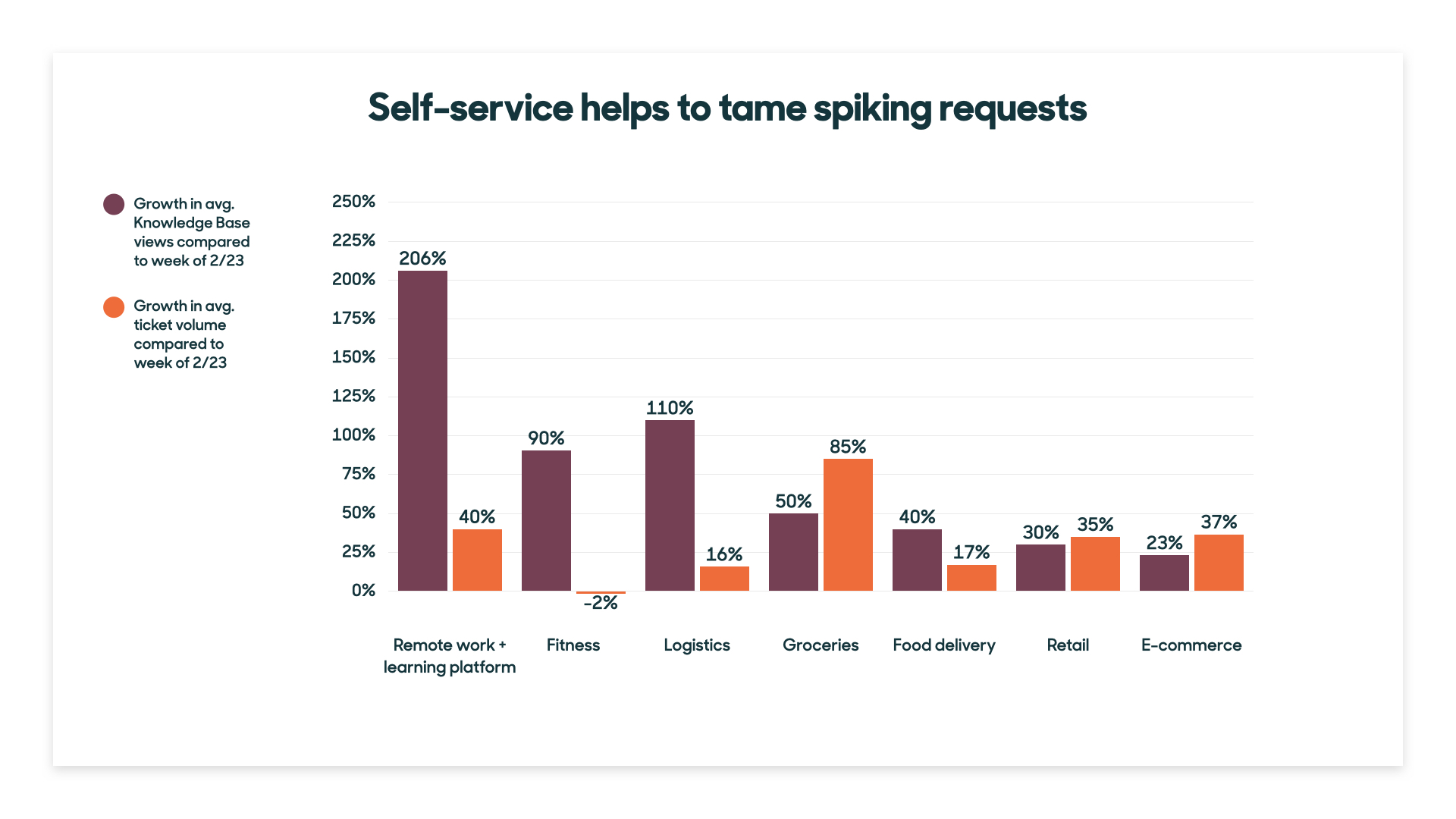 Customers would rather help themselves when given the opportunity: 40% of consumers prefer self-service over needing to wait for help. Implementing proactive notifications and bolstering up your self-service site gives them the experience they prefer, and helps lower the number of tickets your team sees daily.
Forget First Contact Resolution
In 1982, Tylenol faced a crisis that resulted in recalling 31 million bottles of pills. They had to send 400,000+ warning messages to doctors' offices and pharmacies and set up a 24/7 hotline to answer questions around-the-clock. People wanted to speak with a human as quickly as possible—mainly because their health was at stake.
Today, people are lonely. It's not about getting the full answer right away. They just want to know they're heard. But just like in the 80s, modern people in crisis crave immediate responses. When things are scary or unknown, people want to know that their concerns are significant. Like Tylenol, companies are suddenly scaling a 24/7 customer service operation to answer questions. The lucky thing for us is that there are tons of technologies that allow us to scale up quickly instead of having to hire rapidly.
Focus on getting answers to your customers as quickly as possible, even if you don't get to a solution in your first response. If you're having trouble staffing up a team because of the pandemic's financial impacts, use things like AI to help get answers to your customers even more quickly.
Ask your customers
In business, when we have questions, we usually try to answer them by pulling data. We go into dashboards and reports, hopeful of finding all the answers we need to better understand our customers. Wouldn't it be easier to ask them, though?
Let people tell you, in their own words, what they think and what matters most to them. Your customers are going to be different from anyone else's, so instead of reading articles (like this one) and treating them as gospel, look inward for your answers.
Move away from quantitative data to more qualitative feedback. Instead of looking at numbers in a chart, glean learnings from the words customers use when they interact with you or respond to your surveys.
When nothing feels steady, diving deep into the emotions presented in these communications is vital if you want to build trust. Demonstrate empathy by showing that you are listening to and acting on their needs. Better still, this knowledge will also highlight where your most significant opportunities for action are.
Be human
Generally, it's best to lean on your humanity in support. But, in the face of big, scary, things it is even more important to be a human with your customers. It's okay to be transparent and honest. It's okay to let your customers know you can't hop on a call because you had to do lay-offs.
Instead of making excuses, or leaning on policies, be honest with your customers. Let them know what your team is experiencing. It will help bring you together in a common struggle, and they'll appreciate the straightforward communication.
In the customer journey, 70% of their satisfaction is dictated by how they feel they are treated. It's not about what you're selling or how quickly you got it there, or even what you provide. They need to feel like you care about them. Much of that is dictated by how you communicate. Treat them with kindness and humanity, and you'll almost always win out.
Honesty is the best policy
Step away from the policies and charts, and start to step into building real relationships with your customers. In a time when we are restricted in who we see, talk to, and touch, there is a real opportunity for your customer support team members to become friends with the people they serve, instead of just tools.
Be honest and straightforward with customers, both when you directly engage with them in the inbox and your proactive messaging. They should know what you know—especially when it comes to the goods that you're selling them. Even if it may feel tempting to massage the truth, being as honest and possible sets the right expectations and makes for a better experience.
Being honest and human with your customers is also easier for your employees. Instead of worrying about policies or what they can and can't say, being honest empowers them to focus on doing right by the customer. Let go of your FCR and other vanity metrics, and lean into trust. Your customers will be grateful for you now, and will also remember your choice to be real long after all of this is over.
---