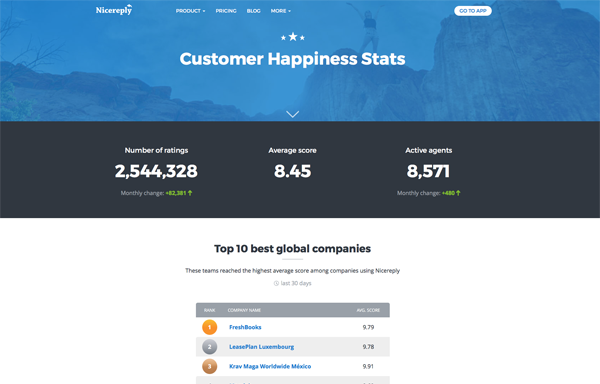 Great customer service is becoming a new standard for businesses. Support teams trying harder for a better customer happiness score. It's natural that customer service managers are curious about how their teams compare to each other, and wonder what exactly good customer service is. Therefore, we brought in the Customer Happiness Awards, earlier this year, to recognize the best customer service teams.
The next step is to make this information available to you at anytime. Yes, we're making Nicereply data public! We call it Customer Happiness Stats.
Which support metrics can you see?
Overall KPIs like:
Total number of CSAT ratings
All time world average score
Number of active agents using Nicereply
..and the Top 10 leaders in customer happiness within the last 30 days. These are the support teams who reached the highest ranking among companies using Nicereply.
This is the first version of Customer Happiness Stats and we're looking forward to  your ideas for improvements. Feel free to comment and don't forget to rate it below too!
How do you like Customer Happiness Stats?